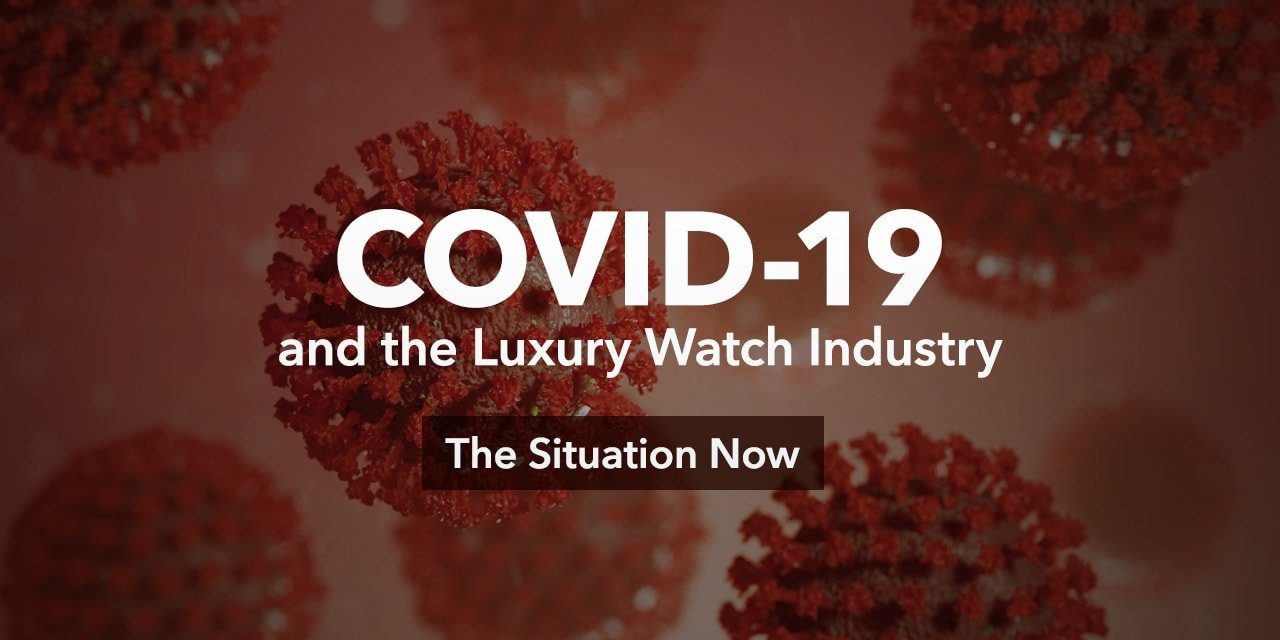 COVID-19 and the Luxury Watch Industry: The Situation Now
If I asked you to try and sum up 2020 in one word, I imagine most of your answers would be unrepeatable here.
It has been a truly extraordinary period for many people and (sorry to be the bearer of even more bad news), it's only September.
However, one term that comes up particularly often when trying to describe the last few months, and especially when talking about business, is 'uncertainty'.
Obviously there are always going to be a fair number of ups and downs involved in the running of any operation, regardless of the type of industry, during even the best of times.
The most successful companies, the ones that stick around the longest, adapt to it by altering their practices and by building in contingencies to gird them against difficult stretches.
But the instability brought about by the pandemic has been absolutely unparalleled. No one knows how long Coronavirus is going to keep affecting daily life, whether a vaccine is on the horizon, if a second wave is going to drive us all back into our homes again, et cetera, et cetera, et cetera.
It is basically impossible to predict what is going to happen even over the next couple of weeks, let alone planning for a financial quarter and it has hit just about everyone hard.
The luxury watch trade is no different, whether we are talking about the new sector or the vast preowned market.
So we wanted to publish a piece detailing what has been happening, both across the industry as a whole and also closer to home, with how we have reacted here at BeckerTime. Then, we are going to take an educated guess at what we think might happen in the upcoming months.
The Story So Far
The first serious effects of the COVID-19 outbreak on the horology business started to be felt back in February. A government-ordered lockdown in China, the industry's third largest market, caused Swiss watch exports to the country to decrease by 51.5% in value. Hong Kong, the second biggest luxury goods buyer, dropped 42%, the most significant fall in 20 years.
In Europe, several watch brands pulled out of the upcoming Baselworld exhibition, due to be held in March. Bulgari, Seiko, Casio and Citizen all cited the virus as the main driver behind their decision to leave although, as we wrote about in a previous post, there were plenty of other motivations as well.
By the end of the month, the Swiss Federal Council had banned assemblies of more than 1,000 people, effectively killing off any chance of a major watch show taking place anywhere in the country.
In the following weeks, just about every brand was forced to close down their production facilities, and right across the world the majority of retailers were ordered to close their doors for the duration in an attempt to control the spread of the disease.
The repercussions of that chain of events were understandably huge. Inevitably the economy took a massive downturn and that, coupled with huge job losses and the general aura of uncertainty (there's that word again) left people, not unreasonably, focused on spending money merely surviving rather than on extravagant purchases such as a new watch. You can buy a lot of toilet roll and hand sanitizer for the price of the average Rolex.
The forecast was generally pretty dire, but has it worked out like that?
Where We Are Now
The Preowned Market
Over the last few months, since all this insanity started towards the end of February, we have seen things that are not at all surprising, and others that very much are.
The main totally foreseeable aspect was the utter decimation of watch sales in March and April. As we all got used to a new normal, with its travel restrictions, face masks and enforced stay-at-home orders, even the most ardent horology fanatics among us had better things to be thinking about than freshening up the old wrist attire. Sales went through the floor for just about every dealer, leaving many struggling to survive.
Yet, with human nature being what it is, it turns out we can all sit at home for only so long before the urge to buy something to cheer ourselves up becomes overwhelming. In May, we witnessed a definite strong upturn, caused not only by people's need to treat themselves, but also as the country entered graduation season—always a good time to be selling luxury watches.
Rather than that being a blip, recovery has continued. Here at BeckerTime, the Summer of 2020 has been busy…and even busier than the year before…and that was likely the same story for many online dealers, even though the summer months are traditionally slower, as people head off on vacation.
So, All Good?
The increase in sales is obviously a very welcome occurrence, for us and the rest of the preowned luxury watch industry. Ironically however, it has brought with it a real problem.
The global situation is still extremely tough, and it is not only the big glamorous gatherings like Baselworld and Watches and Wonders being cancelled. The smaller, industry-only trade shows have also been forced to postpone, the ones where retailers buy many of the watches they sell throughout the year.
Coupled with enforced stay at home orders, travel restrictions and the banning of large gatherings, it has meant getting hold of enough stock to satisfy customers is a challenge, with a greater number of dealers now chasing a much smaller pool of watches.
Basically, while there are still plenty of watches out there, it has become more and more arduous to bring them to market causing a significant shortage of preowned watches to sell worldwide. As you would expect, given the surge in demand and reduced inventory that is available, prices have gone up across the board for all models.
New Watches
It hasn't just been those in the preowned sector who have had to adapt to survive these unprecedented times. Those retailers in the brand new watch market have also faced an uphill battle.
With the compulsory shutting of all non-essential stores and businesses in nearly every country at the beginning of the year, many have had to rely entirely on e-commerce sales.
Even Rolex and Patek Philippe, two brands which have worked hard to cultivate reputations of exclusivity, gave their Authorized Dealers license to sell their wares online for the first time.
On top of that, most of the top names in watchmaking were forced to close down production facilities for at least six weeks. While most began to reopen at the end of April, it was in a much reduced capacity as strict government-recommended security measures for workers had to be adhered to.
Those actions are predicted to cause a shortfall in production this year of between 30% and 40%. It also brought about the postponement or complete cancellation of new models being announced from several watchmakers, with Rolex only unveiling their 2020 collection at the start of September, rather than their usual date in March at Basel.
In truth, that delay will have probably have come as a bit of a relief to many retailers, who had a similarly disastrous March and April as the preowned market. It means they will have had more time to come up with the capital to buy in those always hugely anticipated new models for potential future customers.
And it works both ways of course. The six-week pause in manufacturing enabled the brands to keep costs to a minimum at a time when income was stripped to the bone.

What's Going to Happen Next?
What the future holds for the watch industry is the big question doing the rounds in horology circles at the moment.
Unfortunately, it may be too soon to speculate as there are a number of variables still in play that make predicting upcoming events almost impossible.
Probably the most important factor is if or when a vaccine is going to be produced. There has been a mammoth global initiative to try and formulate a COVID-19 treatment and the recent first trials of a drug developed at Oxford University's Jenner Institute look promising.
However, anything workable is still likely months away, and that's not including the time it takes to manufacture the vast quantities needed.
That leaves everything still rather up in the air as far as returning to some kind of normality is concerned.
A significant danger also lies in reopening everything too soon and triggering a second wave, as seems to be happening in various countries across Europe at the moment. Many, such as Albania, Bulgaria and Romania, ended their state of emergency in June and have seen some cities get hit with a deluge of new infections, causing a return to a partial lockdown and neighboring nations introducing mandatory self-isolation rules on those returning from the country.
What another wide-reaching coronavirus spike would do to the world economy is another element it is tough to forecast.
The Dow Jones Industrial Average index dropped 8,000 points in the four weeks from February 12th to March 11th, but the stock market has enjoyed a spectacular run since then, with the FTSE 100 up around 30% and the S&P 500, the main U.S. index gaining about 40%.
That growth would help account for the strong sales luxury watch retailers have been enjoying lately, but the stock market is a notoriously fragile and volatile thing.
The $600 a week provided through the CARES Act to those left unemployed by the pandemic has now gone, and with Congress in recess without agreeing on how much to give in the next stimulus bill, it has stranded the 47 million Americans who lost their jobs because of COVID-19. Many now find themselves on the brink of bankruptcy, which could throw the economy into even greater turmoil.
Where does all this chaos and confusion leave luxury watch dealers? Well, there seems to be two logical possible outcomes, and they are the polar opposites of each other.
Firstly, should things get back on a relatively even keel, a strong rise in demand would leave many preowned retailers with not enough stock to satisfy everyone. While the world reopening would give greater access to watches to bring to market, it would still take time for things to normalize. In the meantime, most dealers would be forced into more price increases and coming into holiday season is likely to drive up demand even further.
The other scenario would be an economy nose-diving into a recession, meaning a lack of watches wouldn't matter because nobody would be able to buy them in the first place! In that case, we could see a decline in prices as stores suddenly find themselves with pieces they can't sell. Additionally, those who have overstretched themselves during the last few months could be in real trouble.
The New Normal
But what about buying a new watch? As we mentioned, even the most traditional, old fashioned of brands have been forced to engage with the 21st century during all this.
Companies who have only involved themselves with the newfangled internet out of sufferance and view it as a necessary evil have been turning to e-commerce in order to carry on selling their watches.
The question is; will they continue?
There are advantages and disadvantages for the manufacturers. In the pro column, it couldn't be any easier. Having customers click on a few buttons and hand over their money electronically is really as simple as you could ask for. The overheads costs of maintaining a bricks and mortar store or a chain of Authorized Dealers is also slashed, which is always good for the bottom line.
The drawbacks really come down to image and experience. Buying a high end luxury watch from a dedicated boutique is an event. You stroll in and are treated like royalty. You get to try on whatever models they have in stock, chat to knowledgeable staff and avail yourself of all the perks and freebies that come your way.
All that ceremony is difficult to recreate online. Having the one-to-one encounter with a real person, especially with a major purchase, is a valuable part of the transaction.
Nevertheless, if I was an Authorized Dealer at the moment, I would be having a few sleepless nights, at least for the short term.
Even in those cities and countries where they have been given permission to reopen, most are still under strict guidelines which detract from the whole affair, and people are likely to still be somewhat fearful of going out.
My local Rolex AD here in Belfast, Northern Ireland is admitting people by appointment only and face coverings are mandatory, for customers and staff alike.
Bluntly put, shopping in face masks sucks. They're hot, they're uncomfortable (although not as uncomfortable as a hospital ventilator, I would imagine) and they are a barrier to decent communication.
When you take away the best reasons for going to an Authorized Dealer for your new watch, it doesn't make any sense not to buy online.
If the big names in watchmaking put some real effort into perfecting their customers' purchasing experience through e-commerce, could they start having serious thoughts over whether or not they need their retailer network at all?
Certainly Uncertain
Like I said at the beginning, this is all very much speculation. The truth is, no one seems to know what is going to happen in the upcoming weeks and months, which makes the whole thing worse.
It would be nice to think we are through the hardest aspects this pandemic has to offer, and lord knows we are definitely owed some good news.
However, it isn't going to just go away because we all wish it would. We could well be in for a rough time a while longer.
What is certain is that this is going to be a difficult year for watch retailers, both new and preowned.
We started BeckerTime in 1998 and this is by far the most challenging time we've ever seen.
We've coped by leaning out the business as much as possible and battening down the hatches, as well as offering programs such as our Lifetime Trade-Up Guarantee which allows our repeat customers to upgrade their watches for a fraction of the usual price.
But amidst all the doom and gloom, it is worth remembering that the coronavirus isn't the first calamity the industry has faced and overcome.
Going back to the 1970s, it was quartz technology that was going to kill off mechanical watchmaking. In 2003, the Federal Office of Public Health slapped a travel ban on all visitors and staff from Asia due to the SARS epidemic, two days before the Baselworld show. And the collapse of Lehman Brothers that caused the global financial crisis in 2008 wiped out thousands of watchmaking jobs.
All those challenges have been met and defeated, and I'm sure this will be no different.
What the business will look like once we're out the other side however, remains to be seen.
Featured Photo Credits: Pixabay (cc) Archive.