Difference between Rolex Date and Rolex Datejust
A Date vs. Datejust Comparison
The difference between Rolex Date and Rolex Datejust can be very subtle. In 1945, Rolex introduced the Datejust, and it continues to be a mainstay in the Rolex line. It is one of the world's most copied watches. In 1945, the Datejust's standout features included a cyclops over the date aperture for easier reading. Also, the date wheel progresses precisely at midnight – hence the name Datejust, whereby the date wheel progresses just-in-time. The genesis of the Rolex Date is a bit more obscure, but goes back to at least the late 1950's.
The Oyster Perpetual Difference Between Rolex Date and Rolex Datejust Watches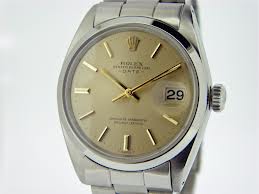 The difference between Rolex Date and Rolex Datejust is also evident within the Oyster Perpetual line. Oyster Perpetual's model evolution includes the Rolex Date. The Oyster Perpetual series pre-dates the Rolex Datejust line. These include the Rolex Air King and the men's and ladies' Oyster Perpetual watches. The Oyster Perpetual line varies in size from 28mm to 36mm. In addition, they all exclusively have Oyster bracelets (no Jubilee bracelets) and smaller winding crowns. Chuck Yeager wore an Oyster Perpetual during his historic supersonic flight. This was considered "the Rolex watch" at the time before the introduction of the Datejust. Many Oyster Perpetual watches possessed date wheels, but without the cyclops.
 A Different Market
Similar to the Datejust stainless steel line, the Dates have domed or white gold fluted bezels, but no diamonds and no solid gold. Older Date models exist in two-tone, but not in Rolex's current line. There is another way to view the difference between Rolex Date and Rolex Datejust. By examining the evolution of the Oyster Perpetual, the Rolex Date is essentially an Oyster Perpetual with a Date and Cyclops. Therefore, they market it separately from the Rolex Datejust.
A Similar Quickset Mechanism
One area of confusion is the setting of the date wheel on the Date model. Rolex introduced the QuickSet or "Rapid Date Change" in 1977 whereby the date aperture progresses through the days by turning the crown as the hands are stationary. The QuickSet mechanism is found on both current Datejust and Date models. With both models, there is no spinning the hands 24 hours for the date to change.
When Size Matters
Despite the evolutionary difference between Rolex Date and Rolex Datejust wristwatches, the only distinguishing characteristic between the two is 2mm. You can browse these luxury models of used Rolex Date watches here at BeckerTime.