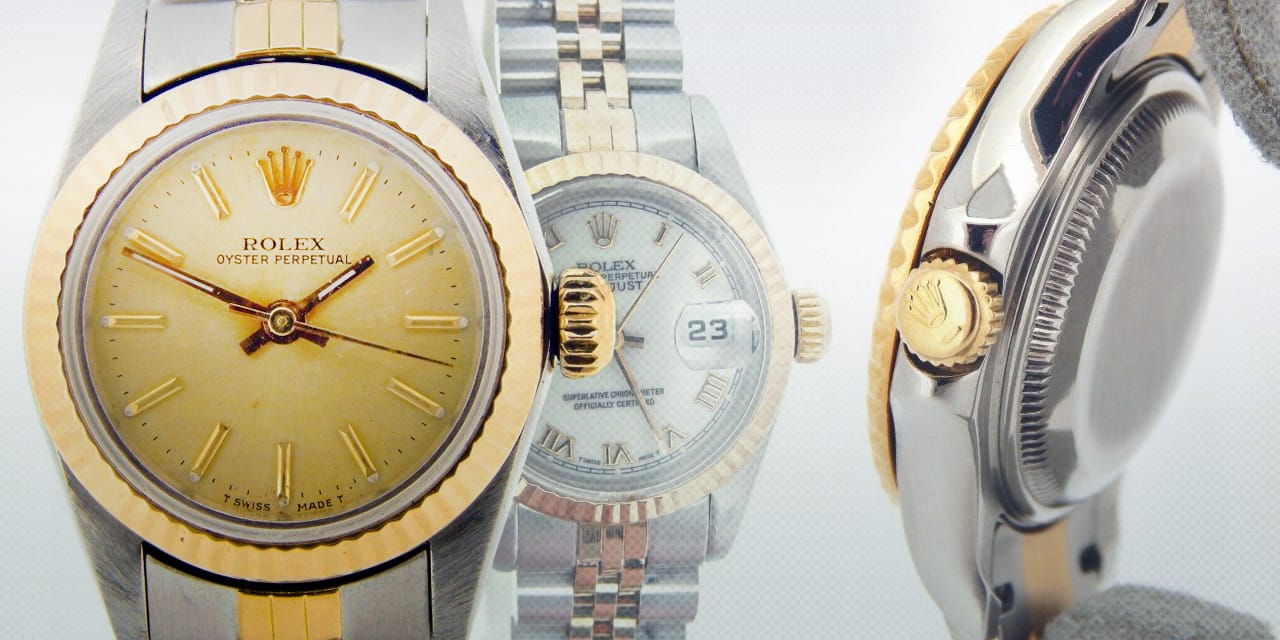 Ladies Rolex Watches
Although watch collecting is seen by some as a particularly male-dominated activity, the truth is, the skill and craftsmanship that goes into creating fine mechanical timepieces is something that can be appreciated equally by both sexes.
The timelessness of many of Rolex's designs make them suitable as either men's or ladies watches. With modern fashions tending towards larger sizes for female wearers, the doors have been opened for more women to wear pieces initially intended for a solely male audience.
There are, however, several models classed as exclusively for women. Subjected to the same uncompromising standards as any of Rolex's offerings, the brand's ladies range is constructed with the same artistry and attention to detail, but with more feminine dimensions.
Here at Beckertime, we have a wide selection of these stunning timepieces. Below we've highlighted a number of our most popular.
The Rolex Lady Yacht-Master
The first of the Yacht-Master series was released in 1992 as a more luxuriously-appointed variant of the archetypal Submariner. The original 40mm piece was joined a few years later by both a ladies version at 29mm as well as a midsize in 35mm; the first of Rolex's professional range to be offered in three sizes.
Since then, as times and tastes have changed, there is no official 'ladies' Yacht-Master anymore, or the midsize, and the current family consists of just the full 40mm model and a 37mm version that is listed as both a men's and women's watch.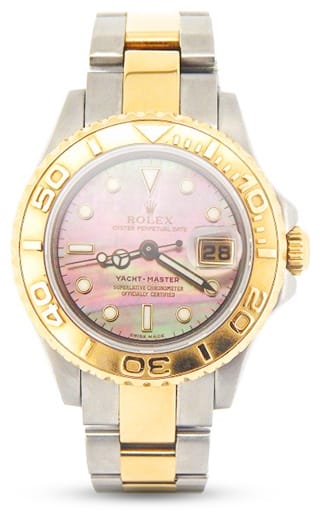 Clearly modeled on the Sub's rugged good looks, the Yacht-Master borrowed heavily from the brand's legendary diver, including elements such as the rotating bezel and identical handset and indexes.
But where the Submariner has at least tried to hang on to its tool-like credentials, the Yacht-Master is aimed at those who spend their lives riding the ocean waves rather than exploring beneath them.
It is a watch intended to look at home strolling a polished teak deck or lounging in the club following a regatta, so has only ever been crafted from Rolex's own three flavors of gold, along with two-tone Rolesor and, another debut with this particular watch, Rolesium—a stainless steel case and bracelet, topped with a platinum bezel.
Its sleek lines and abundance of precious metals make it a particular favorite as a ladies watch in whichever size it comes in. Even the 40mm piece, thanks to its gracefully sweeping profile and delicate lugs, suits more slender wrists without overpowering.
As a pre-owned buy, the smaller 29mm and 35mm models represent tempting bargains. You will find superb examples for around the $5,000 mark—both likely to increase in value due to their finite supply.
The Yacht-Master is a sporty yet elegant all-rounder, the ideal choice for almost any occasion and with enough variety to suit any taste.
The Rolex Ladies Datejust
When the subject of a lady's Rolex comes up, it is the Datejust that most readily springs to mind. Like its male-focused counterpart, it is one of the most versatile watches ever made, effortlessly treading the line between casual everyday companion and dressy evening wear.
Again, similarly to the Yacht-Master, more and more women are finding the traditional men's sizes the perfect complement, especially the ubiquitous 36mm.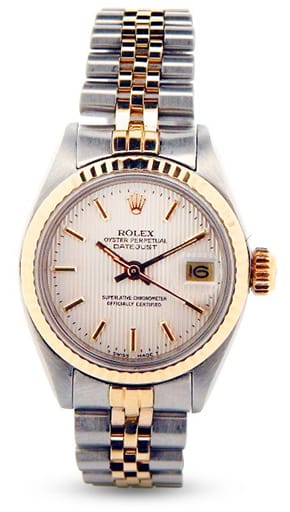 However, the Lady Datejust range, originally a 26mm model and recently increased to 28mm, has been a staple of Rolex's lineup since 1957. In 2012, the brand upped the stakes a little more by also introducing a 31mm version.
In its 60-year reign as the ultimate timepiece for sophisticated women, the Lady Datejust has been issued in a breathtaking number of different combinations of dial, bezel, metal and bracelet options.
Appealing to every taste and budget, it is available in anything from stainless steel all the way through to pure platinum, via yellow, white and pink gold and two-tone Rolesor versions.
It can be as inconspicuous or as flamboyant as you wish, with bezels ranging from smooth to fluted to dripping in diamonds, and the dial can be had in any color and set with every gemstone you can think of.
The Lady-Datejust has been such a phenomenon for Rolex that it is actually the brand's biggest seller of all time, outstripping even the men's version. There is practically no situation it cannot match, making it just about the only watch you will ever need.
The Rolex Lady Oyster Perpetual
Rolex's simplest, least complicated offering, the Oyster Perpetual series has a history even longer than the Datejust.
The men's version has traditionally been 34mm, recently joined by both 36mm and 39mm models and, typified by its stark minimalism in style and materials, is often regarded as the entry point to the brand for many.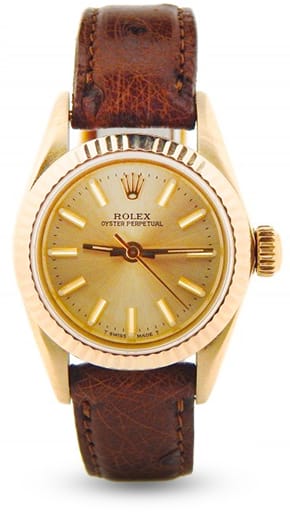 However, the Lady Oyster Perpetual family contains a few altogether more lavish pieces, with editions in gold and Rolesor, and some with the added luxury of diamond-enhanced bezels and hour markers.
The earliest examples were just 24mm in diameter, tiny by modern standards yet, while certainly diminutive, the watch has never seemed flimsy or delicate. Instead, it has the exquisite flowing lines that have always been the backbone of the Rolex design language—graceful rather than fragile.
Today, there are 26mm models, the smallest in the Rolex lineup currently, and 31mm, both classified as exclusively lady's watches. Together with the three men's sizes (the 34mm is now technically a midsize) there are a total of five different versions for the Oyster Perpetual.
As a watch, it is about as unfussy as it is possible to be, with not even a date function to spoil the view of the dial. Even those rare lady's models with gemstone accents have an austere restraint, and the cleanness of its design means it remains as timeless an accessory for women as a little black dress.
If you are in the market for a watch you can wear everyday and never look over or under dressed, a Lady Oyster Perpetual should be top of the list.