Luxury Preowned Rolex Timepieces at Affordable Prices
The Best Affordable Luxury Watches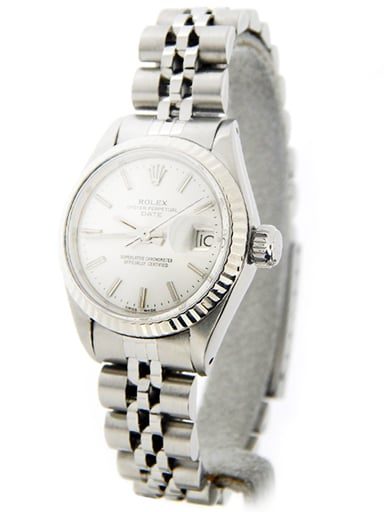 Ah, the look, the feel, the panache of a genuine, authentic Rolex watch. For some, buying that special timepiece is a lifelong dream. Wearing the Rolex brand symbolizes success, class and prestige. But alas, Rolex timepieces are only for the rich and famous. Or is it?  Discover the best affordable luxury watches with the most trusted seller.
We're here to tell you that BeckerTime offers authentic preowned Rolex watches at prices more affordable than you may think. With watch prices as low as $2,000, you can have the quality you've come to expect from Rolex, for a fraction of the original retail pricing.
At BeckerTime, our business is selling pre-loved luxury Rolex timepieces. We enjoy helping even the most discerning of customers find their perfect Rolex watch. Also, we love that our customers can enjoy an authentic preowned Rolex timepiece, most with a one-year warranty, and take part in our Lifetime TradeUp Guarantee program. Finally, we love that they can do this while paying less than retail pricing on the exact same watch style and model!
A Reliable and Trusted Seller
Now, some individuals feel strongly about having the box and papers that come with a Rolex watch. The first thing you should know about buying a preowned Rolex watch is that it may or may not come with the original box and papers. One of the biggest misconceptions in the industry is that a box and papers automatically means the Rolex watch is authentic. This couldn't be further from the truth. In reality, anyone selling a fake Rolex can easily create or reuse the box and papers from another watch. What you have to trust is the seller, whether you're buying new or preowned.
Purchase With Peace Of Mind
For nearly 20 years, we've prided ourselves on selling certified, authentic preowned Rolex watches. We offer exceptional, personalized customer service. Furthermore, we've built a stellar reputation with the BBB, eBay, Yelp, Facebook and many more. Therefore, if you're in the market for an affordable preowned luxury timepiece, look no further than BeckerTime.com. Let us help you choose from the best affordable luxury watches. The perfect preowned Rolex watch will last you a lifetime. (And if at any time, you have eyes for another Rolex watch, you can simply take advantage of our Lifetime TradeUp Guarantee program.) Now, go fulfill that lifelong dream! BeckerTime.com.
BeckerTimeBE