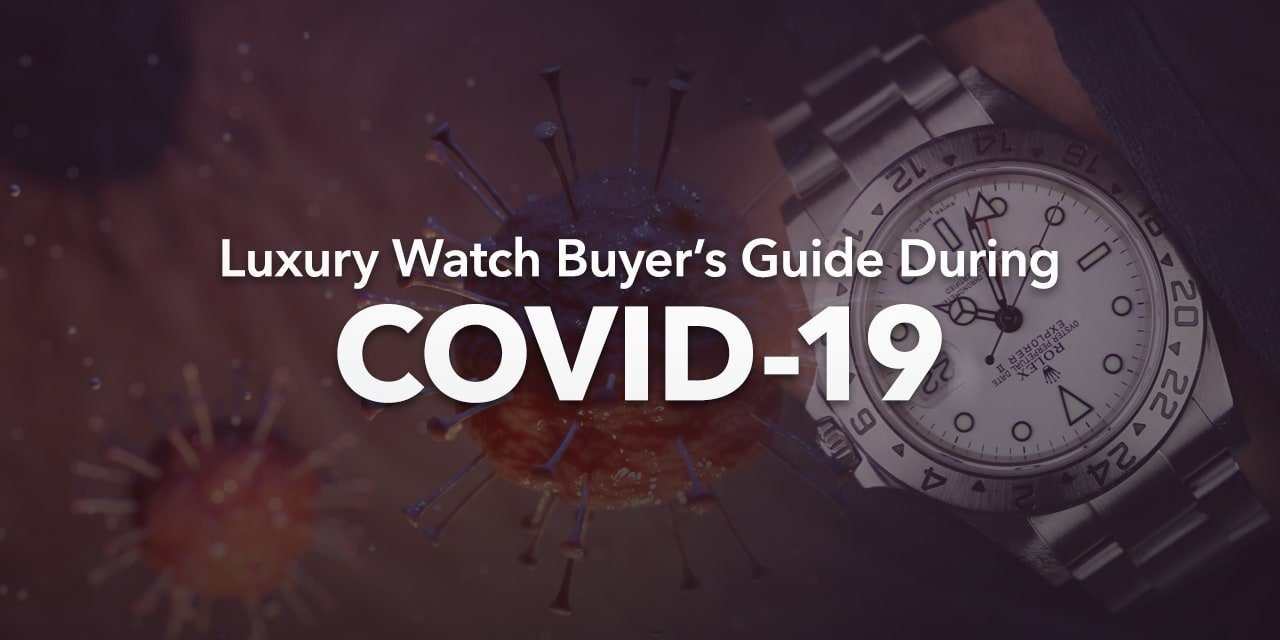 Luxury Watch Buyer's Guide During COVID-19
In the first article of our series exploring the effects COVID-19 has had on the luxury watch industry, we looked at the situation as it stands at the moment.
For this second post, we are going to try and make sense of just where things could be heading.
We will see just how manufacturers might react to the crisis, what may happen to pricing and the ever-present waiting lists and, crucially, the best way for you to shop should you be in the market for a new watch in the next few weeks or months.
The Watch Market
New Watches
With just about every Swiss brand locking its doors for the duration in order to protect their employees, and their individual retail stores doing likewise for the same reason, many watchmakers have been forced to start selling their products exclusively online. For many, that is completely new territory. The likes of Rolex and Patek Philippe have built their unassailable reputations on the back of notions of exclusivity. You have to put a certain amount of work in, and possess a decent measure of patience, to buy some of their models.
With all other avenues cut off however, both have been compelled to go the ecommerce route. Although neither sells watches directly from their own websites, yet, they have authorized their dealer network to do so for the first time.
It might not sound like that big a deal, but it actually is. The highest of high end timepiece manufacturers want that face-to-face involvement with their clients, both potential and established. Their retailers are trained to make the entire experience an event, one that will keep customers coming back, rather than just a simple transaction.
That is one reason many brands have been way behind the curve in engaging with digital marketing and sales. They much prefer their customers to be physically present when they buy, rather than virtually.
While that is clearly not an option right now, some experts are theorizing that the whole COVID-19 situation will cause a long-overdue and permanent shift in business model among the elite brands, and online buying may be here to stay.
But what are likely to be the other long-lasting effects of the pandemic? The simple answer is; nobody knows, not even the brands themselves.
With no clear idea of just how long the emergency measures are going to be in place, it is essentially impossible to plan.
One thing we do know is that currently there are no watches being made. That obviously is going to lead to even more of a shortage in the stores, which were hardly packed to capacity as it was. Those waiting lists that have been the bane of many people's lives for ages are only going to get longer, with the delay in taking delivery lengthening with every minute the facilities are out of action.
Depending on just when any sense of normality returns, there could also be a scarcity of those pieces which are normally pretty easy to get hold of. You can, for instance, usually walk into any Rolex Authorized Dealer (or you could, a few weeks ago) and be confident there will be a Datejust or Day-Date of some description on offer. Maybe even a precious metal or two-tone Sub if you're lucky. Whether or not that will still be the case once this is all over and done with remains to be seen.
Preowned Watches
As for the vintage and preowned market, the vast majority of that is internet-based already and so compulsory quarantine is less of an issue.
Nevertheless, revenues are understandably way down in the industry, although perhaps not as much as has been predicted. Many dealers are reporting they are selling the same quantity of watches, but at a lower average value. So people are still buying plenty, but not spending as much on each one.
However, it seems to be something of a top to bottom split. Auction house Sotheby's actually broke its own records for most expensive watch sold online for two weeks in a row in March, dropping the hammer on a pair of Rolex Daytonas at $167,188 and $306,378 respectively.
Others are experiencing similarly boom times, but only for those pieces in the most expensive price brackets—rare models commanding six-figures or even more.
At the other end, those people not members of the one-percent club, who had maybe saved enough to treat themselves to that good $5,000 to $10,000 watch to last them a lifetime, have suddenly found themselves with more important things to spend the money on and are either holding off entirely or opting for something cheaper.
Will that continue? Well, it is (optimistically) estimated we are at or near the halfway point of the pandemic, but that we are also headed into an unavoidable recession. Already, over 16 million people in the U.S. have lost their jobs, which might be just the tip of the iceberg. It could well be that the longer the situation lasts, the more prominent the imbalance between sales of the priciest and cheapest watches on the preowned market gets.

Pricing
Probably the most often asked question concerning luxury timepieces throughout all this has been whether it will affect prices.
Again, this is hard to tell and will probably differ from brand to brand. There's no doubt practically all manufacturers are experiencing heavy losses right now, with production and distribution reduced to zero. However, the way they will all react once everything starts up again is tough to call.
It could be that prices are actually increased in order to try and recoup the losses that have been made during this period, but that is by no means certain. Possibly, with the battering the economy has taken and the number of people out of work, watchmakers simply won't be able to afford to narrow down their prospective customer base any further with a price hike. Coupled with that and some, Rolex included, already issued a rise at the start of the year.
All that being said, if you were in the market for a new luxury watch and had the means to buy one without too much worry, now would be an ideal time. If prices do go up again this year, it could make a savvy investment. In addition, don't be shy about asking for discounts—there may well be some retailers only too happy to accommodate you.
Much of it will depend on how long the shutdown continues, but with Breitling reportedly being the first to go back to work in Switzerland last week, and operating at about 60%-70% capacity, there is some optimism of a light at the end of the tunnel.
As for the preowned market? Take away those outlier pieces at the very top end, and you may have noticed a drop in recent weeks. But the freefall many people had been hoping for hasn't happened, and has probably only averaged about 5%-10%.
That may be simply because there are a lot more watches out there, with those who have recently lost their jobs making the decision to sell their pieces to free up some cash.
And it is the most sought-after models which have come down the furthest. The likes of the Rolex GMT-Master II Pepsi or the steel Patek Nautilus 5711 have both experienced reductions, but perhaps don't get too excited just yet. Both still have huge premiums putting them way beyond their retail prices, so aren't what you would describe as bargains. You'll be paying about $50,000 for that Nautilus now rather than $54,000 or so, for what is nevertheless a $28,000 watch.
How to Buy Preowned During COVID-19
If you have ever bought a preowned luxury watch, you will know that it is not an activity to do quickly.
Sadly, this is an industry which has attracted more than its fair share of the unscrupulous over the years, attracted by the sizeable profits on offer.
If you are in the market to add another piece to the collection, you should now be even more cautious of who you buy from than normal. There are going to be scores of dealers who have over-leveraged with their stock, those who have bought in some of those highly coveted models at pre-COVID prices only to see their value drop. In order to offset any losses, they may well start unloading their inferior watches first.
As always, beware of any offer that looks too good to be true.
If it is at all possible, we would recommend only buying from retailers you have bought from before or have specialized in what you are buying for a long period of time. Establishing a relationship with a dealer is the surest way of obtaining exactly the watch you want. With the situation as it is at the moment, it is going to be very difficult to get any model you buy checked over by an independent center to confirm its legitimacy.
Also be mindful of your method of payment. Buying with a credit card or PayPal gives you a certain amount of protection in the event that something is found to be amiss. Try and avoid unsecured payment methods.
If this is the first preowned watch you have bought, spend at least as much time researching the seller as you did the watch itself.
Look on their websites for things like authenticity guarantees, warranties, and money-back/return policies. Where you can, opt for specialists in the particular brand of watch you want. Here at BeckerTime, for instance, we specialize in Rolex and have amassed years of knowledge on the manufacture, as well as having Rolex experts and a Rolex-certified technician inspect the inventory we deal with.
The best way to confirm how reputable a dealer is is to talk with them. Ask any and all questions about the business and the specific watch you want to buy. Test their knowledge.  One thing to bear in mind right now, however, is that many preowned watch retailers are working either reduced hours or reduced staff, or both. If emails don't get answered immediately or you can't get them on the phone straightaway it may just be because they are outside of operating hours or short on staff rather than anything else.
Above all else, be cautious and make sure you protect yourself.  Like everyone, we at BeckerTime are looking forward to the day when all this is behind us and we can get back to business as usual. Until then, stay safe and we'll see you on the other side.
— Featured Photos Credit: Pixabay (cc) Archive.