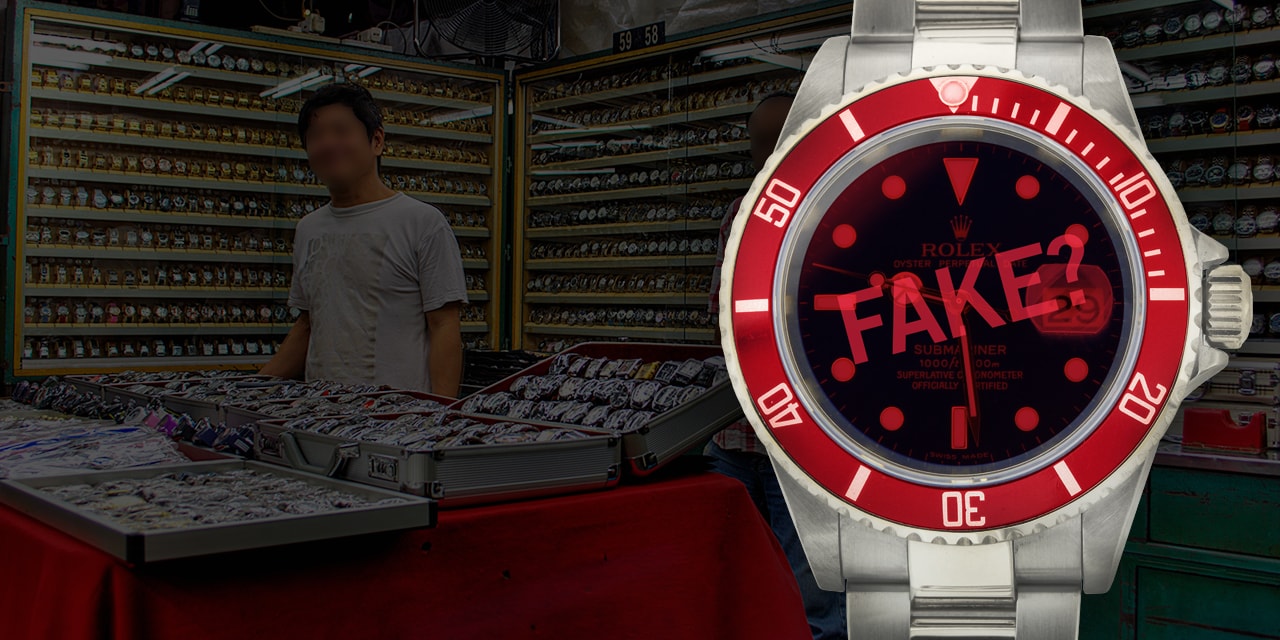 Rolex and the Rise of the Super Fake
Anything that has value, especially in the arts, has always been prey to counterfeiters. Great paintings have been forged, as have pieces of fine jewelry or sculpture, and sold to the unsuspecting, often for phenomenal sums of money.
As technology has progressed, it has also become possible to produce convincing fakes of mass produced items—shoes, clothing, sunglasses and the like.
Where the two meet—works of art manufactured on a large scale—we have luxury timepieces, and Rolexes in particular.
The Swiss watchmaking giant has been the number one target of the imitators for many years now, and there are more fake Rolex watches in the wild than of all other brands combined.
It is by no means a new phenomenon. In fact, Swiss watchmaking as an industry was actually built on fakery. In the 1800s, when it was American skills, knowhow and, crucially, highly efficient machining techniques that ruled the horology world, manufacturers in Switzerland unashamedly copied the pieces created by U.S. companies such as Marion and Elgin. These were then sold in stores right alongside the originals, but under names like Marvin and Elfin. Identical in every way save for a subtle change in brand signature, they were the watches that set the Swiss makers on the path to total dominance of the business, where they remain to this day.
A New Generation of Fakes
The extraordinary success of Rolex has been built on a couple of basic fundamentals. Firstly, the manufacture creates an exceptional product. But of at least equal importance is the perception of the company in the eyes of the public.
Since the end of the quartz crisis in the early 1980s, Rolex changed their marketing strategy from being the makers of tough, highly reliable and precision tool watches to becoming the ultimate lifestyle brand. Instead of wearing a Rolex because your demanding job required a faultless timekeeper, one that would keep working in any environment or situation, the promotional about-face was designed to appeal to a new breed of wealthy and style-conscious consumer; those who wanted to subtly (and not-so-subtly) display their affluence on their wrist. And a part of that approach necessitated a major hike in prices.
The increase in costs brought with it an organic exclusivity—now, far fewer people could afford Rolexes and, human nature being what it is, it made even more want them. Everyone would like to be seen as more successful than their contemporaries.
The natural upshot of it all was a thriving industry of fakes; those who couldn't stretch to the real thing could definitely get themselves one of those, and hope no one was any the wiser.
In the early days, the forgeries were almost laughably bad. However, that didn't stop the counterfeit Rolex business being anything but extremely lucrative. With the vast sums of money available for relatively little work, more and more players entered the fray. Couple all that with an explosion in technical development and Rolex's popularity and global reputation only increasing year after year, and it leads us to the situation we have today; a new generation of Super Fakes that are almost indistinguishable from the real thing.
The Super Fakes
With this latest breed of counterfeits doing the rounds, the entire landscape has changed.
Years ago, nobody buying a $25 Rolex from a guy on a Thai beach thought they were getting the genuine item, and they weren't supposed to. The quality of the fakes was horrendous, seconds hands would jump suspiciously, and just about every detail was inferior.
Now however, the very best forgeries have had real time and effort put into them. Easier and more affordable access to high-tech equipment, such as 3D printing and CNC machinery, has allowed the fraudsters to create exact replicas of cases, bracelets and dials, and even clone whole calibers.
Opening up the back of one of these watches used to be the simplest way to identify a fake. At best you would see a cheap ETA movement working away; more usually it would be a Chinese Seagull or even a quartz.
But with the modern watch buying customer becoming evermore savvy, the counterfeiters have been able to stay one step ahead by exactly recreating mechanisms, right down to the gold screws and red reversing wheels.
Who is Buying Them?
These new Super Fakes, the vast majority of which are produced in China and across Asia, are being sold to two different types of buyer; those who know what they're buying, and those who don't.
Somewhere in the region of 30% of internet searches for watches last year were from people looking for imitations. The most convincing of these are actually very convincing indeed.
Even though they are being sold by companies that literally have the word 'Replica' in their business name, the quality of the materials and workmanship is excellent. Some are even using 18k gold or 904L steel for cases and bracelets, real ceramic bezels, genuine diamonds, and have also managed to recreate Rolex's intricate bracelet clasps. They claim an accuracy almost on a par with COSC and a waterproofness of 300m on the dive models.
All that in a piece you would have to study intently, and know what to look for, to tell apart from the real thing, but for about a tenth of the price.

So, what's the harm? Is buying a fake Rolex not just a bit of fun? Unfortunately not, for a few reasons. Most importantly, however slick and professional the replicas websites are, counterfeit watches are still illegal. Depending on which country you live in, you could be penalized and even face a prison sentence for merely buying a fake watch.
In the U.S. you cannot be charged for purchasing a forgery, but you most certainly can if you decide to sell it on, even if you advertise it as a replica. In fact, if you are simply caught in possession of more than one reproduction watch, you could be spending the next 10 years in the slammer and be on the receiving end of a $2 million fine, even for a first offence.
On top of that, the proceeds for these watches has been shown to fund serious criminal activity. Drug money is routinely laundered through counterfeiting operations, and proceeds from sales have been linked to human trafficking, organized crime and even terrorism.
In addition, the websites selling them are notoriously defenseless against hackers, leaving buyers open to having their credit card details, and even their identities, stolen.
And the conditions under which these watches are made are often appalling Far East sweatshops. Underage labor is common, with reports of children being handcuffed to their machines, and threats of violence made to families.
Anyone Can be Fooled
But then of course, there's the other type of buyer. The unwitting one thinking they're getting the real thing, going through the "proper" buying (i.e. non-replica) channels, parting with genuine Rolex money and winding up with a fake all the same.
Along with a highly believable copy of the watch itself, they can also receive very credible-looking booklets, boxes, swing tags and warranty cards—all the detritus that comes as standard from Rolex S.A., and only serves to strengthen their belief in the authenticity of their purchase.
At present, it is thought the counterfeit business as a whole accounts for between 5% and 9% of all global trade, and fake watches worth around $500 billion emerge onto the market each year. It is also one of the fastest growth industries in the world.
Against those sorts of numbers, it is no wonder some experts estimate there are more phony Rolexes than real ones in circulation. So if you are spending any time browsing online for your first or next Rolex purchase, chances are at least a few of the ones you are looking at are bogus. We are a long way from those days when fakes were sold with a knowing wink for a few bucks on a street corner.
Buy the Seller
We have reached the point now with fake watches where it takes a highly trained professional eye to tell them apart from the real thing. As good as the forgeries are, there are still telltale signs if you look hard enough and with enough background knowledge of your subject.
If you are worried about parting with large sums of money for a pre-owned watch and ending up with a forgery, your greatest protection is hunting out those retailers with the experience and expertise to qualify every watch they sell. The good guys, like BeckerTime are most definitely out there if you look, and will offer a cast-iron guarantee with each purchase.
Do your research, ask for recommendations and always buy your seller.
Featured Photo: Davidlohr Bueso by CC 2.0 & BeckerTime's Archive.