Rolex Innovations
Rolex have introduced many innovations, in fact the company's history is littered with them. The company was originally formed to popularize wristwatches for both men and women in a time when the pocket watch was still king. The fact that the wristwatch became so popular is in part, thanks to Rolex.
Other innovations include producing the first waterproof watch, the first watch to automatically display a date, a watch that could tell the time in two different time zones, quartz movement, self-winding mechanisms and a range of other improvements.
The first waterproof watch was the Rolex Oyster launched in 1926. It was not only waterproof, but dustproof and airtight too. While exhaustively tested, it wasn't until 1927, when Mercedes Gleitze swam the English Channel while wearing one that it's waterproof credentials were truly proven.
The watch became incredibly popular and brought fame and popularity to the luxury brand.
---
Self-Winding Movement
The Rolex Oyster was again to receive another first in 1931. This time for being the first self-winding mechanism with a perpetual rotor. This design became the basis for every other self-winding watch in the world.
---
Date Display
The 1945 Rolex, the Oyster DateJust was the first watch ever to display the date. This was another innovation the Swiss watchmaker introduced which was taken up by just about every other watchmaker in the world.
---
Time Zones
The Rolex Oyster GMT Master was introduced in 1955 to allow Pan-Am pilots to be able to tell the time in two different time zones at once. This was unheard of until that time, and although it didn't take off as much as it was anticipated, it was well received at the time.
---
Quartz Movement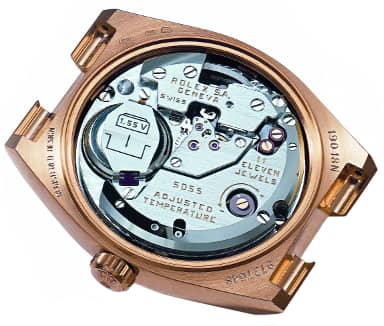 Rolex were also instrumental in the development of quartz time, and launched quartz watches to match. Despite pioneering the perpetual movement, quartz was still a mechanism Rolex wanted to explore. They, along with other watchmakers formulated the Beta 21 Quartz Movement. This was put into action in the Rolex OysterQuartz, the finest example of quartz watch ever made.
These are just a few of the innovations pioneered by Rolex. As well as making watches that could cope with the extremes conditions this planet could cope with, the company also improved and innovated to advance watches for the whole world.
What's your personal favorite innovation? Did we miss anything big? Let us know below!