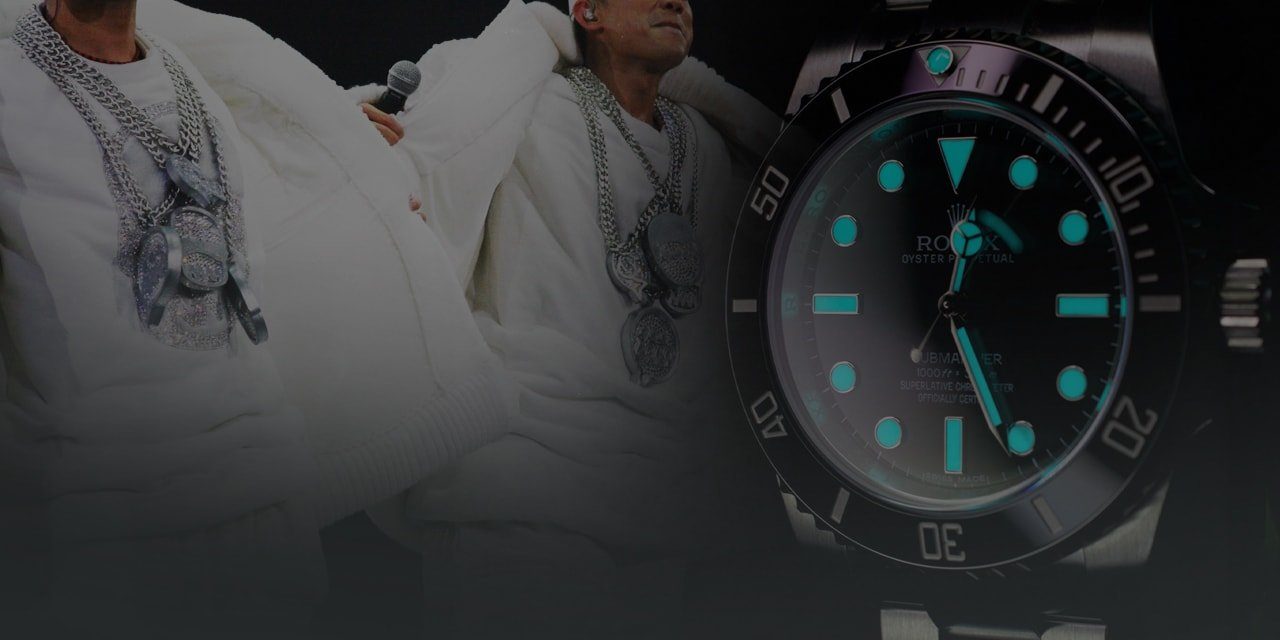 Rolexes Watches with some Bling Bling
Although Rolex offers a handful of seriously iced-up models of their own, produced in strictly limited numbers and wearing terrifying price tags, for some brand devotees that still isn't quite exclusive enough.
For those fans, only the true one-off will do, leading them to beat a path to the customizer's door. Here, there are several highly specialized companies who will take any standard Rolex, or any model from any brand in fact, and modify it to within an inch of its life until a one hundred percent unique watch emerges at the other end.
There is no rule book for these particular pieces, the only limitations being set by the customer's imagination and the depth of their pockets.
With client lists usually consisting of rappers, hip hop moguls and boxing world champions, among other shy and retiring types, you can bet the only thing these personalized Rolexes will not be is subtle.
Below, we've picked out a few very special examples made for some larger than life characters.
Floyd Mayweather's GMT-Master Twins
Money Mayweather's most recent timepiece purchase is the so-called Billionaire's Watch from Jacob & Co., complete with its 260 carats of emerald cut diamonds. Price tag? $18m—for which, as we all know, he could have bought himself a nice Paul Newman Daytona (actually, thePaul Newman Daytona) and still had a couple hundred grand left over to play with.
By comparison, his collection of gem-drenched Rolexes looks like a positive bargain.
The highest earning boxer of all time can certainly afford to treat himself, and among the dozens of the crown's finest in his possession are two GMT-Master II models which were already plenty extravagant before Mayweather got his deadly hands on them.
Both are from the ref. 1167XX range which was launched in 2007, in this instance the ref. 116759 SARU and SANR.
Those familiar with Rolex's naming conventions will already be able to work out what they're in for, with the letters at the end of the reference numbers giving us the clue. The SARU piece, standing for SApphires and RUbies, features a bezel formed of red and blue gemstones in an extremely expensive rendition of the original Pepsi color scheme. And the SANR, meaning SApphires NOir, has been given a mostly diamond-encrusted surround, dotted with 12 black sapphires. In addition, each watch is heavily-decorated with mountains of precious gems, including full pavé dials and glimmering bracelet center links.

For most people, that would probably be enough in the 'look-at-me' stakes, but when you are the undefeated world title holder across five weight divisions, it obviously calls for even more showmanship. Any bare metal that dared show its face to Mayweather has received a blanketing of customized jewels until the models are more just ornamental bracelets with a clock somewhere underneath.
Mayweather's watches, and all modified pieces for that matter, actually raise an interesting question about quality over quantity. Rolex employ legions of the world's best gemologists to work on their relatively small number of enhanced pieces, with each one selecting only the very best stones to add, by hand, into meticulously crafted settings.
Getting a third-party to throw even more gems at it once it has left the factory comes with no real guarantee they will share the same levels of care and attention. A local jeweler could well be using the kind of diamonds only really fit for glass cutting to adorn your watch and, of course, any modification of any kind instantly voids the warranty on a Rolex, and makes it ineligible for maintenance at an official brand servicing center.
Obviously, that last point is probably not keeping Mayweather up at night, but the fact remains that merely adding more and more shiny things to a model doesn't mean it automatically increases in value. In fact, with Rolex in particular, it is the exact opposite and you could well find yourself taking a financial hit if you decide to sell it on in the future.
Meek Mill and His Rolex Collection
Like Mayweather, Meek Mill is another celebrity not crippled with self-doubt nor hampered by anything as mundane as good taste. An avowed Rolex fan, the rapper and MC refers to the brand more than 50 times throughout his career projects.
His vast collection takes in at least one, and more usually multiple, examples of most of the brand's biggest hitters; some standard-issue pieces, others so heavily customized as to be virtually unrecognizable.
Followers of his Instagram are treated to photos and videos of some truly astonishing watches, including a bevy of Day-Dates swamped in gems on every surface and with extra wide bezels to accommodate the enormous round cut diamonds. You'll also see a trio of Datejusts in each flavor of gold given the same treatment, alongside at least one Yacht-Master, a model that already represents something of a flamboyant departure from Rolex's normally conservative design language, positively buckling under the weight of all the ice.
There are other, slightly more reserved, pieces in there as well. Sky-Dwellers, GMTs and a Milgauss or two, all with the kind of mods Rolex doesn't officially go in for, but not so overdone as to be out of the question.
It is unclear just how much Meek Mill's, real name Robert Rihmeek Williams, collection is valued at, but with a personal net worth of around $14m, the one time battle rapper is not short of cash.
Whether it is to your taste or not, it can't be denied his haul of Rolexes is certainly an attention-getter.
Transforming your watch with a swarm of precious stones is one way of getting that completely unique look so many people are after. These days, it is not difficult to find highly respected jewelers who focus solely on doing just that, and business seems to be better than ever.
However it is always worth remembering, especially if you are looking to trade in your Rolex at a later date, that any modification whatsoever technically renders it a counterfeit, as far as the brand themselves are concerned at any rate.
As always, a good amount of research is advisable before surrendering your precious piece for any kind of treatment, otherwise you could end up with an expensive watch that nobody wants.
Featured Photo: WikiMedia Commons CC BY 2.0 & Pixabay (cc).