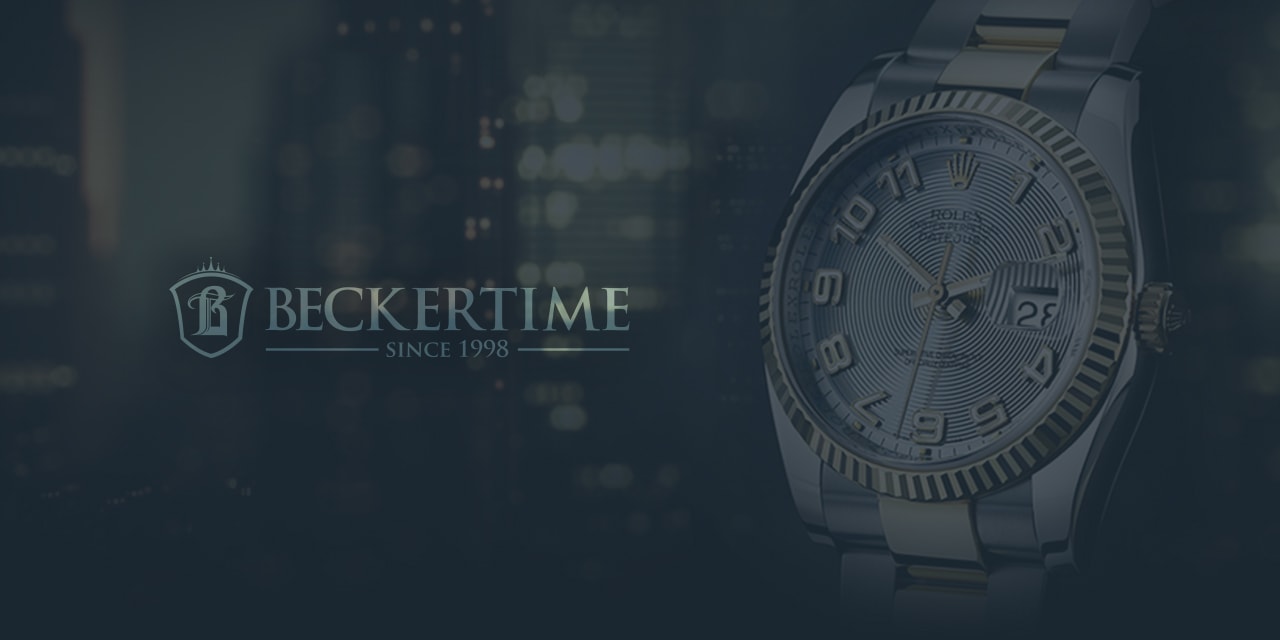 The History of Customizing Rolex Watches
It would be a dreary old world if everybody's tastes ran the same. We'd all dress the same, eat the same, listen to the same music, live in the same type of house.
Fortunately, we are all different, and it is what gives us such a fascinating variety in all things, including watches.
Rolex's catalog consists of a huge number of models of every description, with pieces such as the Datejust and Day-Date in particular being issued in bewilderingly diverse combinations of metal, dial color, bezel style and bracelet.
The tool watch collection as well is not short on options— the Daytona is currently available in any of four dozen or so distinctive getups, and the Submariner and GMT-Master II also have plenty of choice.
However, no one watch manufacturer can possibly cater to every individual's specific sensibilities and Rolex has a long history of clients taking one of its creations and employing a third party to personalize it to their own unique requirements.
There are a host of ways to do it and any number of different reasons. Some want to make their watch really stand out from the crowd with an injection of bling, others merely want something on their watch that Rolex don't formally offer. Occasionally, wearers want to add a more modern element to an older piece, and certain people want to do the opposite; take a contemporary model and give it a vintage look.
Below we list some of the most popular ways of customizing your Rolex, either through the use of aftermarket parts or by adapting the standard-issue elements, as well as a few things to be aware of.
Changing the Bracelet
Probably the easiest and least disruptive way of making a striking difference to your Rolex is by simply changing the bracelet.
The majority of the brand's core family comes supplied on one of the rightly famous metal trio; the three-link Oyster, the five-link Jubilee and the semi-circular-linked President.
Leather bands are few and far between, only officially found on the ultra-dressy Cellini line and on several Day-Dates. The Oysterflex, Rolex's first foray into rubber straps, is a relatively new addition, and confined to the Daytona and Yacht-Master ranges for now.
But swapping the supplied bracelet for an aftermarket example completely transforms the overall aesthetic of a piece, lending it an entirely refreshed appearance.
Put a Submariner, for instance, on a black leather strap and it instantly becomes far more formal, matching even better than it usually does with a business suit. Fit it with a rubber or silicon band, such as from top supplier Everest, and it dramatically ups the sportiness quotient of the world's favorite dive watch. If you fancy the more rugged, militaristic look, a NATO fabric strap is all-action.
You don't even have to swap the band to wholly change its visual aspect. Check out the Rolexes of any number of celebrities and you will see bracelets, as well as cases, lugs and bezels, drenched in diamonds and other gems.
While the brand has no shortage of jewel-enhanced models on its books, many people see them as a starting point rather than the finished item; almost a blank canvas onto which a skilled third party will add any and all stones the customer wants. By no means an inexpensive exercise, the results can be truly spectacular.
Or if ice really isn't your thing, having the bracelet modified with a different finish offers a little vintage nostalgia. A bark-like texture on the center links was a particularly 70s thing that Rolex does not offer anymore, frequently found on Presidents and Datejusts. You can either track down an authentic example or else have your existing one customized for the same effect.
In addition, you will sometimes see nugget bracelets, where a band is given the look of being built of solid chunks of gold for an extremely eye-catching alternative.
Of course, changing a bracelet can be a matter of necessity as well. Over time, any metal bracelet will suffer from a certain amount of stretch and wear, and it is a not uncommon occurrence with vintage pieces. Should you need a replacement, realistically you have four choices.
You can drop into your local AD and order a new one from Rolex themselves. Naturally, this gets quite pricey. Actually, depending on the type, it can get downright crippling. Securing yourself a box fresh gold President band for a Day-Date, for example, is currently about $17,000.
In addition, depending on the retailer, they may insist on seeing the watch it is to go on in order to confirm you are not just buying a bracelet to sell on the secondary market. And they may well return the original band you want to replace back to Rolex for the same reason.
Another option is to buy a preowned genuine Rolex bracelet, which could, firstly, take a bit of finding and, secondly, also be a major drag for your bank balance. You might find that same President bracelet for around half the price, but that still leaves you with a bill for $8,000 or so.
Thirdly, you can have your original band refurbished, with the links tightened up and the pins replaced. Although this is certainly a far cheaper solution, it does have the problem of Rolex not appreciating it. And we will look at that issue more a bit later.
The increasingly popular fourth route is fitting an aftermarket band. As we have seen, this can give a reinvigorated look to any watch and the best ones out there are of excellent quality. Some people have their genuine Rolex clasp from the outgoing bracelet fitted to their new strap.
Changing the Dial
Giving your watch a facelift obviously has the most impact on its appearance.
Here too, the options are plentiful.
The dial can be refinished to any color of your choice or, like the bracelet, it can be set with gemstones, either highlighting hour markers or blanketing the face entirely. You can even opt for a dial forged from some type of semiprecious material, such as mother of pearl or onyx, or for a true one-of-a-kind experience, you will be able to find pieces made from slivers of genuine meteorite.
There are companies that will add your initials or integrate a favorite illustration onto the dial, a business logo, a beloved sports team or even a cartoon character. You can change the color or style of the hands, or an almost endless range of different techniques to make your off-the-shelf model completely bespoke.
Changing the Bezel
Similarly, the bezel can be changed in a number of ways, each lending a hint of personality to the model. Smooth surrounds can be swapped for fluted or vice versa, for example.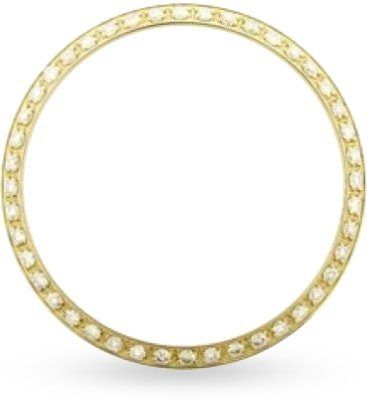 Two legendary models from the Rolex portfolio, the Submariner and the GMT-Master, are defined by their bezels, and offer the opportunity to switch up their look fairly easily, and have some fun at the same time. Finding a green bezel for a standard black Sub, for instance, immediately gives it the appearance of the highly regarded Kermit model released for the watch's 50thanniversary. Likewise, a regular GMT piece can be made into a Pepsi, a Coke or a Batman by swapping the component. Obviously, should you come to sell the watch on, it will be necessary to refit the original or disclose that the parts are aftermarket.
Of course, producing fully iced-out surrounds for Rolex watches has been big business for years and has given us some extraordinary pieces. Here, as with any time you send your prized watch away to have work done, choosing the right company or individual is paramount. It is a lucrative profession and has attracted some truly fine artisans and companies. Unfortunately it has also drawn more than a few who are completely unqualified and unsuited, who are likely to do more harm than good to your cherished piece. Engaging in some in-depth research is vital.
Changing the Case
Just as with the bracelet and bezel, there are a number of ways to liven up the look of your Rolex's case and lugs. Again, diamond enhancement is one of the most prevalent and well-liked. Gem stones can be sprinkled sparingly to accent certain parts or else deluge the entire façade head to toe, depending on your tastes.
A more recent trend is hand engraving, where a highly-skilled craftsman etches a decorative pattern of your choice into the metallic surfaces of the watch. It gives a superbly distinctive finish and it is a style movement that is certainly gathering pace. It is important to remember of course that once it's done, it's done! You won't be able to restore your watch to its original condition if you change your mind.
One particularly exciting option for the more nerdy collector is to swap the Rolex-supplied case back with an aftermarket exhibition style version, allowing you to see the movement working away inside. It has been not an option on any watch in the brand's catalog since the demise of the Cellini Prince in 2015, and is something that has long been top of the wish list of many a fan.
Go Dark
Rolex don't make an all-black piece, which many fans have been crying out for. If you want that ultimate in Navy Seals chic, you will need to surrender your watch to receive a special coating, using either Physical Vapor Deposition (PVD) or Diamond-Like Carbon (DLC).
It is something which has exploded in popularity in recent years, so much so you have to wonder whether Rolex will just start issuing official examples all blacked out.
Again, this needs to be done by experienced and well-trained customizers, with the procedure being both specialized and semi-permanent.
Also, there is nothing to say a treatment has to be in black. Fancy a rose or yellow gold Sea-Dweller Deepsea? Or how about a full Arctic White Daytona? PVD or DLC coating can make either happen, or just about anything else you fancy.
Vintage or Modern
Rolex watches live in a state of near perpetual evolution, with features and materials being improved on all the time. It is what has kept them at the top of the horological tree for generations.
As such, many people with older watches decide they want to take advantage of newer developments, replacing various parts with their more modern equivalents.
The bracelets are actually prime examples of this. One criticism leveled at the brand over the years has been the relative flimsiness of their metal bands, with their hollow links leaving them feeling too insubstantial on the wrist as well as being subject to stretching.
Since the turn of the century, Rolex has been using all solid links and have upgraded their clasps to include ingenious quick adjustment systems. There are plenty of watch owners who have replaced the old style bracelet with one of the contemporary editions.
Likewise, a watch that originally came with an acrylic or plastic covering protecting the dial can be fitted with one of the new generation of sapphire crystals, a far tougher and scratch resistant alternative.
And then, of course, you can go the other way. One of my favorite forms of customization to emerge in the last few years is provided by companies like Tempus Machina.
Much like those firms who will take a classic old sports car and fit it with modern-day engines, brakes and suspension, Tempus Machina start with one of the latest models in the Rolex catalog and modify it to look exactly like a vintage grail piece from times past.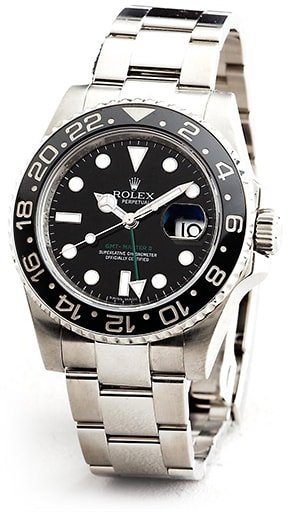 For instance, in their lineup is a ref. 116710 GMT-Master II which, after being stripped down to its constituent parts and having a bunch of power tools taken to it, emerges at the other end a dead ringer for the debut GMT reference, the ref. 6542. The resemblance is uncanny, with the case reshaped, the crown guards gone, a genuine branded roulette date wheel added plus a dozen other period corrct details. Even the bezel insert is, or certainly looks like, the original Bakelite.
Or you could offer up a regular no-date Submariner ref. 114060, the current model, and come away with a piece practically identical in every way to the legendary ref. 6538; the Bond Sub. Owners are left with the best of both worlds; all the most recent innovations, wrapped up in the body of one of the most revered watches of all time, down to the 8mm crown and red triangle at the 12 o'clock.
A Warning Before You Start
Customizing watches is becoming evermore popular as discerning people look to find a little bit of that ultimate statement of luxury; exclusivity.
However, there is one fairly significant group who are not big fans at all, and that is Rolex themselves.
As far as they are concerned, the instant you swap any part of one of their models for an aftermarket counterpart, whether it is a new bezel, replacement dial, a different bracelet, even something as small as the crystal, the watch becomes counterfeit. As such, they will most likely refuse to service it should you send it to an official center.
Worse still, if the element you have replaced with one from a third party supplier has the Rolex logo on it, they will consider that a breach of their Intellectual Property and are well within their rights to confiscate it and switch it with a genuine part, at your expense.
Those with customized watches have a couple of ways round this. Firstly, if it can be done easily enough, many owners decide to take their piece back to factory condition before sending it away for a service. Obviously if this only requires swapping a bracelet back, then all to the good. But if you have had a full workup of diamonds and rubies embedded into every surface, there's no way to backtrack on it and you are on to option two.
In that situation, locating a trustworthy Rolex trained and qualified independent watchmaker is the way forward. We tend to handle a great many customized models here at BeckerTime for that very reason.
A Final Word
One of the most attractive things about modifying watches, and Rolexes in particular, is the sense of limitless choice. Pretty much anything you can think up can be done, so long as your pockets are deep enough.
That being said however, just about the closest the practice gets to having a hard and fast rule concerns what watches should and should not be customized.
If you ask one of the hardcore traditionalists, they will say no Rolex should be messed with. Only the pure, unadulterated version straight off the shop floor will ever do, and anything else is slightly looked down on.
While we don't agree with that sort of blanket statement, and we appreciate a well-thought out custom job here, we would say there are some references that really should be left alone.
If you were lucky enough to find yourself in possession of a Paul Newman Daytona for example, or a Double Red Sea-Dweller or a ref. 5517 MilSub, and you decided to add a gem-drenched bezel or a bright pink dial, not only would you likely get angry villagers pounding on your door wielding pitchforks and burning torches, you will also have stripped an extremely rare and incredibly valuable watch of most of its worth.
Even if you wanted to do a sympathetic restoration on one of those fabled pieces, collectors will always prefer a completely authentic watch in a poorer condition than a newer looking one refurbished with aftermarket parts.
In general, the best candidates for a major customization are the more recent pieces, the ones still in production which have yet to attain grail status.
And remember that should you decide to sell your modified piece on in the future, it may not be for as high a price as an untouched example of the same attributes.