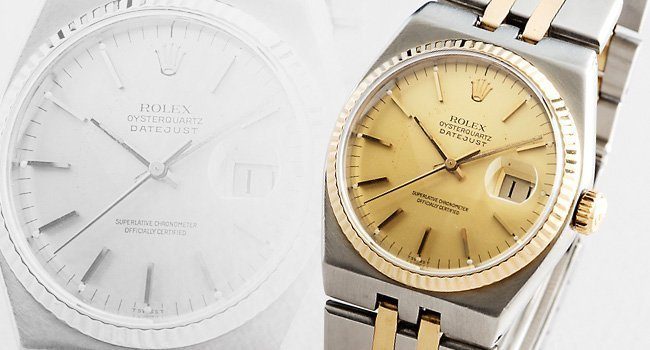 Yes, There's a Battery in Rolex's OysterQuartz
Rolex is renowned for making mechanically powered timepieces, but from 1970 through 2001 Rolex also produced a battery powered and quartz regulated wristwatch known as the Oysterquartz. Creating a quartz watch was not necessarily Rolex's method for keeping up with the Joneses as Rolex had been researching electro-mechanical since 1952 and filed over 21 patents between 1960 and 1990 for electronic and LED/digital watches.
One watch, two movement types.
Initially, in their first quartz offering, Rolex utilized a Beta 21 movement that was also used by Omega and Enicar. With only 1000 of these watches out the door, Rolex developed its own in-house quartz movements released in 1977 as the Oysterquartz. Rolex developed two movements, the 5035 for DateJusts, and the 5055 for the Day-Date. These movements utilized 11 jeweled bearings, the most advanced CMOS circuitry, a 32khz vibrator, and thermocompensation that is only found in the upper ranges of swiss quartz watches. Rolex's in-house quartz movements are certified to COSC's stricter quartz chronometer standards of ± .07/seconds a day as opposed to the COSC standards for mechanical movements which is -4/+6 seconds day.
More developments
In addition to the uber-accurate movement, the Rolex Oysterquartz possessed other refinements later found on the rest of the modern Rolex line. The OysterQuartz was fitted with Rolex's first synthetic sapphire crystal – a development that took almost 30 years to become a standard feature on all Rolex watches. The OysterQuartz was Rolex first watch to utilize a solid link bracelet. At the time, Rolex used hollow-link bracelets in all of this watches. The durability of the OysterQuartz bracelet is legendary to this day.  A stretched or badly worn OysterQuartz is rarer than the watch itself. The OysterQuartz series utilized the same profile and case proportions as their mechanical counterparts, with the only exception of the lugs. OysterQuartz watches did not use end link/lug combination that is found on most other watches (including Rolex mechanicals). The solid link bracelet, combined with a lugless bracelet connection makes the OysterQuartz look like a solid piece of stainless and/or gold. At the time, the lug/bracelet design was compared to the Audemars Piguet Royal Oak. Although they look similar, the Royal Oak and the OysterQuartz are two entirely different watches coming from two different design ethos.
There are estimates that there are fewer than 25,000 OysterQuartz watches produced. The last appearance of the Reference 17000 stainless in a Rolex catalog was 2001, with the two-tone and all gold models staying in the catalog until 2003.