Repairs and Servicing
Your Rolex is a complicated piece of machinery, and much like your automobile it will need regular servicing. On average it is recommended between 3- 7 years and this is mainly due to the lubricants that are within the whole movement drying up and affecting the miniscule parts within your Rolex watch.
With access to a Rolex Certified Master Watchmaker, it allows us to do full overhauls, servicing and repairs. All to the standard that Rolex would be proud of.
What Happens?
Your watch will be thoroughly examined internally and externally. The case is checked for water tightness. All parts of the watch are disassembled and individually cleaned. Any internal parts that are damaged or show excessive wear will be replaced. The watch will then be reassembled, lubricated and sealed. The case and band will be buffed and polished. Once this has been completed, the watch will be tested, timed and regulated to ensure it meets factory specifications.
---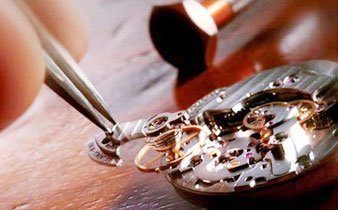 Rolex Un-assembled
The movement is removed from the case and disassembled into its individual component parts. The band, bezel, caseback, crystal, crown and tube are separated from the case. The end-pieces (if applicable) and spring bars are separated from the band
Cleaning
All watch components are put through a multi step cleaning process to remove all dirt, oil, and other contaminants. Multiple ultrasonic machines are used for the cleaning and rinsing stages. Exterior parts will be steam cleaned. All parts are then dried.
---
Movement
Once disassembled, every single part of the movement is inspected. Any parts that are damaged or show excessive wear will be replaced. A new mainspring will be installed to insure proper operation of the watch. Once cleaned, the movement will be assembled and lubricated. Up to Seven Moebius oils are used during this process. We follow the oiling recommendations provided by Rolex. The dial and hands are applied. The movement is then regulated to factory specifications. We use Swiss made Witchi timing machines.
---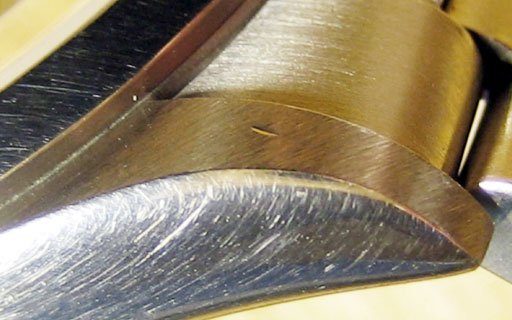 Case
The case is refinished using multiple polishing wheels and rouges to remove any scratches and small dents. Once polished, the movement will be placed back in the case. The caseback, crystal, crown are reinstalled. A new case tube will be used. Watches with acrylic crystals may be fitted with a new crystal, if needed. Models with sapphire will be replaced, if needed, at an additional charge. A complete set of gaskets are installed and assembly is completed.
---
Bracelet
The bracelet is the one part of the watch that takes the most punishment! It will be refinished using multiple polishing wheels and rouges to remove any scratches. This process does not remove the "stretch" between the links. Of course bands with excessive "stretch" and wear will be refinished to their best possible condition.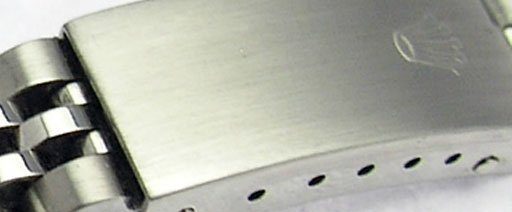 ---
Final Testing and Timing
Your watch will undergo several tests prior to being returned to you. A pressure test is done to ensure the watch is water resistant. Your watch will then be placed on a wrist simulator that tests the watch in multiple positions… much like when it is on the wrist. This allows us to test the automatic functionality and tell if any time has been gained or lost. Any adjustments that need to be done will be done at this stage. Typically this stage itself can take up to 10 days.
Warranty
A BeckerTime one year mechanical warranty is provided.
Please note that although we pressure test a watch prior to being shipped, we do not guarantee any watch to be waterproof and do not cover any water issues under any type of warranty. The reason is because we can only guarantee it water-resistant when it leaves our facility. After that, there are too many life factors that can contribute to a watch not being water resistant anymore. Statistically, this can happen to the most careful of watch wearers.
---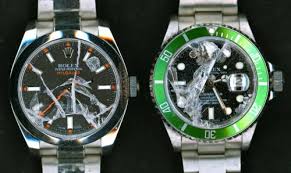 Repairs
Remember, life happens… especially when you are living life to the fullest and enjoying your Rolex. This means that damage can occur. Whether it is a broken crystal or crown, it is quite common to have a rolex repaired at the same time as when it is being serviced. These things are always quoted for before any additional work is carried out.
---
Parts
Occasionally a Rolex may require work and/or repairs beyond what is included in a routine Service "COA". An example is water damage. Water can create rust build up and damage within the watch. Restoring a Rolex from water damage is a painstaking task that requires extra time and parts. We will always provide an estimate for repair before any work is carried out.
From a simple service to the worst damage Beckertime is here, on hand to guide you every step of the way to get your watch back on track.