Audemars Piguet Ladies 18K Yellow
Gold "Florentine Finish" Bracelet Watch with Original Blue
Sapphire Bezel.

Prestigious AP Manual-Winding
Movement.
Ultra Rare vintage iconic AP masterpiece. Do not confuse this
mechanical movement piece with ladies quartz models.
The hammered-Florentine finishing on the
bracelet and dial is extremely time-consuming and expensive to
execute. The interlacing of the Florentine finishing and the
high polish finishing creates a very striking contrast and
looks great under the light.

Blue sapphire bezels and 18K yellow gold
match perfectly and has very stately effect. In fact,
combination of blue stones and yellow gold has traditionally
been used by royalties throughout history.

In pre-owned, good condition, owned by a
collector and wore for a few dozen times over the years carefully.
It has some scuffs from normal wear on a solid gold piece.

Weighs 50 grams. That's a lot of gold.

Dimension: Ladies dress size at 17mm
across, and 21mm vertically. Very elegant.

Age: from early 1990's, owned by a
collector. Bracelet can fit comfortably wrist up to 6 inches.
Sorry but box and papers are misplaced.

The similar model
from modern collections,
fashioned after this original, sells for $40000. The
original is impossible to find.
100% Authentic or MONEY BACK GUARANTEED!!

Hi, you are looking at a very rare vintage AP ladies manual
winding watch in 18K yellow gold, and original blue sapphires.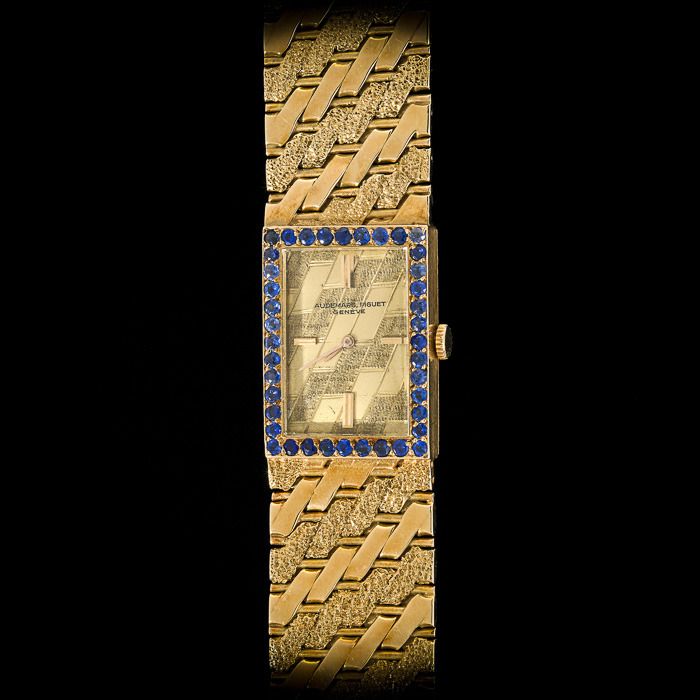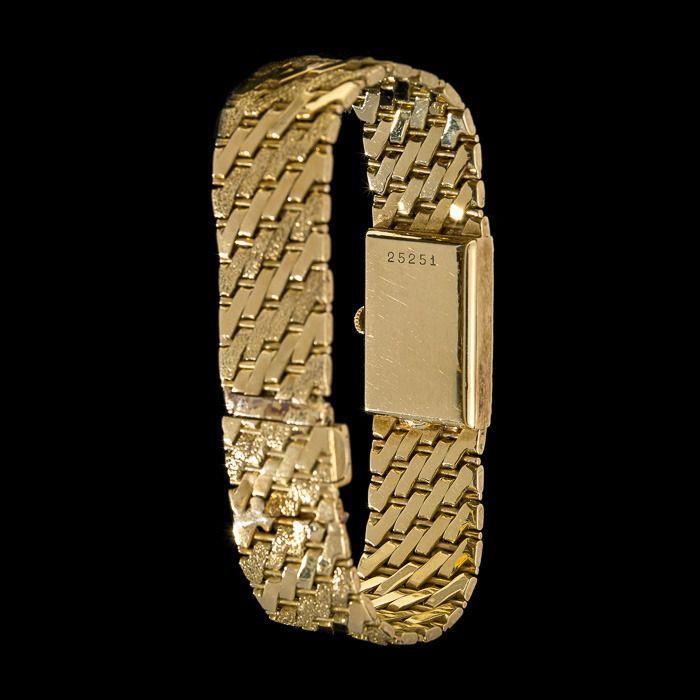 This is a beautiful piece. Now I need money so I am regrettably
letting it go. I know that I am losing a lot of money by selling
it. I just wish the winner will truly treasure it and wear it in
good health.


Shipping:

This item will be shipped within the United States at a
shipping cost of $75. International shipping is $95. It
includes full insurance, which can be a bit high given the
high value of of the item. However, the insurance value is
accurately reflected and I am actually losing money on the
shipping and insurance.

Payment Methods:
I can take paypal
(shipping to
confirmed
and verified address only), and can contact winners for
other
payment alternatives for your convenience.
I have been a reputable member of the watch
collector and dealer communities for many years, and I have
a
great track record with 100% positive feedback. So please
buy
with confidence.

Privacy:

In
order to protect the winners and my
clients
from fraudulent solicitors, I have made this auction private
–
this way you can bid with the peace of mind and with
confidence
that your identity is not exposed to harm.