To Date or Not to Date? The Rolex Air-King Mens Two Tone
As one of the longest running Rolex collections in the brand's history, the Air King is a varied line with plenty of different metal options. Subsequently, along with stainless steel and gold variations, there are also two tone Air King models available. Rolex no longer manufactures two tone Air King watches today. However, there are vintage and discontinued models available in the secondary market. Let's run through some Rolex Air King mens two tone watches.
What is Rolesor?
The term Rolesor is Rolex-speak for combining both stainless steel and gold metals in a watch. Rolex coined this moniker in 1933 where "or" in "Rolesor" refers to the French word for "gold."
Rolesor is, in fact, one of the brand's signature looks. A Rolex Rolesor two tone watch typically boasts a stainless steel case with gold accents including bezels, winding crowns, and bracelet center links. However, two tone Rolesor doesn't just refer to the combo of yellow gold and steel, but rather any gold. So a stainless steel Rolex watch with a white gold fluted bezel is also a Rolesor model. As is a Rolex watch that marries rose gold and stainless steel.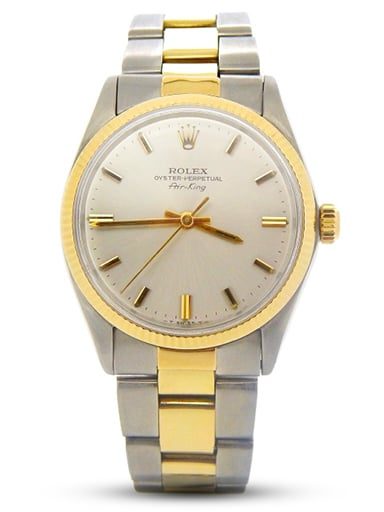 Two Tone Air King ref. 5501
The two tone Air King ref. 5501 was in production from the late 1950s until the late 1980s. Like the vast majority of Air King models, it sports a 34mm case. The ref. 5501 is available with either an Oyster or Jubilee bracelet. And since this a Rolesor two tone Air King, the center links of the bracelets are in 14k gold.
Also in gold are the fluted bezel, the winding crown, the stick indexes, and the trio of center hands on the dial. Something interesting to note on the dial, just above 6 o'clock, is the presence of "Precision," "Super Precision," or no text at all. If there's an absence of text or the word "Precision" that signals the Rolex Caliber 1520 beating within. On the other hand, "Super Precision" indicates that the two tone Air King runs on Caliber 1530.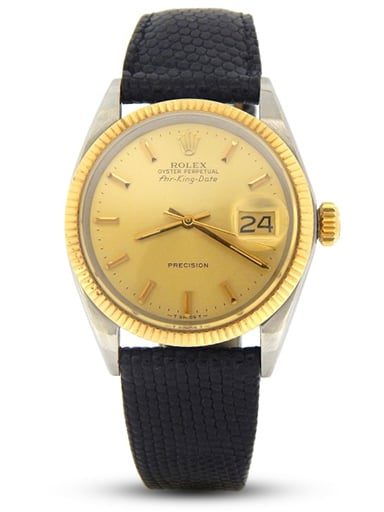 Two Tone Air King Date ref. 5701
Interestingly, although the Air King is typically known for its time only functionality, Rolex did produce a few Air King Date models for specific markets. One of these models is the two tone Air King Date ref. 5701—which Rolex made for over 30 years.
Again, the two tone Date ref. 5701 boasts the iconic Rolex Rolesor style with the 34mm steel case and steel bracelet accented with a gold fluted bezel, gold winding crown, and gold center links on the bracelet. However, this time, in addition to the gold center hands and indices, there's also the date window at 3 o'clock magnified by the famous Cyclops lens.
Whether you go for the yellow gold and steel Air King ref. 5501 or the yellow gold and steel Air King Date ref. 5701, the two tone Air King is a great elegant everyday luxury watch. And you can view a great selection of these elegant pre owned Rolex watches… and more… here at BeckerTime.

Warning: Invalid argument supplied for foreach() in /home/beckertime/public_html/wp-content/themes/awesome-beckertime/parts/shop/blog-content.php on line 28