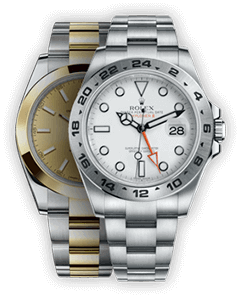 Pre Owned Rolex Watches for the Perfect Fit
The midsize Rolex watch has become very important to the brand. Getting the sizing exactly right is a crucial concern and has a huge effect on the overall look of the piece. This is the reason for the various and changing dimensions across the range. It successfully bridges the gap with those of us who fall right in the middle. And, as a ladies watch, it gives a little more presence than the traditional sizes.
BeckerTime's selection of midsize Rolex timepieces will assure that perfect fit. In addition, you'll find that our midsize watch collection features an assortment of colorful watch faces and variety of bezel and bracelet types. We offer a 30-day money-back guarantee as well as a Lifetime TradeUp Guarantee on qualified items. We also offer personalized customer service. So, please contact us so we can help you find your perfect watch. We're here to help.