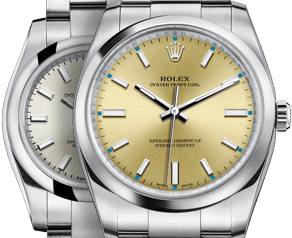 Midsize Stainless Steel
Our current inventory features a Rolex Oyster Perpetual midsize stainless steel 31mm pre owned watch with a blue face, smooth bezel, and Oyster bracelet. Browse our collection for the timepiece that fits your style and budget. Clearly, wearing a pre-loved Rolex Oyster on your wrist puts you in distinctive company. We also offer a 30-day money-back guarantee with each purchase and a one year warranty on most watches. In addition, we offer personalized customer service. So, don't hesitate to contact us for assistance. Also, we offer after-sales support and a Lifetime TradeUp Guarantee on qualified items. This means you can come back to us when you want to upgrade to another model. To learn more, browse our entire collection of pre owned Rolex watches.
The midsize Oyster Perpetual ref. 77080 is no longer in production, however, as with any discontinued Rolex model, they can be sourced from the secondary market. Particularly appealing is the price point of this reference.