Why We Love the Midsize Stainless Steel Oyster Perpetual
While Rolex offers an incredible range of ultra precious dress watches or super sporty watches, their understated everyday watches aren't to be missed either. In fact, with so few bell and whistles to hide behind, the quality that Rolex is so famous for really shines through. The midsize stainless steel Oyster Perpetual is a perfect example of this approach and here are some of the reasons why we love it.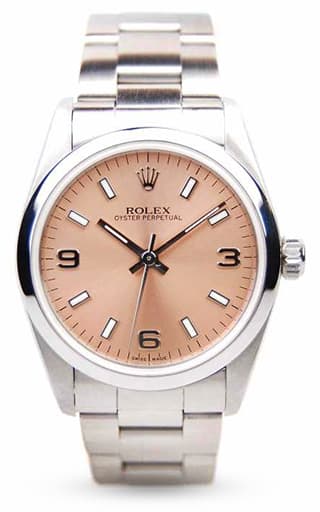 The Midsize Stainless Steel Oyster Perpetual is a Great Size for an Everyday Ladies' Watch
With a 31mm Oyster case, the midsize Oyster Perpetual is a great size that's not too small and not too big for a ladies' wrist. Couple that with its rugged stainless steel construction, scratch-resistant sapphire crystal protecting the dial, and super comfortable Oyster bracelet and you've got a winning combination for an everyday luxury watch.
The Midsize Stainless Steel Oyster Perpetual Features a Minimal Dial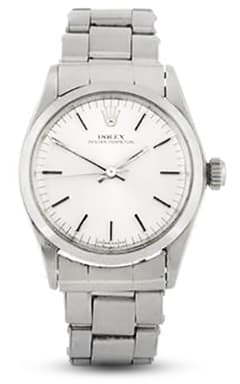 The midsize Oyster Perpetual never screams, "Look at me" but rather, is comfortable being the modest three-handed Rolex it is. Thanks to its lack of date window and Cyclops lens, the absence of the "Superlative Chronometer Officially Certified" label, and the understated dial configuration, the face of the midsize stainless steel Oyster Perpetual is appealingly symmetrical and beautifully balanced. An especially attractive dial option is the Explorer-style version with the iconic 3/6/9 Arabic numeral layout, set among simple baton markers.
The Midsize Stainless Steel Oyster Perpetual Runs on an Automatic Movement
As its name suggests, the Oyster Perpetual runs on an automatic movement—hence the "perpetual" designation. This is especially noteworthy for a women's luxury watch, as other brands tend to equip their ladies' timepieces with quartz movements.
Housed within the case is the Rolex Caliber 2230 operating at 28,800 beats per hour. Furthermore, the COSC-certified movement (yes, it's a chronometer despite the lack of SCOC text on the dial) offers a power reserve of 42 hours. As a result, the watch will continue to run for about two days if left unworn before running out of power.
Midsize Stainless Steel Oyster Perpetual Is An Affordable Rolex Watch
Affordable is of course a relative term, but when speaking in the Rolex realm, the midsize stainless steel Oyster Perpetual is one of the least expensive models available. Depending on the year, condition, and reference, a midsize Oyster Perpetual in steel can be purchased from about $2,500 to $4,000 in the secondary market. Considering the quality, longevity, design, and dependability of a Rolex watch, this is a fantastic deal instead.
No one can argue the minimal watch trend that has swept the timepiece space in recent years. Less is more is an ethos many subscribe to and the midsize stainless steel Oyster Perpetual is a terrific way to wear the style today—and for decades to come.