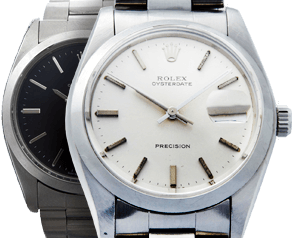 DURABLE WITH A SMOOTH CLEAN LOOK
We offer a great selection of used Rolex Oysterdate watches for men. For instance, these preowned Oysterdate watches are sized 34mm and come in stainless steel. Additionally, our selection offers a variety of dials and bands. By browsing our collection, we're sure that you will find a pre-loved Rolex timepiece for your style and budget. Experience the luxury of owning a Rolex Oysterdate watch, but at a used Rolex Oysterdate price. And remember, BeckerTime offers a 30-day money-back guarantee, as well as a Lifetime TradeUp Guarantee on qualified items. So, please contact us if we can help.
No products were found matching your selection.