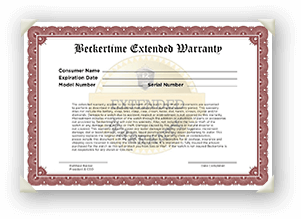 Which watches qualify for the BeckerTime Extended Warranty Promotion?
Any preowned Rolex available for sale on BeckerTime.com for $2,500 or more and listed as already coming with a BeckerTime warranty qualifies for the FREE 3 Month BeckerTime Extended Warranty. Promotion valid on BeckerTime.com only.
The FREE 3 month extended warranty applies to the qualified preowned Rolex purchase only.
What does the warranty cover?
Watches are warrantied to perform and keep time as described in the BeckerTime product description (and Condition Grading Scale) during the warranty period. The following will provide full details about the BeckerTime warranty: https://beckertime.com/warranty/
When does the FREE 3 month extended warranty begin?
The FREE 3 month BeckerTime Extended Warranty will begin the day the BeckerTime 1 Year warranty expires.
What if I return my Rolex watch to BeckerTime during the first 30 days?
To receive a full refund on your purchase, all accessories and documents received with the timepiece must be returned. The extended warranty will no longer be valid if the item has been returned and refunded. For more details about our hassle-free 30-day money back guarantee, visit us here: https://beckertime.com/return-policy/
What do I need to know to take advantage of the BeckerTime Extended Warranty Promotion?
All qualifying preowned Rolex watches purchased from BeckerTime.com must be made by 11:59 p.m. PST on December 31, 2017. Promotion will be automatically applied to all qualified purchases. There is nothing extra you need to do to receive the extended warranty for your qualifying Rolex purchase. The 3 Month Extended Warranty Certificate will be included in the shipment.
This promotion is not valid on watches listed for $2,499.99 or less. Promotion is not valid for watches that are not listed as coming with a BeckerTime warranty. The FREE 3 month extended warranty is non transferable and can not be used on any other item. The extended warranty is valid only on the qualified Rolex purchase. Promotion valid only on BeckerTime.com.
Have any more questions? We invite you to contact us any time to learn more about our BeckerTime preowned Rolex watches and our special warranty promotion. Give us a call at (817) 503-2334.
Don't delay… Take advantage of this limited-time BeckerTime.com offer today!
BeckerTimeBE