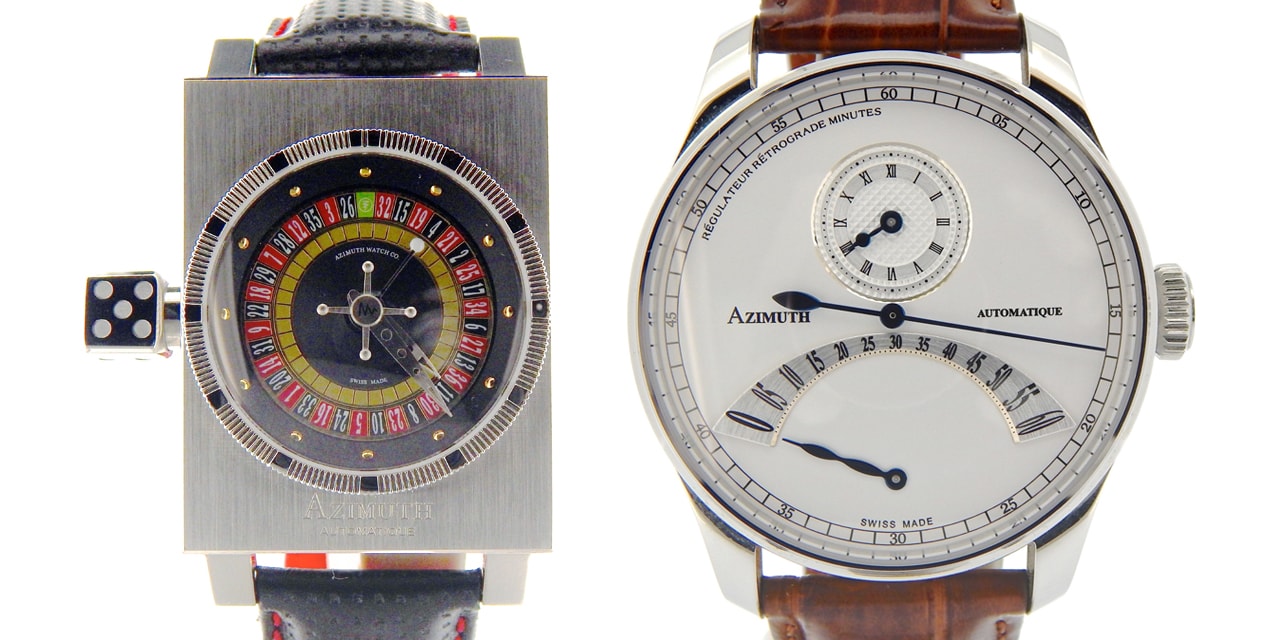 Azimuth Watches: A Review
Perhaps the best thing about horology overall, and the reason for much of its fascination, is that there are really no rules. There is literally nothing which can dictate how a wristwatch should look, or how it should set about doing its job.
Admittedly, over the years, a basic form has been settled upon, one which offers up the most accessible way of telling the time. We have a dial, round or roundish for the most part, with the hours of the day arranged around the outside, and with a set of centrally-mounted hands to point the way.
It is only on rare occasions that anything deviates from those self-imposed limits, and often not by much. A watch may change shape to a square or rectangular form, for instance, or the position of the time telling elements might shift to free up space for something else; think of the Lange 1 from A. Lange & Söhne, which is basically three watch faces within another, bigger watch face.
No one is accusing manufacturers of playing it safe or lacking imagination. Class is permanent, and all that. But every now and again it can truly be a breath of fresh air when someone decides to come along and shake the whole thing right up.
This is where we find the Singapore-founded and now Swiss-based brand Azimuth. Started in 2003, and so a virtual embryo in an industry steeped in centuries-old tradition, Azimuth goes beyond merely injecting a bit of good-natured mayhem into watch design and seems to have made it its mission to turn it completely on its head.
Their portfolio is filled with scores of bizarre looking instruments, drawing inspiration from sources as diverse and unlikely as vintage cars, space exploration or vintage toy robots. In general, the only resemblance Azimuth's timepieces have to anything we would normally associate with being 'a watch' is that they are worn on the wrist.
As a brand they are young, dynamic and fearless, and a breath of fresh air in a sphere more often than not characterized by a strict adherence to the conventional.
Below, we take a closer look.
Azimuth History
The company was formed by two fanatical horology enthusiasts, both from Singapore; Christopher Long, a mechanical engineer, and Alvin Lye. They first met when a 17-year old Long would frequent Lye's preowned watch store, before the pair decided to team up and venture into the challenging world of watchmaking themselves.
Their early work was a million miles away from the type of avant-garde creations we know Azimuth for today, and was based heavily on classic military pieces. Models such as the Bombardier 1 from 2004 or the B-Uhr 55, for example, both enormous hand wound pilot's watch with distinctive onion crowns, reminiscent of the IWC Big Pilot series, only even larger.
This resemblance of some of Azimuth's first offerings to other, very well known, Swiss watches was a cause of some issues for the fledgling company. Several brands brought legal proceedings against them for breach of copyright, but with Azimuth coming out victorious in each one.
However, it didn't take long for the founders to start moving in a completely different direction.
Azimuth Branches Out
Any new business, and especially one in the cutthroat horology industry, needs at least a little luck in order to thrive.
For Azimuth, their slice of good fortune came along soon after the first Bombardier models, part of their inaugural Militare-1 Collection, were released.
A Dutch watch journalist, hooked by the masculine starkness of the series, generated enough publicity for Long and Lye's creations to bring the pair a healthy, if still relatively cult, following. Azimuth's watches started selling in Europe, and especially Denmark, far better than in their home country.
Bolstered by the reaction, Azimuth decided to throw caution to the wind and relocate wholesale to Switzerland, settling in Neuchâtel City. The Neuchâtel region, for centuries the beating heart of the Swiss watchmaking industry, contains two UNESCO World Heritage Sites, La Chaux-de-Fonds and Le Locle, both synonymous with haute horlogerie.
With new premises came a completely new path for Azimuth to follow. The manufacture bade farewell to Alvin Lye, who decided to pursue other projects, and the brand brought in Swiss watchmaker Giuseppe Picchi as CEO. It was with his influence, coupled with his vast technical knowledge and Long's passion for Sci-Fi and classic cars, that Azimuth set about unleashing their weird and wonderful wrist machines on to the world.
The Eccentric World of Azimuth
There are no shortage of adjectives you might use to describe Azimuth and their creations, but perhaps above all others, 'courageous' seems the most appropriate.
In Chris Long's own words, 'We have balls, and we believe in what we do.' Deciding to abandon the sort of safe but relatively commonplace watches they had been producing and going all-out into the experimental and downright bizarre did indeed take some cojones.
It does seem to be paying off though, even if the Azimuth audience could still be called niche. It may not be a name which immediately leaps to mind when talking about watches, but there's no doubt their output is fascinating.
Below, we have picked out some of the brand's most outlandish conceptions.
The Mr. Roboto R2
Possibly the most familiar model in Azimuth's carnival of eccentricity, the Mr. Roboto R2 could well go down as one of the happiest looking watches ever made. At the very least, it would be a hardhearted person indeed who didn't at least crack a smile upon seeing the model's quirky face, loaded with personality.
Clearly styled after a children's toy robot from the 1950s, the display is made up of two eyes, the left one showing the hours, the right a GMT counter, and underneath, a wide mouth for a minute scale. Further underlying its origin, the crown takes the form of a clockwork key.
It might take a little practice to actually be able to tell what time it is on the Mr. Roboto R2, but to me it seems well worth the effort. As with the rest of Azimuth's more recent issues, it is not a case of being different just for the sake of being different. Their watches have a delightfully cheery, upbeat appeal to them, something rare in a usually fairly straitlaced industry.
And especially at this price. When you think of the other manufacturers really pushing the envelope of what constitutes a timepiece; the likes of Urwerk, Richard Mille or MB&F, etc., they produce their oddities with correspondingly massive price tags.
Azimuth's use of modified ETA movements has allowed them to remain realistic when it comes time to take out the wallet. You can pick up a Mr. Roboto R2 for around the same price as an entry level Rolex or Omega, retailing at under $6,000. It is also available in other forms, such as with a forged carbon mid-case or in titanium with a blue PVD plating for more, but still well within the realms of respectability.
For those content to stand out, and bring a little nostalgic happiness to people's days, it sounds like a bargain.
The SP-1 Crazy Rider
Along with the Golden Age of sci-fi, it seems as if Chris Long's other passion is speed. The Azimuth Automobile Collection is populated with some truly astonishing looking watches, with names like the Gran Turismo and the Twin Turbo, all based on the look of high performance vintage cars.
But a real standout is the SP-1 Crazy Rider, built to look like that most manly of objects, a motorcycle engine.
Long himself actually says the watch was inspired by the 1969 Nicholson/Fonda counterculture masterpiece, Easy Rider, and wanted to convey the movie's 'message of freedom and fearlessness' through the piece.
It is certainly a striking object, a 55mm x 38mm, asymmetrical, infinity symbol-shaped model with, of all things, a bona fide chain transmission driving the hour and minute hands. A miniature internal chain encircles the dial, held by a pair of open-worked wheels at either end, conjuring the look of a motorbike's sprocket brake drive system.
The porthole style bezel features exposed screws, upping the macho vibe still further, and the hour and minute markers all look lifted from the dashboard of the nearest Moto Guzzi.
As with the Mr. Roboto R2, the SP-1 Crazy Rider is offered in a handful of guises, all with steel cases and the option of a steel, PVD black titanium or forged carbon bezel.
Once more the price is a pleasant surprise, coming in again at under $6,000.
The Predator 2.0
Finally, Azimuth's most recent and least retro-influenced piece, the Predator 2.0.
While still certainly somewhat off-kilter, this is among the brand's most watch-like watches, featuring a relatively standard-looking roundish case and a recognizable dial. That is not to say, however, that the Predator 2.0 is in any way conventional.
Minutes are tracked with the one huge, three-dimensional hand, featuring an open aperture near its base, through which the current hour is displayed on a small rotating jumping hour disc below.
The modular case is formed from two parts, made to emulate the aesthetic of a spacecraft's cockpit. The inner capsule measures 43mm, and the outer 'carrier', with its stepped sides and sweeping lugs, brings the dimensions up to an imposing 53mm. The chunky crown sits on top at the 12 o'clock.
The dial itself is a skeletonized design, letting you see the Unitas-based caliber at work. And Azimuth has crafted all the bridges from aluminum, which not only lends them an incredible lightness which 'alludes to the weightlessness…astronauts feel in space' (says the blurb) but also gives customers the chance to tailor the watch to their own sensibilities through an almost endless choice in color. Electric blue, red, black, silver, gold and orange are just some of the ones on offer.
Across the top is a massively convex sapphire, bringing to mind images of the HAL 9000 in 2001, A Space Odyssey.
The end result is something ultra modern, with perhaps the most aggressive bearing out of anything Azimuth has built before. Best of all, the Predator 2.0, as with most models from the brand, still manages to remain south of the $6,000 mark.
— Featured Photo Credit: BeckerTime's Archive.