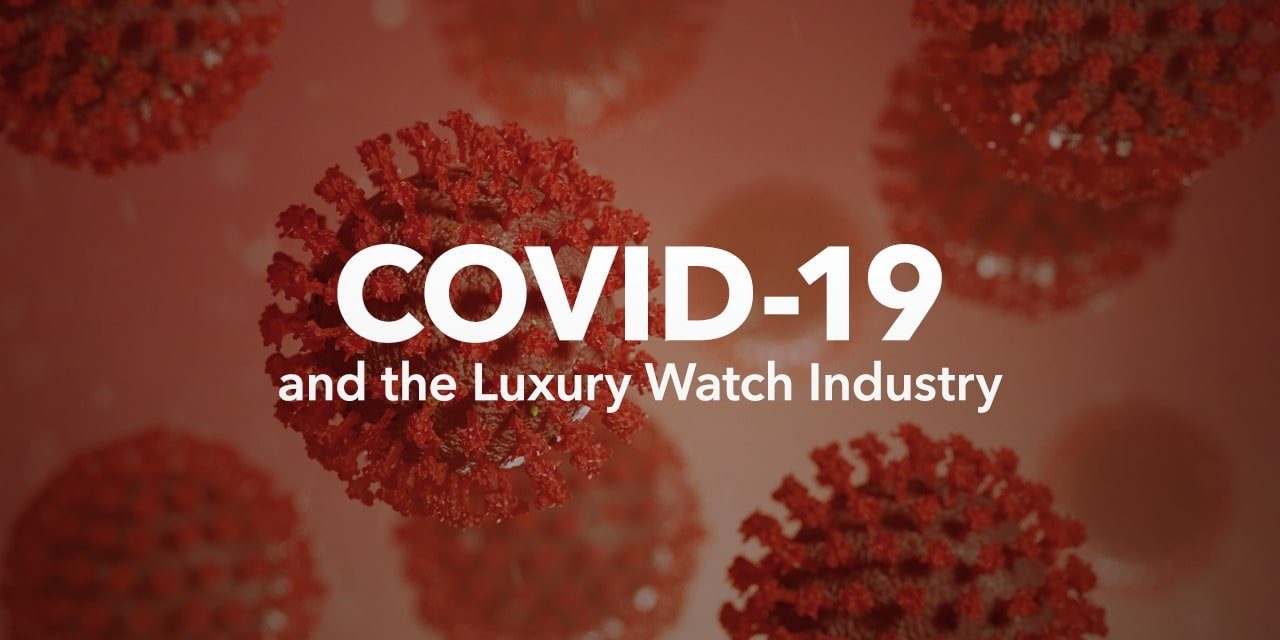 COVID-19 and the Luxury Watch Industry
There's no doubt we are living through unprecedented times right now. We are in the grip of a global pandemic, one that has impacted on just about every aspect of society.
While COVID-19 is, of course, a human tragedy, with a worldwide death toll (at time of writing) of more than 100,000 and a further 1,600,000+ cases confirmed, the repercussions for the economy must also be taken into account.
Already, more than 16 million people in the U.S. alone have lost their jobs and the grimmest of the projections estimate that figure could quadruple before any sense of normality returns.
For those involved in the luxury watch business, the effects of the virus have hit in a number of different ways, depending on just whereabouts in the complex system they operate.
Below, we lay out just what has happened so far, the current state of the industry, and how it has affected us here at Beckertime.
The Retail Market
The luxury industry as a whole has been devastated by the COVID-19 outbreak. The stock market crash of recent weeks is already being compared to that of 2008, and as a result, there is an understandable climate of extreme caution among consumers.
Analysts are predicting a drop in worldwide luxury goods sales of anywhere up to $600 billion, with watchmakers and retailers expected to bear much of the brunt.
The enforced shutdown of every manufacturing facility in Switzerland is ongoing, with little information on when they will reopen. That has obviously put a halt on any further watch production. In addition, all authorized dealers and independent sellers are similarly closed for the duration, and many country's governments have issued mandatory stay-at-home orders for non-essential journeys to their citizens. For the time being, any trip to buy yourself a new timepiece is out of the question.
That has led to the unprecedented step of a number of high end brands authorizing their retail network to start selling online. It is something many of the major players in the business have avoided up until now, much preferring the face-to-face experience with their customers. Yet, desperate times have called for desperate measures.
Even so, it is predicted, not surprisingly, that 2020 will be one of the worst years ever for sales of luxury watches, with an expected drop of between 25%-30%.
As if that wasn't enough, there is no supply of components coming in. Most of the Swiss watch industry, with a few exceptions, relies on manufacturers in the Far East, and particularly China, for parts. These businesses, likewise, have ceased operating for weeks now.
Trade Shows and New Releases
Across all sectors, more than 500 trade shows have been either postponed or scrapped completely, which has led to some $26 billion worth of lost sales.
As the situation stands at the moment, there are no watch events scheduled to take place during the first half of this year at all.
The two biggest, Baselworld and Watches and Wonders Geneva (formerly SIHH), have already been cancelled in order to prevent mass gatherings of people and stop further spread of the disease.
It has caused major confusion and speculation amongst buyers, with some of the biggest names in the business traditionally utilizing the shows as a platform to announce their latest, always hugely anticipated, releases.
In the last couple of days, both Patek Philippe and Rolex, along with sister company Tudor, have declared that they will not be debuting any new models this year. This comes after several weeks of promising a series of smaller press events at the end of April to unveil their 2020 lineup. Following that, rumors of online launches filtered through, which seems to have also been voted against.
The decision not to press ahead with launching new models will actually be something of a relief for the various dealer networks, freeing them up from having to make the financial commitment of buying in the pieces at a time when revenues are so hard hit.
With the extent of the pandemic, and the measures being taken to ensure people stay at home, it would have been virtually impossible for anyone to actually see the watches in person, let alone try them on anyway.
Online dealers and Repairs
The preowned luxury watch industry is vast, and it too is suffering massive upheaval.
Although the majority of the operations exist online, many companies still have bricks and mortar premises. While regulations vary from country to country (and state to state here in the U.S.), most employees are now having to work from home in order to protect themselves and colleagues.
The way in which these businesses function has had to alter drastically as well. For the moment, actually obtaining inventory to sell from their websites has become far more difficult. It is not just the big, well-known horology shows which have been cancelled, but also the smaller, industry-only events where stock is commonly sourced.
Coupled with that, the repairs and servicing arms of many of these establishments has slowed to a crawl. There is simply no way to access the necessary replacement components at the moment, with all manufacturers currently on lockdown, and even the usual transport routes halted.
It will depend on where you send your watch for maintenance, but most companies are having to be very sparing with their parts stock, and that could lead to long delays. Some places have issued a temporary stop on all warranty repairs, and a much increased timescale for anything else.
COVID-19 Timeline
Below we have put together a brief sequence of events that have led us to the current situation.
January 2020
Report of COVID-19 in Thailand, first case beyond Chinese border. From there, the spread is incredibly fast.
February 2020
Bulgari, Seiko, Casio and Citizen all pull out of the upcoming Baselworld Show, citing concern over the virus.
Grand Seiko cancels its own event in Tokyo, celebrating 60-years of the model.
The 'Watches and Wonders Geneva' show, due to commemorate its 30th year, announces its suspension.
The Swiss Federal Council bans gatherings of more than 1,000 people, effectively ruling out the chance of any major watch exhibit. Baselworld declares its next event will take place in January 2021.
March 2020
Bulgari CEO, Jean-Christophe Babin, announces 'Geneva Watch Days', a scaled down exhibition to be held in a succession of hotels during the originally-intended Watches and Wonders week; April 26th-29th.
The eight brands included are: Breitling, Bulgari, Gérald Genta, Girard-Perregaux, MB&F, De Bethune, Ulysse Nardin and Urwerk.
The escalating situation causes the show to be postponed to August 26th-29th at the earliest.
Omega suffers a double blow. The new Bond film, No Time To Die, has its premiere pushed back from April to November, and the International Olympics Committee confirms the 2020 Games, for which Omega is official timekeeper, will be rescheduled for 2021.
On March 16th, Rolex announces it will shutdown all its production facilities for 10 days, hoping to reopen on the 27th.
Within a week, Patek Philippe, Audemars Piguet, MB&F, Hublot, Bucherer and TAG Heuer all follow suit.
Swatch Group puts 70% of its Swiss production staff on reduced working hours and cancels its 'Time To Move' event.
46 U.S. states enact policies to close all non-essential businesses, including retail stores, in order to attempt to limit the further spread of COVID-19.
The last significant watch event of the summer, 'The Couture Watch and Jewelry Show' in Las Vegas, due to be held June 1st-5th, officially announces its cancellation.
Some Chinese companies begin working again in a limited capacity.
April 2020
Honda Motor Co.'s Wuhan plant, in the city from where the virus is alleged to have originated, is reportedly back to pre-COVID production levels. It is seen as the first small sign of the recovery.
Breitling is the first Swiss manufacturer to resume some production, reopening its La Chaux-De-Fond plant with social distancing measures in place and operating at approx. 60%-70% volume.
That is the situation right now. However, this is all obviously developing, and extremely quickly, so be sure to check back in with us for all the latest information.
— Featured Photo Credit: Pixabay (cc) Archive.