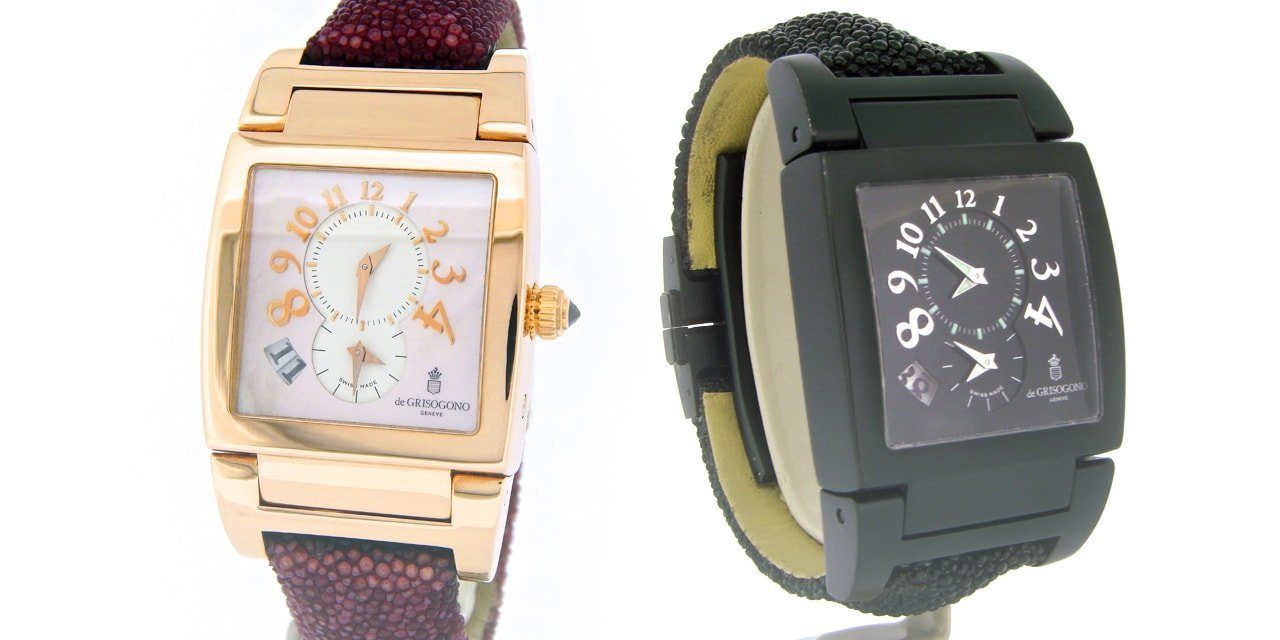 De Grisogono Watch Review
The story of the now sadly defunct De Grisogono jewelry empire has just about everything you could ask for; a rags to riches tale, a playboy protagonist immersed in the world of the impossibly glamorous elite, a clientele of the ultra-rich jet set, and an ending mired in scandal and controversy. All told, it is a saga ripe for a Jackie Collins novel.
But under all the glitz and infamy, the brand left us with some amazing timepieces—from spectacularly adorned eccentricities to elegantly stylish wristwatches now earning their iconic label.
Along the way, De Grisogono reawakened a global passion for black diamonds and collaborated with some of the biggest players in the business.
Below, we take a look at the fascinating history of this high jewelry, haute horlogerie maison, its rise and fall, and detail some of its most important pieces.
De Grisogono History
The company was the brainchild of founder, Fawaz Gruosi. Born in Beirut in 1952 to a Lebanese father and Florentine mother, a young Gruosi more or less fell into his career out of necessity through his own youthful rebelliousness.
Dropping out of school at 17, his decision to get married was met with horror by his parents, resulting in him being cut off financially from his family. Desperate for an income and with a baby on the way, he managed to find an entry level job at a jewelry store in Florence.
With an obvious flair for the business, it took Gruosi just two years to become the manager and another two to be sent to open the brand's franchise store in London.
Once there, he was quickly headhunted by none other than Harry Winston himself, who took the barely 21-year old under his wing, mentoring the youngster and finally appointing him the General Manager of Harry Winston Saudi Arabia.
However, he would only last three years there. The constant rounds of hobnobbing with the extremely wealthy, the unending dinner parties and the clocking up of thousands of miles on private jets left Gruosi feeling, in his own words, like he was 'losing touch with reality'.
In a bold move, something which would stand him in good stead in later life, he quit Harry Winston and instead found a senior position at Bulgari.
At that time, Bulgari, one of the biggest and most innovative designers in the jewelry industry, was run by three brothers. But following a fraternal falling out, Gianni Bulgari, the head of the company, decided to quit and Gruosi followed in solidarity.
Now, with nowhere left to go, he teamed up with two Swiss partners, scraped together a meager 16,000 Swiss Francs (about $33,000 at the time) and set up his own business. He gave it the name De Grisogono, an Italian phrase derived from the Greek meaning 'begotten of gold'.
De Grisogono Enters the Fray
Gruosi opened his first store at 104, rue du Rhône, Geneva in 1993. At first, the brand concentrated on creating jewelry and objet d'art, with the founder's aesthetic sensitivities, eye for design and, of course, hard-earned reputation ensuring that De Grisogono flourished in its early years.
Unfortunately, Gruosi's penchant for the weird and wonderful, as well as his party-loving lifestyle, put him at odds with his business partners. They thought, in fact, that he was insane.
Presenting him with the ultimatum of either buying them out of the business, or being bought out himself, Gruosi was able to do the former thanks in large part to the financial backing of his third wife, Caroline Scheufele, the artistic director and co-president of Chopard, in 1996.
Now in sole control, Gruosi gave full rein to his imagination and creativity. In an era typified by minimalist design, he went the other way completely, producing bold, colorful pieces and bringing back some unusual materials, such as black diamonds.
Sometimes called carbonado, black diamonds were a somewhat neglected gemstone, certainly compared to their white counterparts. De Grisogono changed all that, and their use of the stones were responsible for putting the maison on the map. Gruosi was able to open stores in London and Gstaad, Switzerland, finally expanding to more than 150 stores globally at their peak.
The De Grisogono Watch Collection
De Grisogono's continued success led Gruosi to explore new avenues, and in 2000, the brand launched their first ever watch.
The Instrumento No Uno was, by later standards, a relatively understated inclusion. A beautifully well-designed, square-cased dress watch, with subtly curved flanks and large integrated lugs, the two tier dial included a second time zone indicator and a date display at the 7.30 position.
In a world's first, the movement bridges were given a black PVD finish and the crown was topped with a single black diamond in the center. And Gruosi was also the first to use galuchat, leather derived from shark or stingray hide, for the watch's strap.
The success of the No Uno took everyone, De Grisogono included, by surprise. The following year they brought forward a second version, called the Instrumentino, a ladies model of similar design.
Clearly warming to their work, 2002 saw the launch of something special. The limited edition Instrumento Doppio took some cues from the JLC Reverso, keeping the same basic shape as the No Uno, but incorporating two faces which could be flipped via an ingenious hinging system. On one side was a full chronograph, with 12-hour, 30-minute and running seconds counters. And on the other, a GMT display with analogue hours and minutes, the hands sitting on top of the caliber's rotor.
From there on in, De Grisogono really got into their stride. An upgraded model of the Doppio was launched in 2003, called the Doppio Tre, which showed three time zones (two on the main face, the third on the reverse).
The Instrumento Tondo also debuted that year, an oval creation with a GMT and a power reserve indicator.
There would be further variations on the theme over the following years. The Instrumento Steel and Diamonds and the Instrumento Chrono both came along in 2004, each using the now trademark square case and injecting a bit of sporty chic into the collection.
The Lipstick, an ultra feminine ladies watch with a capsule-type cylinder to hold the dial and swamped in diamonds was also released.
Growing in Confidence
With more experience came more complications. The Occhio Ripetizione Minuti, another limited edition, appeared in 2005, a new take on the minute repeater.
A type of watch which can be made to chime on demand, the minute repeater is one of horology purists' most beloved functions, and the effort from De Grisogono was a beauty. Activated by pushing the crown, not only does the cathedral gong sound, but the black dial opens up like a 12-bladed camera lens aperture to reveal the movement underneath.
And so it continued. Gruosi and his team settled into their game, producing some exquisite pieces, exemplified by mechanical excellence, opulent flourishes and faultless good taste.
Models such as the Grand Open Date (with its innovative date disc), the Power Breaker (another chrono, inspired by F1 racing) and the wonderful FG One (with jumping hour, retrograde minute and GMT) all hit the boutiques in 2006. Following on shortly after, the Instrumento Novantatre, their first annual calendar, offered a fresh take on the complication.
The Later Years
As well received as they were, De Grisogono's watches, and their high end jewelry, still occupied a fairly niche sector of the market. At its peak, the brand's turnover was about CHF 100 million, by no means extraordinary by the standards of the industry.
They were hit especially hard by the 2008 financial crisis which, coupled with Gruosi's love of spending and extravagant celebrations (his Cannes film festival after parties were rumored to cost around CHF 3 million on their own) soon started the company on its eventual decline.
They still had time, however, to unleash some truly show stopping watches. Two standouts in particular, both from 2015, were the Art Deco-esque New Retro Collection and the breathtaking Crazy Skull.
The New Retro, a 50mm wide x 40mm long rectangular piece, was the epitome of 1920s class, a watch seven years in the making. Its rounded case edges and broad dauphine hands were pure Gatsby-era sophistication, but given a modern day twist, hence the name. Available in a number of styles, including a skeletonized model complete with tourbillon, they proved a sizeable hit on their release.
As for the Crazy Skull, that was simply De Grisogono, and Gruosi, at their most eccentric.
Taking the form of a cartoonishly devilish skull, the stunning contraption was issued in three versions, each set with 890 precious stones; either pink rubies or white or black diamonds.
The two eye sockets contained a small dial apiece, the left a standard time display, the right a GMT, both surrounded in a starburst pattern of tiny black and white diamonds. The nose of all three models was formed from an upside-down heart shaped 1.5 carat diamond, whereas the mouth was outlined by a further 7.7 carats of baguette-cut stones to represent the teeth. Opening up the skull's jaw revealed a tongue set with another 66 rubies or pink sapphires, to make the overall weight some 23 carats.
Not so much a watch as a three-dimensional wrist sculpture, it cost between $622,000 and $810,000.
But as striking as their output was, the writing was on the wall for De Grisogono.
Facing huge debts and a severe cash flow shortage, Gruosi had sold a major stake in the company to investors in Angola in 2012, including Isabel dos Santos, the daughter of the country's then-president.
Their fraudulent mishandlings were exposed in the now-infamous Luanda Leaks, an investigation by the International Consortium of Investigative Journalists. The exposé shone a light on how dos Santos and others had built a fortune through insider dealing while her father was still in office.
The upshot of it all was Gruosi stepping away entirely in 2019 from the business he had built, with De Grisogono finally declaring bankruptcy on January 28, 2020.
It was an ignominious end for such a bold and forward-thinking company. The watches they had produced were something very special, pieces which remain highly sought after today.
Best of all, the prices for preowned examples are now extremely reasonable, and here at Beckertime, we have a range of De Grisogono's finest in stock. For something out of the ordinary and certainly eye-catching, head over to our online store to check them out.
— Featured Photo Credit: BeckerTime's Archive.