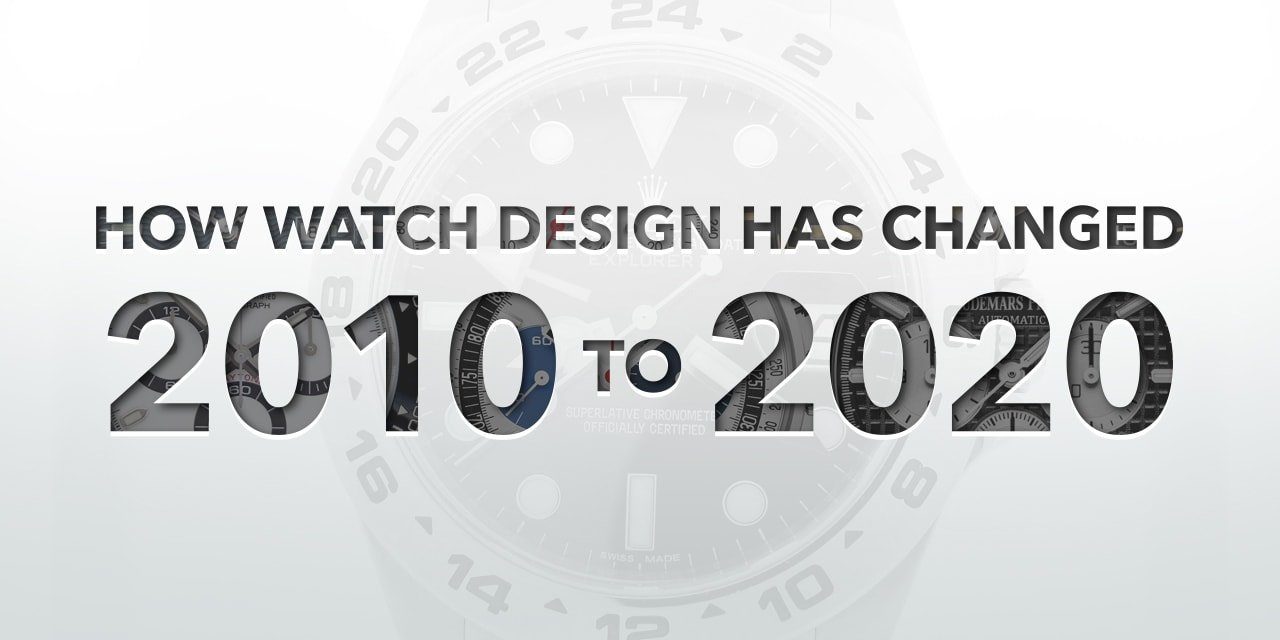 How Watch Design Has Changed: 2010 to 2020
For a field so rooted in the traditional, the speed at which the design of luxury timepieces changes is amazing.
The industry for wristwatches is really little more than 100-years old, but in that time we have witnessed an almost uncountable number of variations in style, size, materials and usage.
Sometimes these changes have been brought about by a certain innovation, the rise in popularity of a sport or pastime (such as recreational Scuba diving) or merely something as fickle and ephemeral as the newest fashion.
But perhaps surprisingly (although probably not if you really sit down and think about it), one of the major drivers of diversity in watch design is the prevailing economic condition. We can, for example, look to the financial crash of 2008 as a determining factor in reigning in much of the flashy excess of this millennium's first decade. The boom period of the early 2000s, with its easy credit and low interest rates, gave rise to the oversized, in-your-face statement pieces of conspicuous consumption, exemplified by the Hublot Big Bang or just about anything from Richard Mille. Huge, unapologetically blingy models with excessive price tags to match.
However, the last 10-years have seen manufactures offer us the virtual antithesis of that. This just past decade has been the one where we witnessed a reappearance of the studiedly understated, the elegantly restrained and, above all, a return to a more retro aesthetic.
Yet, while the trend for excessively lavish displays of wealth may be over (for now) it doesn't mean there is any shortage of people with money to spend. It was only a few years ago, for instance, that all previous records for most expensive watch ever sold were blown out of the water by Paul Newman's Paul Newman. The Rolex Daytona worn by the Hollywood legend sold in 2017 for an unbelievable $17.8m, reflecting the absolute explosion in the vintage watch market as a whole. It is something which has been jumped on by brands far and wide, many of whom have delved back into their own archives and revived favorites from the past, bringing classic icons into the present day and giving them a contemporary twist.
With all that in mind, we thought we'd take a more detailed look at how much has changed between 2010 and 2020, and see if we are able to form any idea of where we might be heading.
For the Love of Vintage
It is fair to say that, with everything that's happened on the global stage in the last 10-years or so, a great many people are reminiscing fondly about easier times.
Looking back on the heady days of the 50s and 60s (albeit through nostalgia's rose-tinted glasses) has us idealizing a time symbolized by its glamour, its style and its altogether simpler nature. These were the eras of great adventures, when mankind first conquered the highest peaks, the deepest oceans and even outer space. And always during these voyages, the heroic figures who still capture our imaginations even now, wore watches that have since gone on to become icons in their own right.
We can think of Hillary and Norgay's Rolex Oyster Perpetuals, which became the blueprint for the brand's Explorer, or Omega's Speedmaster, now known as the Moonwatch after Aldrin brought his to the lunar surface.
Even the personalities, the era's stars of stage and screen, just seem so much more impressive and downright cooler than we have today. Alongside Newman and his Cosmograph we can add Steve McQueen and his Heuer Monaco or Sean Connery's Submariner in any number of Bond films.
That longing for some of the élan of yesteryear has propelled the current craze for the vintage watch reissue. While being able to get hold of one of the original classics from 40 or 50-years ago appears wonderful on paper, it can be a real labor of love. Just as with old cars, a true vintage watch can be a crapshoot, an expensive hobby with much riding on how well the model has been maintained over the years. A better solution all round seems to be for the aesthetics to remain faithful, while the technology gets sympathetically brought into the 21st century, with all the accuracy and reliability that comes with it.
As a result, the last decade brought us pieces such as Rolex's Daytona ref. 116500LN, complete with black Cerachrom bezel and Panda dial; Omega reviving the Caliber 321 inside the Speedy (the same movement which powered Aldrin's example); Zenith offering us a reproduction of their El Primero A386 (one of the earliest models to be fitted with their world beating automatic chronograph calibers) and basically the whole of the Tudor Black Bay series.
The list, in fact, seems endless. To the above, we can add Breitling (Navitimer, etc.), TAG Heuer (Monaco, Autavia, Carrera), IWC (Pilot's Tribute to Mark XI), JLC (Polaris Memovox) and Omega again (the wonderful 1957 Collection) and on and on and on.
It is something which seems to be in no danger of slowing down, the trend catering to those with a deep, nerd-level appreciation of the mechanics of times gone by, as well as those enamored of some golden age class. Expect to see it continue for at least the next few years.
The Rise of In-House Movements
Whereas the vintage tribute pieces are a matter of following the tastes of the watch-buying public, a move towards manufacturers developing their own in-house movements in the last decade has been one more of necessity.
When Swatch Group bought out ETA, the 200-year old company which has had a virtual monopoly on outsourced movements for years, supplying almost every Swiss brand at some point or another, they announced they were putting a stop to them building calibers for Swatch's direct competitors.
That has left a great many firms high and dry, and while there have been other third party concerns which have stepped up to try and address the shortfall (Sellita, Soprod, STP, etc.) some watchmakers have decided to embrace the opportunity and start producing their own.
Perhaps most the notable of these is Tudor. Although they have an impressive history in their own right, Tudor has long been in the shadow of their illustrious parent company, and have had to live with the 'poor man's Rolex' tag for many years. Now however, the manufacture has a small portfolio of homegrown engines, their first, the MT5602, arriving inside 2015's Heritage Black Bay model (another vintage-inspired piece, coincidentally).
Since then, the range has expanded to include a number of other time-and-date movements, along with the MT5652, their first GMT caliber.
In fact, they have now grown to such an extent that they are able to supply others. In a swap deal, Breitling took Tudor's MT5612 for their Superocean Heritage II (and renamed it the B20), and gave back their own B01 to sit inside Tudor's Heritage Chronograph series (now called the MT5813).
The image boost an in-house caliber gives is difficult to overstate. Whether or not a domestic movement is any better or worse performance-wise than an ETA one is an age-old question and impossible to answer. The perception, however, is worth its weight in gold. Serious collectors will always go in-house given the choice and are usually prepared to pay more for the honor. As far as Tudor are concerned, making their own movements is an enormous leap forward, and one which has brought them within arm's reach of Rolex itself.
But what about the others? There's no doubt that acquiring the necessary funds to design, fabricate, test and build in-house calibers is far beyond the scope of most brands. So if those firms are going to survive, they are going to have to find new sources now ETA have shut up shop. We can probably expect to see new third party movement suppliers coming to the fore in the next few years, along with more Tudor/Breitling type collaborations.
A Focus on New Materials
One thing that belied the overall vintage trend of the last 10-years is the number of novel, cutting-edge materials being employed.
Arguably, this has been the decade of ceramic. While you might think of bathroom tiles or tableware when you hear it, the kind of ceramic used in watchmaking—engineering ceramic—is very different. Firstly, it is one of the hardest materials there is, around three or four times harder than steel. It is also extremely lightweight, immune to scratches, impervious to fading from exposure to UV light or saltwater, as well as being rustproof and antimagnetic. All round then, it is difficult to think of anything better suited to the job.
Many major watch brands obviously think so too, and it is now something of a mission to find a manufacture who doesn't use the material somewhere in their catalog. You will find it cropping up in entry level pieces through to six-figure bespoke models, from Timex through to Audemars Piguet.
Another craze from the 2010s has been manufactures patenting their own materials. At the more conservative end, Omega brought us their new Sedna Gold in 2013, a pink alloy mixed with copper and palladium, as well as Liquidmetal, which we first saw on the Planet Ocean range's bezels.
Each seemed to be in answer to Rolex's Everose gold and Cerachrom respectively, which both debuted in 2005.
Elsewhere things got a little more unorthodox. IWC introduced their Ceratanium, a combination of titanium and ceramic, Girard Perregaux presented Absolute Carbon Glass, and Hublot managed to fuse ceramic with 24k gold to give Magic Gold, an 18k version of the precious metal which harnessed ceramic's scratchproof qualities.
From other corners came watches made with historically significant materials. The now sadly defunct Romain Jerome (who had caused controversy in 2007 with a piece containing metal retrieved from the Titanic) launched the Arraw 6919, which not only used parts of the Apollo 11 spacecraft in its bezel, but also had a dial sprinkled in genuine moon dust.
British company Bremont announced both the Wright Flyer, with fabric from the first airplane ever built inside its case, and the Victory, complete with oak taken from Lord Nelson's flagship.
And then there were the truly insane examples. Who can forget, for example, the Coprolite from Artya, with a dial made from fossilized dinosaur feces?
Strange and occasionally unpleasant as some of these pieces are, they do tap into one of the major draws for any luxury product in the eyes of consumers; exclusivity. Uniqueness and individuality have always been highly prized, so we certainly haven't seen the last of the bizarre inclusions from the world's watchmaking fraternity.
— Featured Photo Credit: BeckerTime's Archive.