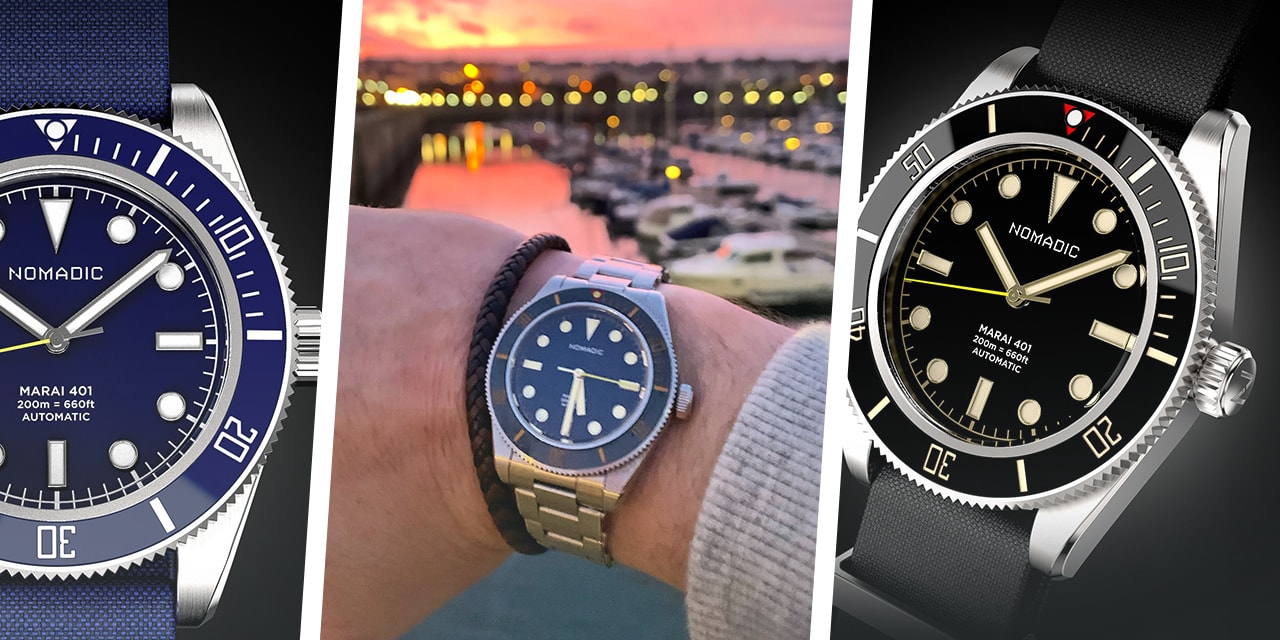 Living With the Nomadic Maraí 401
If you read our previous post on the Maraí 401 from new startup, Nomadic, based out of Belfast, Northern Ireland, you will know I was completely enamored of it. So much so, in fact, I decided to buy one for myself just before Christmas and it has barely left my wrist since.
I thought it only fair then that I write a quick follow-up to that blog, detailing what the watch has been like to live with on a daily basis—something I'm rarely able to do if I'm writing about the latest crushingly expensive release from the likes of Patek or AP.
So, without further ado, here's my report.
Nomadic's Debut
The Maraí 401 is the brainchild of Belfast local, Peter Mcauley, a mechanical engineer and passionate horology enthusiast.
Having collected watches all his life, and being the latest in a long family line of engineers, starting his own company manufacturing high quality timepieces could be seen as a natural, if daunting, step.
That journey began in the latter half of 2020, with the world in lockdown and confusion reigning everywhere.
Yet even with those significant obstacles, by the end of last year Nomadic's debut offering, the Maraí 401, was ready to go on sale. It was not, however, on sale for long. The 40mm, vintage-inspired diver, available in either black or blue colorways, sold out of both before production was even completed.
Buyers were attracted firstly by its handsome good looks, bearing more than a passing resemblance to Tudor's Black Bay Fifty-Eight. And secondly, by the very non-Tudor price tag. At less than a third of the cost of the Fifty-Eight, and still powered by a bona fide Swiss movement, the Sellita SW200-1, it was hard to see where else was offering so much watch for the money.
It was a clincher for me, certainly. But there were other little touches which also drew me in, and particularly the subtle nods towards Belfast itself, as well as its most famous export.
The two gargantuan shipbuilding gantries which dominate Belfast's harbor area, Samson and Goliath, are true city landmarks and their famous bright yellow paint scheme is echoed on the Maraí's seconds hand. Furthermore, there were other local references in the names Peter chose. Nomadic, as well as having its world traveler inference, is also the name of the Titanic's last remaining tender boat, now in dry dock opposite the ill-fated liner's enormous exhibition center. On top of that, 'Maraí' is Irish for 'seafarer' and '401' alludes to the Titanic being the 401st vessel built by Belfast's Harland and Wolff shipyards.
All in all then, there was both a lot of history and a lot to love about the watch. But how has it performed as my daily wear?
The Nomadic Maraí 401
With the popularity and success of the Maraí's launch, I had to endure a bit of a wait before I received mine. As anyone who's been in a similar position knows, the two weeks anticipating the arrival of a new watch are far longer than any other two week period, but I was kept up to date admirably by the brand.
The watch arrived in completely appropriate packaging, considering the heritage of its birthplace; an old school tool roll, as would have been carried by the city's shipbuilders of times past. Inside, along with a handwritten note of thanks from the founder, sat a spring bar tool and two screwdrivers to allow you to adjust or replace the bracelet. I ordered my Maraí on the smart three-link steel bracelet, but Peter was good enough to include a NATO strap for me as well (this isn't standard and customers need to specify one or the other when ordering. I just got both cos I'm special).
As it turned out, it was just as well the second strap was included as I had told Peter the wrong size when he asked (I think I've lost weight) so the watch flapped around too much on my wrist. I quickly replaced it with the NATO and sent the bracelet off to have a link removed.
As it always does, the changeover from one band to the other altered the look and personality of the watch far more than you would think. On steel, it has a certain formality despite being very much a diver/tool watch. On the cloth strap, it is a laid back, casual wear, more in keeping with its overall vibe.
Putting it on, there is a nice heft to the piece. Not heavy by any means but solid and robust, as it should be. At 40mm it is right in my 39mm-41mm sweet spot—obviously not perfect for everyone, and those with bigger wrists might need something with more mils, but ideal for me. It also suited my wife's wrist very well, and would make a great unisex wear.
Speaking of which, the Maraí is, to quote my wife, 'my favorite out of all your watches.' While I wasn't crazy about the way she leant on the word 'all' in that sentence—leads me to think there's another conversation on the horizon—she has a point. I'm usually in the habit of changing up my watches a couple of times a week, if for nothing else but keeping them all fully wound. But I now have a watch box full of non-running models because I've kept the Nomadic on pretty much solidly for months.
It's just easy. In that time, I've been to parties, restaurants, a funeral and numerous days out with the family and there has never been a hint of it looking out of place. It is lovely to look at, keeps great time, the bezel action is a delight, the lume is excellent and it is tough enough to be worn all day, every day. In short, it has everything you could realistically need or want in a watch.
What's Next?
There's no doubt the launch of the debut Nomadic has been a great success. So much so that Mcauley had to schedule a second round of production from his suppliers to fulfill all the orders, and they are still coming in. The question now is, what comes next?
The good news is, there's a green version of the Maraí 401 on its way. Taking its cue from the Kermit GMT-Master or the Tudor Harrods edition, this latest piece will feature a black dial surrounded by a muted green bezel.
As for entirely new watches, when I spoke with Peter last year I asked him what he would like to do for an encore, assuming the Maraí sold well. Turns out, he has big plans and already has ideas for a GMT, a chronograph and an aviator as well.
The brand has worked hard on its social media presence and particularly on Instagram and there was talk of opening up what should come next to a vote. If you head over and follow them at @nomadic.watches, you can have your say too.
In the meantime, you can visit their website at nomadicwatches.com and take your pick between the blue and black Maraí 401, prices starting at $945.
Photo Credits: Images used with authorization of Nomadic Watches and BeckerTime's Archive.