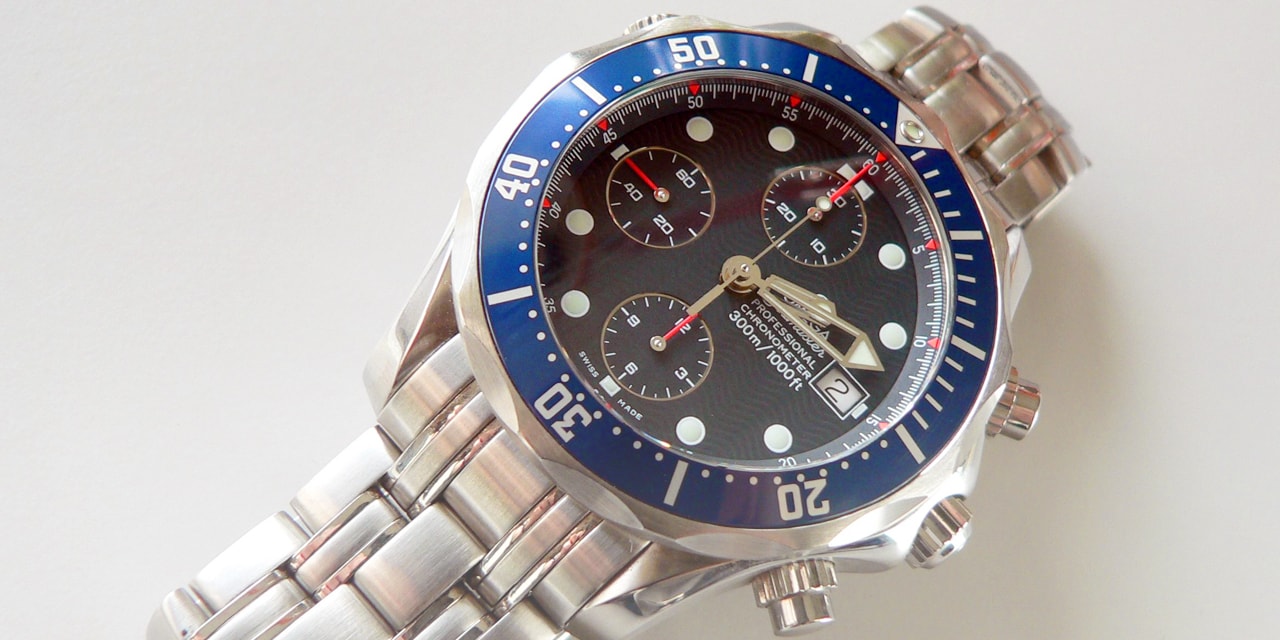 Omega Watches: A Review
Probably second only to Rolex in the brand awareness stakes, Omega is one of the great names of horology.
Their catalog is stuffed with models familiar even to those with no interest in watches or watchmaking, and the company's reputation for excellence and innovation is legend.
A combination of engineering prowess and courageous foresight has seen them create pieces capable of anything, from descending to the deepest reaches of the ocean, to traveling literally out of this world—and everywhere in-between.
Their extensive collection, once an unwieldy mishmash, has become far more rationalized in recent years. Now split into just four different categories, each has its own equally all-encompassing subsections, taking in watches suitable for any occasion.
Recent years have seen Omega fully recovering from the mauling they took at the hands of the quartz crisis and transforming into a true industry powerhouse, buoyed not only by the adoption of a unique technology but also by becoming the brand of choice for a certain fictional superspy.
Below, we have put together an article detailing the history of the manufacture and showcasing some of the best they have to offer, both vintage and modern.
Omega History
Like many of today's biggest and most successful brands, the company which would go on to become Omega can trace its roots back to humble beginnings.
23-year old Louis Brandt set up shop in 1848, operating out of his family's villa in Switzerland's, and therefore the world's, home of watchmaking, La Chaux-de-Fonds.
The Swiss national produced pocket watches for international clients for more than 30-years before his death in 1879, with the business then passing on to his sons, Louis-Paul and Cesar.
Seeing an opportunity for expansion, the brothers moved premises in 1880 to Bienne, and began constructing their own components. Just five-years later they were able to release their first mass-produced, in-house caliber, dubbed the Labrador. That breakthrough was followed up in 1894 with the Omega 19-ligne movement, made with the pioneering principle of interchangeable parts. It was that mechanism which put the newly renamed Omega Watch & Co. on the horological map.
Their reputation for accuracy and resilience preceding them, Omega was appointed as official timekeeper for several major Swiss sporting events from as early as 1905, before scoring their most significant triumph to date in 1932 when they became formally endorsed partners of the Olympic Games. That alliance, starting with the Los Angeles games, continues today some 90-years and more than 20 tournaments later.
Into Their Stride
By 1948, Omega was among the most recognized watchmakers in the world, and to celebrate their first century in business they released a model which would go on to become a true icon; the Seamaster.
But while that piece was more of a dress watch, the 1957 launch of the first Seamaster 300, alongside the debut editions of the Speedmaster and Railmaster (the trio together making up the company's Professional Collection) was a fully-fledged, Rolex Submariner-bating diver.
Even better was to follow, when the Speedmaster became the first Omega watch in space, worn on the arm of Wally Schirra in 1962 aboard his Mercury Sigma 7 mission. A few years later, the Speedy was named standard-issue at NASA before receiving the ultimate accolade in 1969 when Buzz Aldrin stepped on to the lunar surface wearing his personal model and the fabled Moonwatch was born.
Quartz and Beyond
The quartz crisis of the 1970s and '80s hit Omega, and the rest of the industry, extremely hard. The brand engaged with the new tech as well as they could, bringing out all-new quartz models as well as battery-operated versions of their established pieces.
But the constant additions diluted the essence of their collection, leaving their portfolio, and traditional fan base, somewhat confused.
Nevertheless, the brand survived where so many others had fallen by the wayside, and by the 1990s Omega was able to strike back in a big way when they pulled off the ultimate coup over oldest rivals, Rolex. For Pierce Brosnan's unveiling as James Bond in 1995's Golden Eye, 007 swapped his Sub for Omega's new Seamaster 300M with, ironically enough, a quartz movement.
Much of the manufacture's continued success can be put down to that one untoppable marketing bonanza, and there has been some form of Seamaster on Bond's wrist in every movie since.
However, even better was to come just four-years later when Omega proved themselves the only company farsighted enough to recognize the brilliance of George Daniels' revolutionary co-axial escapement. The Englishman had tried to bring his invention, since described as the most significant advance in watchmaking in a century, to several houses with no success before knocking on Omega's door. It has now gone on to form the backbone of nearly everything they produce.
The modern era has witnessed the brand's continued victories and they are now one of the very few who can cause Rolex to take a nervous glance over their shoulder. Their output is a particularly varied and well thought-out one, with something to cater to any taste and, crucially, pocket.
If you find yourself in the market for one of Omega's creations, we have highlighted a couple of favorites below for you to consider, from both the current range and a couple of vintage greats.
Vintage Omega
Although many of Omega's classics are still thought of as undervalued, it is a situation fast resolving itself. Prices on the preowned market are climbing steadily thanks to the brand's resurgence of recent years, so getting in quickly is definitely advised.
The Omega Speedmaster 105.012
There's only really one place to start, and that is with arguably the most famous chronograph watch of all time (and certainly the most famous non-Rolex).
The Speedmaster story began in 1957 with the inaugural model, the CK2915. That, as you can imagine, is now a particularly rare and ferociously expensive proposition, but there are a variety of other references which are far more affordable and have perhaps even better backstories.
For instance, the follow-up, the CK2998, sometimes referred to as one of the 'pre-moon' pieces, is the watch that kicked off Omega's long and fruitful relationship with NASA. Astronaut Wally Schirra donned his personal example during his Mercury-Atlas mission aboard the Sigma 7. You can pick up vintage specimens of the first Omega in space (as in, not the more recent FOIS reissue) for around the $20,000 mark.
But offering more value, along with more historical importance than either of those, is the 105.012. Launched in 1962, this was the first of the asymmetrical case Speedys thanks to its crown guards, and was released after NASA had signed off on the watch as officially flight ready. From that point, Omega split the range in half—therefore the reference is also the first of the Speedmaster Professional series.
More than that though, it was a 105.012 that Aldrin was wearing when he set foot on the moon, forever securing just about the greatest marketing feat the industry has ever seen.
Inexplicably however, this undoubted legend can now be bought for under $10,000, and in the pantheon of vintage watch buying, bargains don't come much bigger than that.
The Omega Railmaster CK2914
If the debut Speedmaster and Seamaster from 1957's Professional Collection are the Lennon and McCartney of Omega's output, the first Railmaster is their George Harrison (dunno who Ringo was, possibly a Timex).
The CK2914 was created to follow in the footsteps of Rolex's Milgauss and IWC's Ingenieur; all three built with a high resistance to magnetic fields as their party piece.
In the 1950s, massive advances in all areas of technology were being made, hand-in-hand with new, state-of-the-art equipment—equipment which gave off electromagnetic forces strong enough to warp the delicate springs inside a mechanical watch. The Railmaster was constructed with a double case, a soft iron dust cover and a copper finished movement in order to protect the most susceptible components, and it was the first Omega resistant to 1,000 gauss, the measure of magnetic flux density.
But despite its talents, the Railmaster suffered the same fate as its rival contemporaries in that, next to the more glamorous tool watches aimed at Scuba divers and racing enthusiasts, a watch intended for the button-down world of the lab coated scientist just wasn't exciting enough.
As a result, Omega's Harrison-esque dark horse only stayed in production for six-years, being discontinued in 1963.
Although it has been reinvented several times since then (and retired once or twice as well) versions of that first CK2914 are still available at extremely tempting prices.
You can buy this minimalist, three-hand, genuine slice of brand history for as little $15,000.
Modern Omega
Although Omega has been working hard to simplify their catalog over the last few years, it does still lack a touch of cohesion in places.
The Seamaster Collection, for instance, contains all their dive watches, as you would expect. But it also appears to act as something of a catch-all for those pieces which don't fit in easily anywhere else. So the entry level Aqua Terra gets shoehorned in, as does, for some reason, the modern Railmaster series. And then there are the apparently endless limited editions of Omega's greatest hits which seem to turn up every other week, causing yet more confusion.
Regardless, dedicate a little time to your studies and you will find the brand has some of the absolute best models of their kind at their price point. We have highlighted two below.
The Omega Seamaster 300M Co-Axial Master Chronometer 42mm
Probably the bestselling Omega of recent times, the current Seamaster 300M is the direct descendant of the watch worn by Brosnan in Goldeneye, and the one most responsible for their sustained incredible success today.
Often touted as the Submariner's closest competitor, it matches the Rolex for water resistance, has a similar ceramic bezel and also throws in a helium escape valve. On top of that, it has Omega's own co-axial-equipped, Master Chronometer-rated Caliber 8800, complete with silicon balance spring and 15,000 gauss of magnetic protection. And it does it all while being a little over half the price of the Sub at retail (so, well under half the price on the preowned market).
The least expensive steel piece comes with a choice of four different dial colors (black, blue, white or grey) each with the distinctive wave pattern recently reinstated, with either a black or blue bezel and steel bracelet or rubber strap.
But the 300M range is 53 models strong, with chronographs and precious metal pieces at the top end, as well as several James Bond-themed special editions from the Daniel Craig era.
Whether it is better than the Rolex Submariner is a cause of endless debates on forums all over the internet, but yes or no, it is a very special watch in its own right.
The Omega Constellation Globemaster Co-Axial Master Chronometer Annual Calendar 41mm
Hitting that tricky midpoint between modern and vintage, the Globemaster models, contained inside the Constellation Collection, were the world's first Master Chronometers.
The rating was developed by Omega themselves in conjunction with the Swiss Federal Institute of Metrology (METAS), the government-controlled center for all areas of measurement.
To win Master Chronometer certification, the brand's watches are subjected to batteries of tests far in excess of those required by the industry-standard COSC, the body which awards mere chronometer status.
The two most important are a resistance to 15,000 gauss of magnetic force, and a timekeeping accuracy of between 0 and +5 seconds a day, tested over four days, in several positions and in varying temperatures.
It is akin to Rolex's own Superlative Chronometer and, although not all of Omega's models have been awarded a Master Chronometer ranking, more and more appear to be added to the catalog every year.
The Constellation range (named after the Lockheed Constellation aircraft) is the manufacture's line of dress watches, with the Globemaster being the retro-inspired subdivision.
The 14-pieces in the lineup come in at a shirtsleeve-friendly 39mm or 41mm, and all have a gorgeous dodecagon pie-pan dial. On the annual calendar model, each of the 12 facets around the sunken edge of the face houses a month of the year, and an additional hand points out the current one. A small aperture at the 6 o'clock keeps tabs on the days.
There are four versions available; two in steel with either a white or grey dial, a two-tone steel and Sedna™ gold piece (Omega's red gold alloy) or a full Sedna™ model. Every one of the pieces is topped with an intricate fluted bezel and is powered by a homegrown co-axial Master Chronometer movement.
A superb assortment of understated, and underappreciated, watches, the Globemasters are well worth your time.
— Featured Photo Credit: Rama, CC BY-SA 2.0 FR, via Wikimedia Commons.