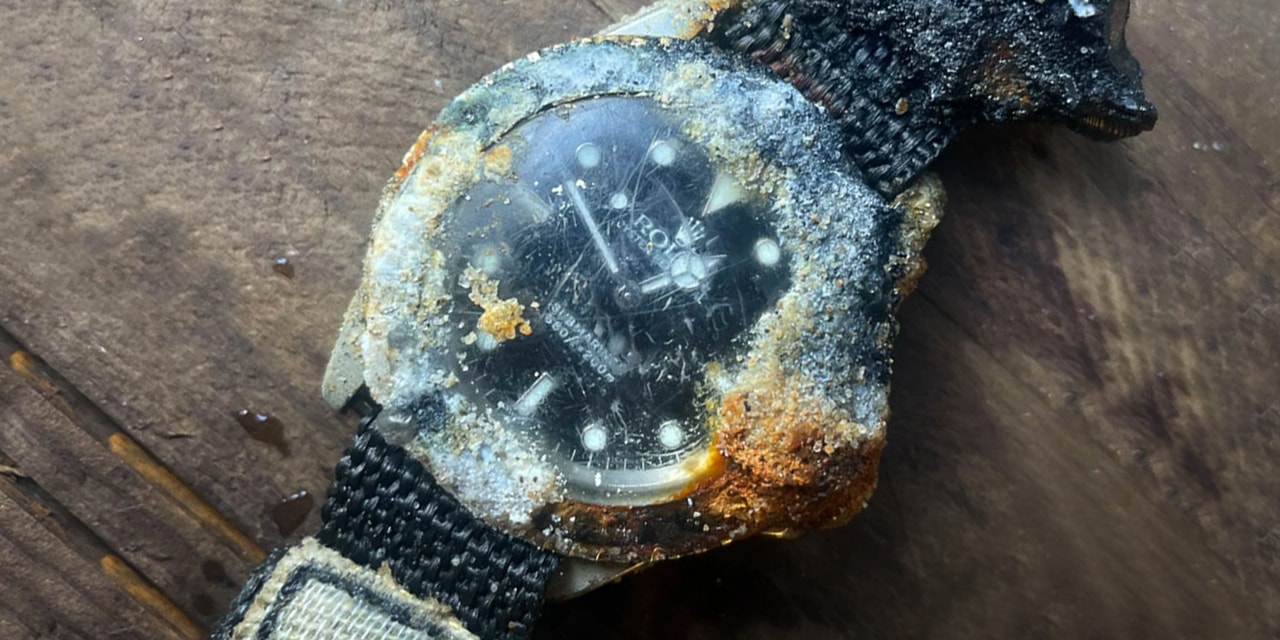 Reef-Furbished—One Aussie Surfer's Incredible Rolex Find
Every now and again, Rolex's unparalleled marketing department can afford to take a day off and simply let the product do the talking for them.
One such incident occurred recently in Australia, when world-ranked surfer and conservation enthusiast, Matt Cuddihy stumbled upon a Rolex Submariner while on a snorkeling expedition, and just before it was claimed by the ocean forever.
The Queensland native, positioned at #92 on this year's longboard tour, grew up near the key surf spot of Noosa Heads, a well-heeled community not far (in Aussie terms) from the capital, Brisbane. Rarely dry, Cuddihy spends the days when the swells aren't rolling doing his bit to clean up the waters around the point by collecting any garbage he finds wedged in the rocks.
Of course, as any diver will tell you, there are often treasures to be unearthed in the depths, and Cuddihy shares what he discovers with the 24k followers of his Instagram page, #mattcuddihy. On the whole it's inexpensive items such as errant board fins knocked loose by the surf, although he was also able to reunite an Apple watch with its rightful owner recently.
However, one trip this month is going to take some beating. Scouring some of his regular haunts, Matt noticed shifting sands had exposed more of the area than usual and there, with its band trapped beneath a rock, was the ref. 5513 Sub.
Unsurprisingly, his first thought was that the watch was a fake, a souvenir brought back from a Bali beach entrepreneur. On closer, and professional, inspection however, it turned out to be the real thing. Not only that, it was also still working!
Nothing Ticks Like a Rolex
There's no way to tell just how long the Sub has been lying in the ocean, but all the evidence points at a significant length of time.
The bezel has been completely covered by an influx of barnacles and the winding crown fused shut. The constant movement of coarse sand over the crystal has given it some deep scratches, and it does, according to Cuddihy, 'smell pretty bad.'
But there are several points worth noting, and this is where the Rolex advertising people must be licking their lips.
Apart from the fact that the movement is intact and operational, the dial is also untouched. Not a drop of seawater has managed to infiltrate that famed Oyster case.
And secondly, and to me at least, the most impressive aspect is that Rolex stopped making the ref. 5513 in 1989. That means the watch is at least 34-years old, planting it firmly in vintage territory. Ask any collector whether they would risk their own classic Rolex, even the dive models, to the merciless effects of the ocean and you will find plenty more leavers than takers. Cuddihy's find shows us that even the old guys are still tight as a drum. Once a tool watch, always a tool watch.
What Happens Next?
Every enthusiast knows a vintage watch left with its original components is generally worth more than one with replacement parts. But even the staunchest advocate of the undoctored is unlikely to begrudge this particular piece
a bit of loving attention.
With the important foundations of the watch seemingly preserved, it is the outward elements which will need the most attention. A new crystal and probably a new bezel will be the priority, a simple task for any Rolex service center. Maybe a check over of the movement would not be out of the question either.
There's no word whether the rightful owner of the amazing find has come forward yet but, while I'm happy to admit I'm no expert on marine salvage legislation, it could well be Cuddihy's watch now.
Not bad for a day snorkeling off Australia's beautiful Sunshine Coast.
— Featured Photo: Matt Cuddihy.