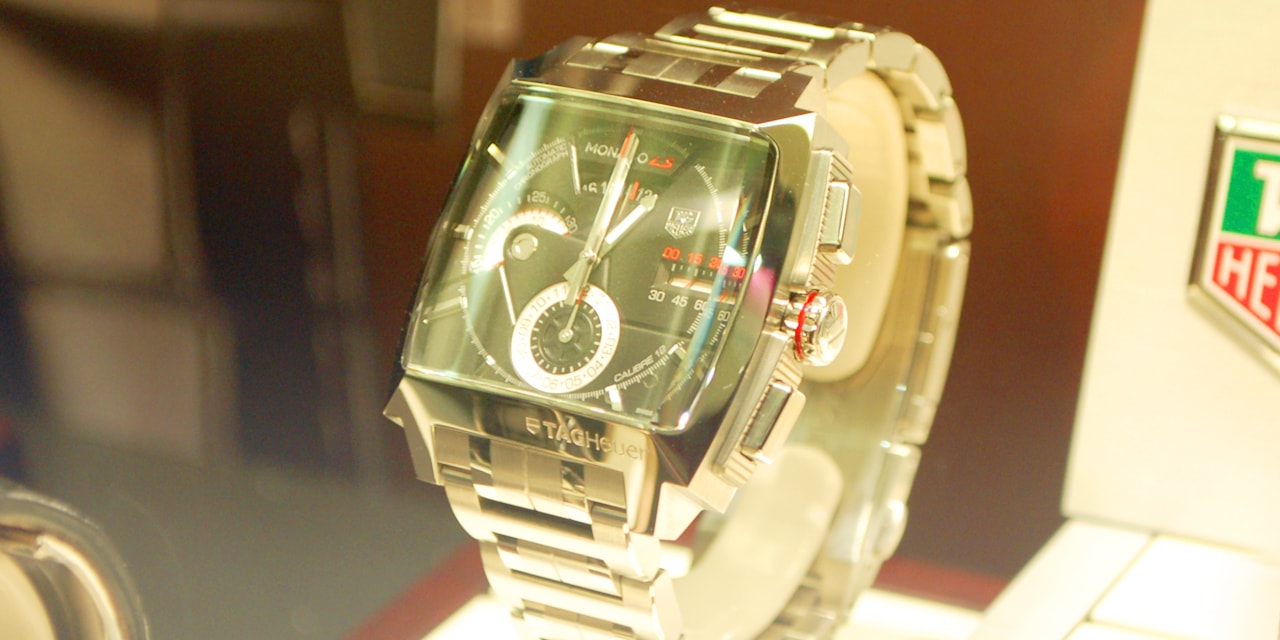 TAG Heuer Watches: A Review
The Swiss luxury watch manufacturer now known as TAG Heuer has been in existence, in one form or another, for more than 160-years.
A brand with a long history of innovation, and one indelibly linked with the glamorous world of motorsport, they have a back catalog filled with iconic models, along with a contemporary collection of superb modern classics.
Recent years have seen TAG go through a major upswing in both inventiveness and recognition. In amongst their litany of vintage-inspired archetypes, offered in both quartz and mechanical forms, the manufacture has also been leading the way in wearable tech. Their 'TAG Heuer Connected' range exists right on the cutting-edge of the smart watch movement, rivaling Apple for complexity, while drawing from its own aesthetic heritage to create a more sophisticated whole.
As a brand, TAG has positioned itself to appeal to a younger, trendier crowd than the likes of Omega or Rolex, and price their range accordingly. As a result, their pieces are often chosen as many people's first high-end luxury watch purchase.
Below, we take a more detailed look at where TAG Heuer came from and where they are now, as well as highlighting a few of their outstanding contributions available to buy, either currently in production or retro favorites on the preowned market.
TAG Heuer History
In 1860, and aged a mere 20-years old, newly qualified watchmaker Edouard Heuer set up his workshop in St-Imier, a municipality in the Swiss canton of Bern. Calling his fledgling business Uhrenmanufaktur Heuer AG, Edouard, the son of a shoemaker began, like all of his contemporaries, with the manufacture of pocket watches.
Having started his apprenticeship aged just 14, the young man hit the ground running with a number of significant breakthroughs. After relocating to new premises just outside Bienne in 1864, and changing name to Edouard Heuer & Compagnie, the enterprise registered its first patent five years later with a keyless, crown-operated winding mechanism for pocket watches. Shortly after that came another major development with Heuer's creation of the oscillating pinion, a system which allowed for chronographs to be started and stopped with independent push pieces. A massive advance for the industry, it is a component still used by many luxury watch brands today.
In the year of Edouard's death, 1892, Heuer patented his first chronograph pocket watch and in 1895, his sons, Jules-Edouard and Charles-Auguste, having taken over the business from their father, brought one of the first waterproof pocket watch cases to the market.
Continued Expansion
By 1910, Heuer's watches had crossed the Atlantic and were bring sold in the Americas, and the company continued its drive forward.
In 1911, they built the first ever dashboard chronograph, named the Time of Trip, designed for both aircraft and automobiles. Spurred on by that success, in 1916 Heuer brought out the Mikrograph. A name still in use today, it was the first chrono capable of measuring down to 1/100th second.
That model, along with other variants called the Semikograph (which could time to 1/50th second) and the Semicrosplit (with a flyback function) brought the brand to the attention of the Olympic committee. Heuer became the official timekeeper for the 1920, 1924 and 1928 Games, held in Antwerp, Paris and Amsterdam respectively.
Although darker times were to follow, Heuer weathered the Great Depression well and in 1933 launched a new dashboard timer—and another name familiar to all fans, the Autavia. A contraction of AUTomobile and AVIAtion, the counter was designed for racing cars, aircraft and boats.
A profitable outlet for the company, they would continue to produce dashboard timers well into the 1980s.
The Arrival Of Jack Heuer
In 1958, Jack Heuer joined the family business. The great grandson of founder Edouard, and the fourth generation Heuer to be appointed to the top job, it was Jack who masterminded many of the company's triumphs in the latter half of the 20th century.
Starting strongly, he brought out his first new model in 1962, a chronograph wristwatch with a rotating bezel, and revisited the brand's recent past by calling it the Autavia.
The 38mm tool watch was renowned not just for its excellent readability, but also its many different variants. There were models with either two or three sub dials, along with GMTs, divers and full-spec military versions.
That same year, Heuer scored perhaps their biggest marketing coup to date when one of their sports stopwatches, the ref. 2915, became the first Swiss watch in space when John Glenn wore it strapped to his wrist aboard his Mercury/Friendship 7 spacecraft.
The remainder of the 1960s were dedicated to two things; motorsport and the development of a revolutionary chronograph movement.
The former brought us legendary names in the world of horology—the Carrera and the Monaco. The Carrera, christened after the grueling Carrera Panamericana race in Mexico, came in a wide variety of styles like the Autavia.
But the Monaco became one of the first chronographs ever made to be powered by an automatic caliber.
Project 99
In the early '60s, Heuer teamed up with fellow countrymen Breitling, Buren and Dubois-Dépraz to form the Chronomatic Group. Together, they would go into battle against two rival conglomerates, all intent on producing the world's first self-winding chronograph—Seiko in Japan and Swiss marque Zenith.
The argument over who actually won the race continues to this day, but the upshot was that all three concerns launched their own solution to the problem within months of each other in 1969.
The Chronomatic Group's, developed in a venture dubbed Project 99, was the Caliber 11.
The modular movement, with the self-winding and calendar mechanisms made by Buren, fitted with a chronograph module supplied by Dubois-Dépraz, beat at 19,800vph and had a 42-hour reserve. Heuer released new models of their Autavia and Carrera range with the automatic caliber to great acclaim, along with one other watch, now seen as legendary but somewhat ahead of its time when it was launched.
The Monaco And Beyond
A Swiss manufacturer named Erwin Piquerez had patented his design for the industry's first ever waterproof square watch in 1968, something which did not go unnoticed by Jack Heuer.
At 40mm x 38mm, the Heuer Monaco may not have been a perfect square, but it was still a world away from most of the pieces available at the time. The debut reference, the ref. 1133, was unveiled at the '69 Basel Fair with either a grey or blue dial. But avant-garde as it was, it would take a couple of years before it became a hit, thanks to the patronage of some Hollywood royalty.
While not quite to the same degree as the fortunes of the ailing Rolex Daytona being transformed by Paul Newman, when King of Cool Steve McQueen strapped on a Monaco for his 1971 outing in the movie Le Mans, the watch was skyrocketed into the public's consciousness.
McQueen based most of his look in the film on Swiss racing driver Jo Siffert, even down to the sponsor's badge placement on his jumpsuit. But where Siffert wore Heuer's Autavia, McQueen had to wear the Monaco, because that was the only watch the props department could obtain three examples of—one for close ups, one for general shots and a backup.
It was a stroke of luck for the brand, with the highly individual design featuring prominently (in total, Heuer products are visible for 15–minutes of the movie's 1-hour 46-minute run time) and it breathed new life into the Monaco's appeal.
In 2020, one of the three watches worn by McQueen became the most expensive Heuer wristwatch ever sold when it went for $2,208,000.
When Heuer Became TAG Heuer
Although the quartz crisis which decimated much of the traditional Swiss watch industry also hit Heuer fairly hard, the brand was able to ride it out better than many. They maintained their reputation as pioneers, and stayed in the black, by branching out and diversifying into the worlds of digital watches and battery-powered analogue models.
In 1985, a Saudi business group called Techniques d'Avant Garde bought out Heuer wholesale, formally changing the name to TAG Heuer on January 1st 1986.
Injecting huge capital into the company, and spearheading some inspired marketing (including the 'Don't Crack Under Pressure' campaign with Ayrton Senna) saw TAG Heuer experience significant growth.
Then, in 1999, enormous conglomerate LVMH, the luxury goods corporation which also owns Bvlgari, Hublot and, ironically, Zenith, took over TAG Heuer as well. And in a move which delighted fans around the world, they took the step of naming Jack Heuer as honorary chairman in 2001.
With LVMH's backing, the TAG Heuer brand has continued to produce some truly extraordinary innovations—including groundbreaking chronographs such as the Mikrogirder, the first mechanical chrono capable of measuring to within 1/2000th second—as well as tasteful reimaginings of some vintage classics.
Today, their collection is a particularly diverse one, exemplified by bold styling and high precision.
Below, we have picked out some of the best from their modern range, along with some top selections from the archives.
Vintage Heuer
Although Vintage Heuer watches seldom reach the enormous auction prices we see from some of the better known brands, the current craze for all things retro is still pushing their value steadily higher.
There are plenty of superb examples to choose from, and we have highlighted two below.
The Heuer Monaco ref. 1133
Probably the best place to start with vintage Heuer is with arguably their most famous and definitely their most distinctive creation.
The ref. 1133 was the debut Monaco model, released in 1969 and issued with either a blue or grey dial (referenced 1133B and 1133G respectively).
This was the version worn by McQueen, one of the earliest chronographs from any manufacturer to be powered by an automatic caliber.
However, the headlines from the sale of McQueen's own watch not withstanding, preowned examples of this undoubted milestone of horology history can still be had for surprisingly reasonable amounts.
Prices start as low as the $8,000 mark, although they do rise significantly from there.
But for such a charismatic watch, one simply dripping with heritage and backstory, not to mention being the choice of the coolest man who ever lived, it is still something of a bargain.
Heuer Abercrombie & Fitch Seafarer
Way back when, Abercrombie & Fitch was a world away from the sometimes controversial clothing company it is now. Founded in 1892, it was originally the mecca for serious adventurers, the place where Amelia Earhart and Charles Lindbergh geared up, Presidents Roosevelt, Eisenhower and Hoover came for their fishing equipment and where Hemingway bought his guns.
Spread over 12 floors of Madison Avenue real estate, in amongst the other wonders on display was their watch department, presided over by the store's resident watchmaker.
A&F not only stocked the sort of rugged timepieces designed to survive expeditions of all kinds, they also collaborated with major brands of the day, with one such alliance, starting in the 1940s, being with Heuer.
The manufacture produced a number of different models for the store to sell under their own name, and in 1950 came up with the Seafarer.
This was a watch that built on an earlier piece named the Solunar, one which displayed high and low tides on a sub dial and was aimed at fishermen. The brainchild of Jack Heuer himself at the tender age of 15, and one he called his first real contribution to the family business, it failed to catch on but formed the framework for the much more successful Seafarer.
In all it stayed in production for around 20-years and went through some 10 different references, starting out housed in Carrera cases before becoming more tool-like when it adopted the Autavia as its base, complete with rotating bezel.
Today, these watches are especially rare and sought after, with examples in good condition changing hands for anywhere between $15,000 to $50,000+.
A little known and fascinating vintage Heuer, the Seafarer makes an intriguing addition to any collection.
Modern TAG Heuer
TAG's contemporary range is still heavily focused on motorsport, as you would expect from a brand with such a storied history in Formula 1.
They were the first watchmaker to sponsor an F1 team, starting with Scuderia Ferrari in the 1970s, then BRM and McLaren-Texaco, before going on to strike up deals with drivers themselves—over the years Heuer have been official partners to the likes of Niki Lauda, Alain Prost and Ayrton Senna.
Most recently, in 2016, they became the first watch brand to actually be named in the title of a Formula 1 team, with the Aston Martin Red Bull Racing-TAG Heuer RB12 car.
TAG Heuer Carrera
The first Heuer Carrera emerged in 1963, named after the Carrera Panamericana Mexico road race. One of the brand's most successful models, it was brought out of retirement in 1996 and today remains among their bestsellers.
The modern range sticks admirably to the original ethos of the watch, and is a collection best described as being for the sophisticated racer.
There are now 100 models for both men and women, covering a wide variety of sizes, with quartz and mechanical movements, and the series takes in everything from simple time-and-date pieces through to chronographs and GMTs.
One particularly impressive model is the newly introduced 42mm Automatic Chronograph with dark anthracite dial, driven by the in-house Caliber Carrera 02.
The watch is the epitome of luxurious sporty elegance, with a brushed steel case and twin tone-on-tone sub dials, complete with a wonderfully minimalist permanent second counter at the six o'clock.
Inside, and visible through the sapphire case back, the homegrown, COSC certified movement offers a huge 80-hour reserve, and beats at 28,800vph.
Finished off with a brown Alligator leather strap, this is as well-dressed as a racing driver's watch gets.
The TAG Heuer Aquaracer
The Aquaracer series has been TAG Heuer's bread-and-butter offering for several years now, which is strange considering it is one of the few that shuns the racetrack and concentrates on the underwater world.
Like the Carrera, the Aquaracer has plenty of variety, with models for men and women, and a number of case sizes. There are a handful of chronograph models and a pair of GMTs, with the rest of the 68 strong collection being time/date pieces. True to their dive watch roots though, water resistance is 300m across the range.
A personal favorite is the 43mm Caliber 7 GMT, with either a red and blue 'Pepsi' or blue and black 'Batman' color scheme.
A model full of idiosyncratic design quirks, the large trapezoidal hour markers are highly legible, the deep horizontal grooves across the dial add an attractive texture and the rotating colored bezel, not so much round as dodecagon-shaped, all add up to a unique look.
The movement is not in-house this time, with the Caliber 7 a reworked ETA 2893-2, but it is a fine engine and responsible for the price tag of only around $3,000. Power reserve is a thoroughly respectable 46-hours.
A casual but versatile model, with a genuinely useful complication, the Caliber 7 GMT is one watch definitely worthy of consideration.
— Featured Photo Credit: Ferengi, CC BY-SA 3.0, via Wikimedia Commons.