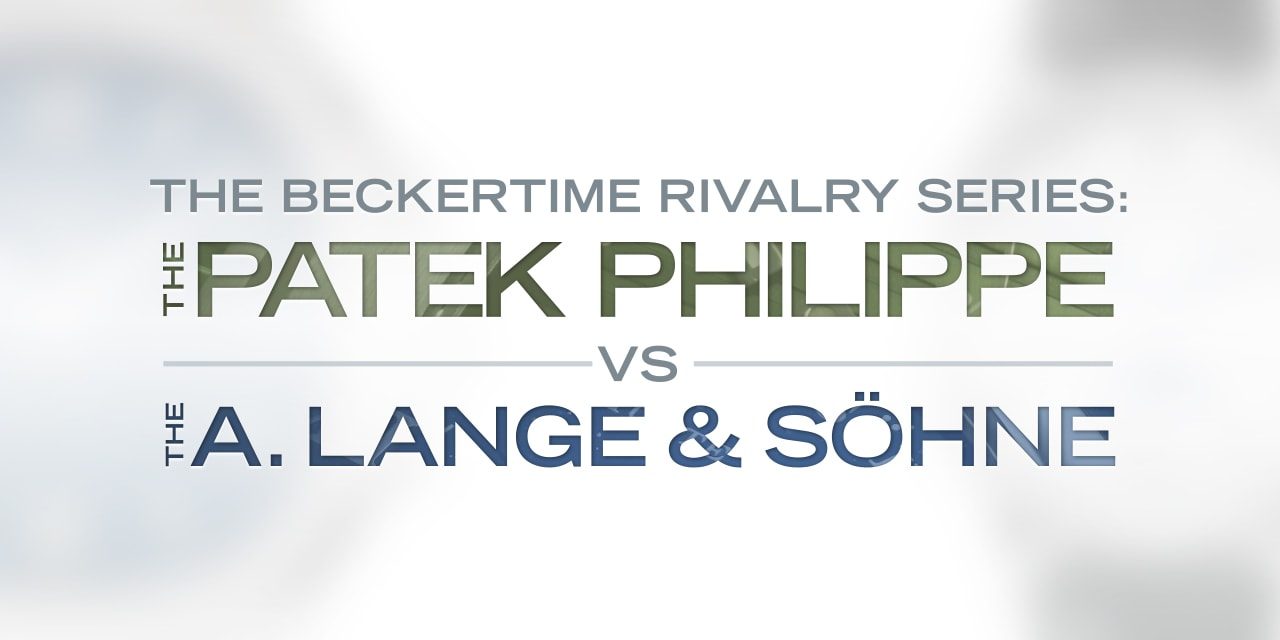 The Beckertime Rivalry Series: Patek Philippe Versus A. Lange & Söhne
Wouldn't it be lovely if the biggest problem you had in your life was having to choose from which of these two extraordinary manufacturers you were going to buy your next watch?!
Unlike with some of the brands featured in our ongoing 'Rivalry' series, the incredible quality displayed by our two players this week means there really is no possibility of making a bad choice, let alone the 'wrong' one.
Here, we are at the absolute zenith of the horological art. Where some names from lower down the industry's hierarchy may have to fend off accusations of being more about marketing triumphs than watchmaking prowess, today the argument about style over substance doesn't have to be raised; this pair is loaded with both.
Patek and Lange (I'll be abbreviating both for brevity, especially the latter so I don't have to keep finding that weird German 'ö' thing on my keyboard) are both out of the very top drawer, but which one is best?
Let's take a look at what they currently have on offer and see if there's anything to choose between them.
The Beckertime Rivalry Series: Patek Philippe Versus A. Lange & Söhne: Contemporary Catalogs
As well established as our two competitors are at the summit of haute horlogerie, they each do it in their own inimitable fashion.
The Swiss-based Patek are, on the whole, all about sleek, delicate contours, with an often minimalist flavor.
On the other hand, the studiedly Germanic Lange is exemplified by noticeably bulkier cases and strong, clean lines, adding some Teutonic muscle to their collection. The lugs on their models are no-nonsense solid square affairs, while Patek's (where they occur) are generally more peaked and sweep gracefully into the cases' outer edge.
Similarly, a Lange dial is rarely a conventional design, with sub dials placed hither and yon seemingly wherever the mood takes them. Patek typically takes a more established route to their arrangements.
Here's a breakdown of each brand's offerings.
A. Lange & Söhne
Lange 1: A watch instrumental in the rebirth of A. Lange & Söhne as a manufacture, the Lange 1 debuted in 1994. It was part of a quartet of models unveiled on the 24th October that year which marked the brand's comeback into the fraternity following an absence of nearly 50-years.
The company was actually first formed in 1845 and operated out of their base in Glashütte until the very last day of WWII in Europe, 8th May 1945, when it was destroyed in a Russian bombing raid. Taken over by the soviets, Lange quietly disappeared behind the Iron Curtain and was never expected to be heard from again.
However, genius horologist, Günter Blümein, the man who had already saved Jaeger LeCoultre and IWC from obscurity, took over the reins in 1989 and started Lange on their road back to the top.
By 1992 the brand had already registered the patent for their renowned outsize date complication, and it is that function which has formed the backbone for many of their neo-creations—not least of which is the Lange 1.
Identified by an eccentric asymmetrical dial makeup, they feature a main time telling sub dial on one side, a separate sub dial at either the 4.30 or 7.30 position, usually showing the running seconds or sometimes a moonphase depending on the model, plus a power reserve needle and that large date display prominently at the top.
The importance of this watch cannot be overstated and without its overwhelming popularity the brand may well have disappeared into oblivion once again. As it is, the collection stands as the Lange flagship and is available in a host of sizes and materials, comes in traditional time-and-date versions through to the likes of perpetual calendars, tourbillons, and the glorious Lange 'Lumen' variety with its unrivalled incandescence.
A genuine icon from one of the very best.
Zeitwerk: Another totally unique visual, the Zeitwerk is the first mechanical wristwatch to display hours and minutes with jumping numerals.
Dubbed the 'digital watch for people who would never wear digital', the Zeitwerk stems from 2009 and represents an outrageous departure from the accepted watchmaking norm.
More balanced than the Lange 1, the Zeitwerk is a bold statement, with large date apertures at the 9 and 3 o'clock, with an equally sizeable running seconds sub dial at the 6. Up top is another power reserve indicator linked to the manually-wound movement, while the crown is unusually placed at the 2 o'clock.
As with the Lange 1, the Zeitwerk comes in a number of guises, with time-only, time-and-date, striking time, minute repeater and Lumen examples all available.
An exceptional achievement and a watch that stands out from the crowd with ease.
Saxonia: Lange's tribute to the artistic history of their birthplace, the state of Saxony in eastern Germany, the Saxonia collection is epitomized by mechanical and engineering ingenuity, wrapped up in watches created with meticulous symmetry and simplicity.
As well as the minimalist Saxonia range itself, the collection has now also absorbed the Langematik Perpetual (the first perpetual calendar model with Lange's outsize date display), the Lange 31 (the first mechanical watch with a 31-day power reserve and constant force escapement), the Triple Split (the first mechanical split-seconds chronograph which can perform multi-hour comparative time measurements) and the Datograph collection, featuring a refreshing take on the traditional chronograph and, much more importantly, my favorite watch of all time, the platinum Datograph Up/Down.
1815: Named after the year Lange founder, Ferdinand A. Lange, was born, the 1815 collection eschew the outsize date for a more traditional setup. The pieces in the range have a distinct vintage vibe without overdoing the retro styling, with Arabic numerals and railway track minute scales across the range and blued steel hands on most models. About as classical as watchmaking gets, the 1815 watches still benefit from plenty of high end complications, including annual and perpetual calendars, rattrapante chronographs and even a Grand Complications model at the very top end.
Richard Lange: Son of founder Ferdinand, Richard Lange was responsible for the company's development of hugely precise scientific observation watches throughout the 19th century.
The collection now named after him are an eclectic mix of superb dress pieces which, despite their often unorthodox visuals, still prize legibility and supreme accuracy above all else.
Odysseus: The newest collection released by Lange, the Odysseus fills an up-till-now conspicuous gap in their lineup; a luxury sports watch. Clearly inspired by the greats (Royal Oak, Nautilus, etc.) the Odysseus has a definite '70s aura, right down to its (semi) integrated bracelet.
The outsize day and date are present and correct and the watch can be had in either steel, titanium or white gold.
Patek Philippe
We've covered Patek's current crop of stunning timepieces in other articles, so I'll just give you a quick rundown here. Mainly because most of them require no introduction.
Nautilus: Not the first, but the recognized granddaddy of all luxury sports watches, the Nautilus is an undoubted icon
Aquanaut: Sometimes referred to as the Nautilus-Junior, the Aquanaut was made to refresh its parent watch's disruptive influence
Calatrava: Quite simply the ultimate in sophisticated dress watches
Gondolo: A tiny collection of elegant ladies watches inspired by the Art Deco movement of the 1920s
Golden Ellipse: Designed around the mathematical ratio of the 'Divine Proportion', the Golden Ellipse models feature unusual rounded rectangular forms and minimalist detailing
Twenty~4: The newest collection in the Patek portfolio, the Twenty~4 is a series of ladies models which act as the most accessible route into Patek ownership
Complications and Grand Complications: Two collections of simply staggering complexity, underlining Patek's almost unrivalled abilities in watchmaking
The Beckertime Rivalry Series: Patek Philippe Versus A. Lange & Söhne: Making Comparisons
If you look at the two respective catalogs of watches from these brands, you can see there are one or two collections which can go into direct battle with each other.
For example, Patek's out-and-out dress series, the Calatrava can be held up against either Lange's 1815or Saxonia ranges. All have traditional round cases with, true to form, Lange's being slightly more beefy, particularly when it comes to bezel thickness. Interestingly, where Lange's watches have far more in the way of complications from which to choose, it is the Calatrava which has more actual variety in the watches themselves, visually speaking. A tough one to judge, and with so much down to individual taste, we'll be generous and declare a draw.
If we're talking sports models however, it becomes something of a no contest. Lange has only very recently entered the field with their Odysseus range stemming from 2019, while Patek has been dominating the market since the 1970s with the Nautilus, and followed it up with another of the industry's most desirable forms in the '90s with the Aquanaut. Definite point (or several) to Patek.
Elsewhere it becomes slightly more tricky to make direct comparisons. The majority of Patek's most complicated models are housed in the Complications and Grand Complications collections, with only the occasional complex piece dotted here and there in amongst the other ranges. As for Lange though, most of their various watch families contain a number of highly functional pieces, with at least a perpetual calendar (an incredibly accomplished feat of engineering despite its prevalence) cropping up in four of the six collections.
Suffice to say, both of our competitors are responsible for some masterpieces of the highly functional movement, although Patek's Grand Complications series really has to be seen to be believed. Seriously, check out some of the pieces over there and you'll be purring!
The Beckertime Rivalry Series: Patek Philippe Versus A. Lange & Söhne: Which is Best?
As I mentioned at the beginning, if choosing between these two is your biggest challenge—congratulations, you've officially won at life!
These are very special watches and have been, and still are, worn by very special people.
Far more than being merely a watch, sporting a model from either of these companies is a huge statement; of achievement, status and wealth.
The only question is; which?
Well, it really all depends on your own sensibilities. Each brand is influenced by its country of origin. Patek's Swiss styling leaves us with the most classically designed collection, all elegant sleekness with magnificently hand-finished components and artisanal goodness.
Lange's Germanic designs are all about unfussy efficiency and heavy Gothic lettering, usually wrapped up in a sturdier yet still chic whole.
The choice is, of course, yours and whichever way you decide to swing, content yourself with knowing you are wearing the best of the best.
— Featured Photo: BeckerTime's Archive.