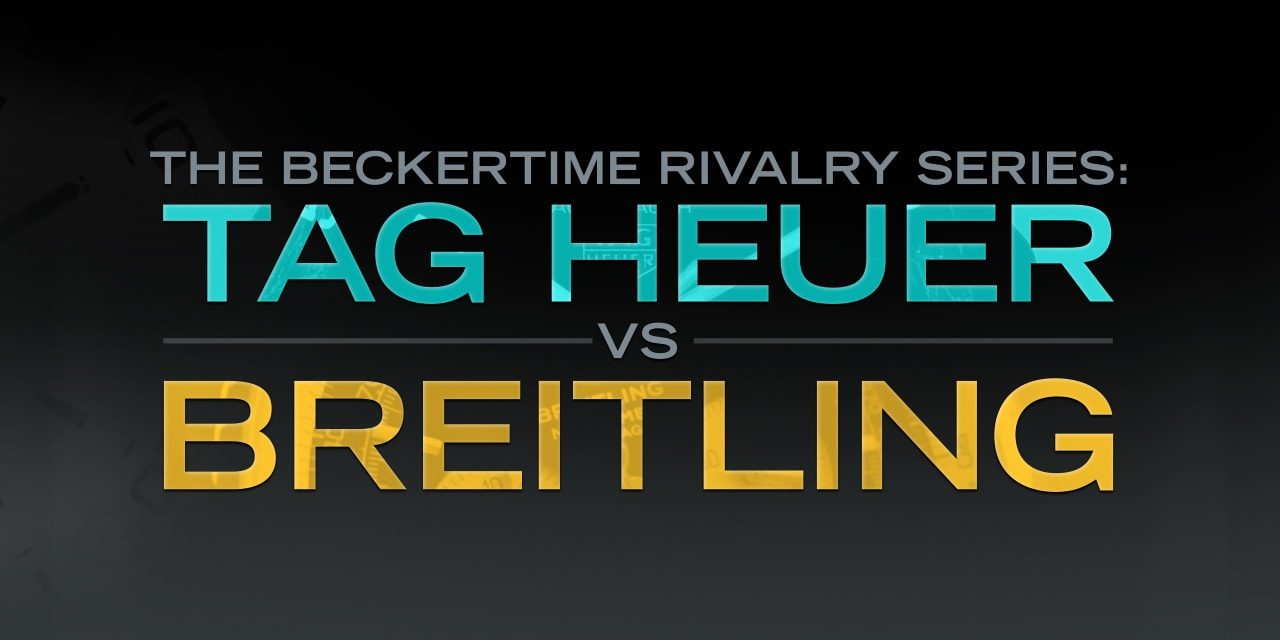 The Beckertime Rivalry Series: TAG Heuer Versus Breitling
A matchup between rival Swiss brands TAG Heuer and Breitling is a particularly interesting one.
Each has a long and illustrious history in the business and, in terms of popularity, there is very little to choose between them. The two brands are often seen as the gateway into luxury timepieces for many people (myself included), and have a wide enough selection on offer to accompany most fans through their entire collecting journey.
In addition, within those portfolios, there are certain models which can only be described as iconic.
However, there are still plenty of differences, and important ones. Below, we take a look at both marques and compare their respective offerings.
TAG Heuer Versus Breitling
In the most general terms, Breitling is associated more with professional aviators' watches while TAG Heuer has closer links to the racetrack.
TAG, or rather its forebear, Heuer, was renowned for its chronographs and its current selection still contains legendary names such as the Formula 1, the Autavia and, especially, the Carrera and the square-cased Monaco.
Over at Breitling, their lineup includes pilot's models such as the Classic AVI, the hard-bitten Avenger series and, of course, the Navitimer, perhaps the most celebrated flight instrument ever made.
Obviously that's not the end of the story though, and there is plenty more on offer from both manufacturers outside the category's that originally made them famous.
Here's a full rundown of each brand's collections.
Breitling
Navitimer: the watch that really put Breitling on the map, the Navitimer utilizes a slide rule bezel to help pilot's with flight calculations
Top Time: a small series of wonderful, vintage-inspired chronographs
Chronomat: a diverse collection of sporty/casual everyday wear watches
Superocean: a range of big and bold dive watches with some fearsome capabilities
Superocean Heritage: a huge success for Breitling in recent years, these are a number of dive models with a real retro flavor
Avenger: Maybe the ultimate family of pilot's watches for genuine professional flyers
Classic AVI: another throwback to earlier times, this time in a series of distinctive aviation watches
Premier: Breitling's range of impeccable dress models with impressive complications
Professional: hardcore wrist instruments for the uncompromising adventurer
TAG Heuer
Aquaracer: a wide and highly capable array of dive watches, for men and women, with water resistance down to an impressive 1,000m
Formula 1: an assortment of distinctive and brightly colored drivers' models, mainly chronographs, with both quartz and mechanical options
Autavia: Heuer's oldest name is reborn in a collection of beautifully minimalist, retro-styled models
Carrera: a huge success for TAG, the Carrera is a broad and varied family of watches. Here you will find everything from simple time-and-date, day-date and chronograph pieces, right through to one of the least expensive tourbillon models currently offered by a major manufacturer
Monaco: made famous by one Steve McQueen, the Monaco is a legendary racer's companion. Renowned for its unusual square shape, it is right up there with some of the coolest watches ever made
Link: elegant and sporty, the Link collection is exemplified by its proprietary bracelet
TAG Heuer Versus Breitling: Movements
Both brands use a variety of movements to power their watches, with the main difference between the two being that Breitling makes many of theirs in-house.
Calibers such as the B01, their first to be built domestically, has garnered much praise from experts, so much so that it is now also used by Tudor in most of their time-and-date models. In fact, Breitling and Tudor have recently teamed up with Chanel to form movement maker, Kenissi to supply each manufacture with mechanisms.
In addition, the vast majority of the calibers Breitling uses are COSC certified for accuracy, while over at TAG Heuer, only a handful can say the same.
TAG also makes a few of their own movements, but not on the same scale as Breitling. The higher end Monaco and Carrera models are where you are most likely to see a homegrown caliber, with the rest supplied by a third party, usually ETA
TAG Heuer Versus Breitling: Prices
Each of our manufacturers reside at the low to mid-range of the luxury watch hierarchy. That being said, Breitling is the more expensive of the two overall as TAG has more entry level pieces while Breitling has more at the pricier end.
The cheapest TAG Heuer watch currently is the quartz powered Formula 1 Senna, coming in at around $2,400. As for Breitling, its least expensive is the Superocean Automatic 36, at $3,200. So, not a huge amount in it either way.
As for the most costly, TAG's rose gold Carrera Tourbillon Chronograph tips the scale at about $28,000, which might sound a lot, but you won't find a decent tourbillon watch for less anywhere else.
With Breitling, their range tops out at roughly the same price, for another rose gold piece, their B01 Navitimer.
TAG Heuer Versus Breitling: Prestige
We don't normally include a 'Prestige' section when dealing with a brand showdown. However, in this case it becomes more noteworthy.
To the average layman, the two manufacturers are pretty much equal in terms of reputation.
On the other hand, most serious watch collectors would always put Breitling above TAG, for the main reason the latter makes more entry level watches, bringing the whole portfolio down as a result. Breitling simply starts their collection at a higher level and goes up from there.
Recently though, TAG have been making strides in addressing this state of affairs and moving into the more upmarket end of the industry, most notably with their tourbillon models. They seem to be phasing out those pieces that experts sniffily describe as 'fashion' watches and are starting to be seen as a serious contender again.
Of course, that's all well and good, but just making excellent watches isn't enough to automatically increase a company's cachet on its own. It will take a little while for TAG's hard work to pay off as far as their standing in the marketplace is concerned.
There we have our comparison of Breitling and TAG Heuer. Both brands produce superb and, most intriguingly, reasonably priced watches covering a whole raft of different styles.
As a self-confessed horology fanatic, if I was using my own money, I would be drawn more to Breitling's portfolio, and in particular the Navitimer series. Much like a Rolex Submariner or an Omega Speedmaster, the Navi is just one of those watches you 'have' to have before you can even begin to think about calling your collection complete.
That being said, I'm sitting here typing this article with my TAG Heuer Aquaracer quartz watch sitting on my wrist, by FAR the most durable and accurate piece I own.
So whichever way you decide to go, your chances of disappointment are extremely low!
— Featured Photo Credit: BeckerTime's Archive.