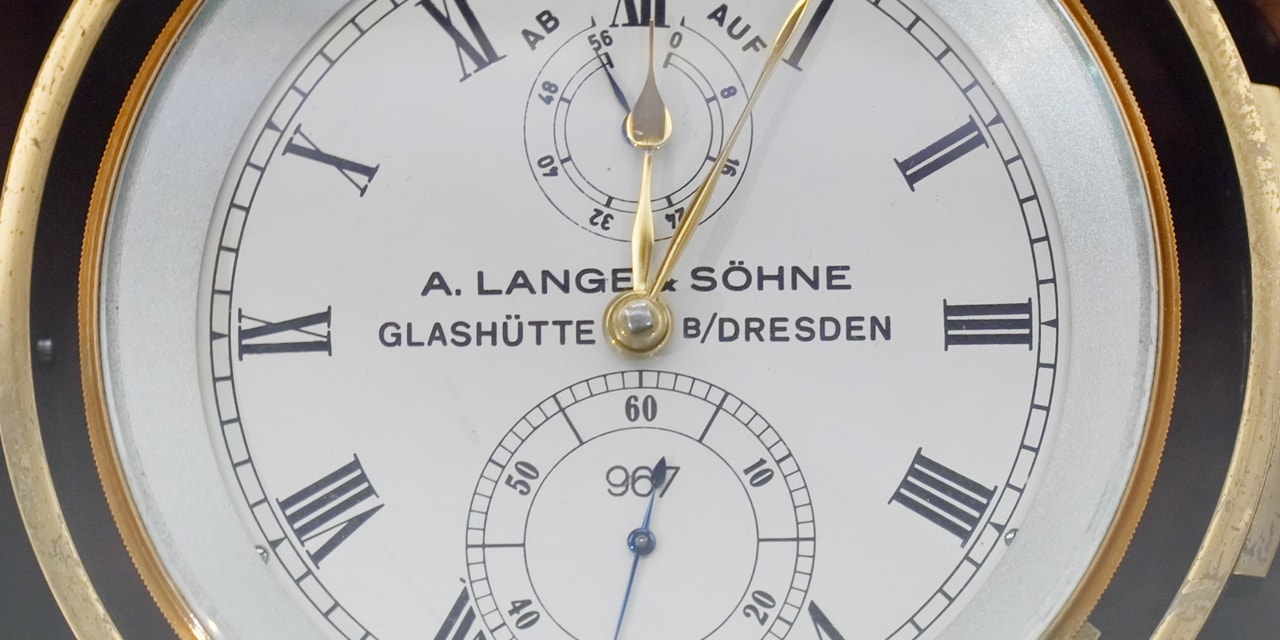 The History of A. Lange & Söhne
One of haute horlogerie's most revered names, A. Lange & Söhne has had a long yet disjointed history.
From humble beginnings to a position at the top of the watchmaking food chain, followed by tragic destruction and loss and, finally, a tale of restoration, the brand's story is worthy of an art house movie.
Today, they are responsible some of the industry's finest creations; models with the very latest innovations, grounded in heritage and tradition.
Below, we take a look at the fascinating maison and discover how it overcame so much adversity.
A. Lange & Söhne: The Early Years
The company which would eventually go on to become A. Lange & Söhne was established in Glashütte, in Germany in 1845.
The founder, Ferdinand Adolph Lange, had received an education in engineering from the Technical School in Dresden, while at the same time studying under renowned master horologist, Johann Christian Friedrich Gutkaes. The watchmaker to the royal court, Gutkaes was immediately impressed with Lange's imagination, work ethic and intelligence and, after completing his tutelage, sent his protégé off to Paris in 1837 to continue his studies with Austrian watchmaker Joseph Thaddeus Winnerl, himself a former student of Abraham Louis Breguet. While in the French capital, Lange also pursued his interests in astronomy and physics at the Sorbonne.
Upon Lange's return to Dresden in 1841, he married Antonia Gutkaes, daughter of his old mentor, before going on to receive his master craftsman diploma and join his now father-in-law living and working out of their apartments in the Royal Palace tower.
By 1843, Lange had built such a distinguished reputation for himself and his work that he was ready to strike out on his own. With a typically meticulous business plan in hand, he intended to establish his manufacture in the then-impoverished town of Glashütte, in the free state of Saxony in eastern Germany. He managed to secure a loan from the region's government to take on 15 apprentices and purchase tools, supplementing with his own funds and then taking on heavy debts.
After arduous early years, Lange's obsession with the work, coupled with his many innovations, saw the fledgling business start to succeed. He streamlined his manufacturing process and improved the tools his apprentices' worked with, significantly reducing errors and increasing production.
He also invented the three-quarter plate in 1846, a design which held all the arbors in the wheel train thus keeping the gears in stable contact. It still forms the basis of the brand's movement making today.
Lange also replaced the Parisian ligne system with the more standardized metric system and so introduced the millimeter as a form of measurement to watchmaking.
But perhaps most crucially to the industry, he was made Mayor of Glashütte in 1848, transforming the modest town over his 20-year tenure into the vital center for German watchmaking as we know it today.
Family Business
In 1868, Adolph's eldest son, Richard was named as partner in the firm, after which the business was officially called A. Lange & Söhne for the first time.
Three years later, the second son, Emil, joined the business.
The two brothers made an impressive team. When they took over the manufacture permanently upon the death of their father in 1875, it was Richard's outstanding skills as a designer, coupled with Emil's formidable talents as a salesman which brought the company to the attention of a global stage.
They crafted stunning timepieces for the last German Emperor of Prussia, Kaiser Wilhelm II, to gift to the visiting Sultan of the Ottoman Empire, as well as another for the King of Bavaria, Ludwig II, to present to his favorite Wagnerian opera singer, Heinrich Vogel. The case of Vogel's pocket watch depicted five scenes from Wagner's opera, Die Walküre (the Valkyrie).
But perhaps their proudest creation from the period is the Grand Complication No. 42500. The most complex watch they had ever made, it housed grande and petite sonnerie chiming movements, a minute repeater, perpetual calendar with moon phase and a split-seconds chronograph with flying seconds and a 60-minute counter. Taking years to complete, only one was ever produced and was sold to a gentleman called Heinrich Schäfer in Vienna in 1902.
However, even though the name A. Lange & Söhne was, by this time, renowned the world over, some very dark days were ahead.
World War I
The First World War saw the demand for luxury timepieces evaporate almost completely, forcing many watchmakers into bankruptcy. Germany also closed its borders, meaning those manufacturers relying on movements from Switzerland had to shut down production.
A consortium of German firms banded together to form DPUG ('Deutsche Präzisions-Uhrenfabrik Glashütte in Sachsen GmbH', or, 'German Precision Watch Factory Glashütte in Saxony') to mass produce calibers and other components using the latest technological machinery. However, head of A. Lange & Söhne, Emil, decided to forego DPUG, retiring in 1919 and leaving the business to his three sons, Otto, Rudolf and Gerhard.
They in turn launched an initiative of their own, OLIW (Original Lange Internationales Werk), designing a new 43mm caliber. However, it took so long to make that serial production didn't start until the 1920s.
But it was a cruel time in the industry in Germany. The hyperinflation of the '20s, culminating in the crash of 1929, saw the vast majority of the workforce in Glashütte laid off.
Destroyed
In 1924, Rudolph's son Walter was born. The grandson of Emil and great-grandson of original founder, Ferdinand, he was determined to carry on the company, and Walter spent his childhood in the A. Lange & Söhne's workshops learning all he could before leaving at the age of 17 to attend the famed watchmaking school in Karlstein, Austria. Even amidst the chaos of the surrounding conflict, Walter managed to finish his studies before returning to Glashütte to head up his family's company.
Germany's military buildup at the time brought with it a renewed demand for precision watches and Lange was one of five brands to make B-Uhren models for the Luftwaffe. Standing for Beobachtungsuhren, or observation watches, they, along with Stowa, Laco, Wempe and IWC built around 13,500 examples.
Then, on 8th May 1945, the very last day of the war in Europe, Lange's main production facility and HQ were almost completely destroyed in a Soviet bombing raid.
Devastated, the family tried to save their enterprise, but in 1948 the Iron Curtain dropped and German businesses fell into Soviet hands. By 1951, although the now-publicly owned firm continued to make watches, the Lange name had disappeared from the dials.
The Return
That famous label wouldn't be seen again for more than 40-years. In 1989, the Berlin Wall came down and Walter Lange, who had never given up on his dreams of one day regenerating his business in Glashütte, spotted the historic event as the opportunity to do so.
Teaming up with Günter Blümein, an almost mythical figure in the watchmaking industry already responsible for the revival of Jaeger LeCoultre and IWC, the pair essentially built A. Lange & Söhne back up from scratch. Incredibly, even starting again with no manufacturing plant and no machinery or employees, it only took the new Lange Uhren GmbH until 1992 to register its first patent, the outsize date. Drawing its inspiration from one of Adolph Lange's 1830 masterworks, the Semper Opera House clock in Dresden, that complication found its way, two years later, onto three out of the four new watches A. Lange & Söhne released, their first in more than four decades. It has since formed the backbone of many of their models, most notably the Lange 1.
A. Lange & Söhne Today
In a wonderful twist to the story, in 2001, following more than 10-years of restoration, the brand reopened their new Glashütte workshop in the remains of their bombed building from 1945.
Since their reinvention, A. Lange & Söhne have built more than 40 movements and won over 150 international awards for their work.
Their portfolio today is made up of six collections:
Odysseus—Released in 2019, the Odysseus is Lange's take on the sports watch. The 40.5mm piece, available in steel or white gold, comes with a small seconds sub dial and big date displays for both day of the week and day of the month. Water resistance is 120m.
Lange 1—One of the first watches made in the new era, the Lange 1 range consists of nearly 40 separate models. A landmark piece, with distinctive off-center dial layout and outsize date, it continues the extraordinary tradition for innovation which first made the A. Lange & Söhne name. In this collection you will find perpetual calendars, moon phase and dual time zone watches and tourbillons.
Zeitwerk—Among the most advanced wristwatches of the last half century, the Zeitwerk features a digital display with a jumping numerals mechanism consisting of three discs. Some of the standout editions here are the Minute Repeater and the Striking Time, chiming on the quarter and full hours.
Saxonia—An eclectic series of watches, containing everything from the Calatrava-like Saxonia model itself, a study in refined simplicity, through to the utterly wonderful Datograph. Affectionately known as the Dato, these cutting edge pieces feature outsize date, a flyback chronograph and power reserve meter, all wrapped up in one of the industry's most exquisitely balanced faces.
1815—Another deeply diverse range, the 1815 is named after the year original founder and visionary, Ferdinand Adolph Lange was born. Here you will find both modest and highly complicated watches, including the Tourbograph Perpetual 'Pour le Mérite'. The latest of 5 PLMs, this example was made as a special edition in 2017 and limited to 50 platinum units. There are now an additional 50 in Lange's own Honeygold, and all have a unique combination of a fusée-and-chain transmission with a tourbillon, chronograph, rattrapante and perpetual calendar. Possibly Lange's most important contribution since their revival, this is watchmaking as a bona fide art form.
Richard Lange—A throwback to some of the best of Lange's historical models, the Richard Lange collection is based on the brand's scientific observation watches. Exemplified by their ruggedness, readability and most of all their precision, this series have a studied simplicity which makes them the ideal everyday wear.
A. Lange & Söhne is, without doubt, a spectacular high end manufacture and Germany's answer to Patek Philippe.
Their styling is immediately identifiable, and manages to be both cutting-edge and charmingly old school simultaneously. Their skill, flair and commitment to mechanical innovation has seen them return to their rightful position at horology's top table in record time, and they continue to surprise and delight with each new unveiling.
One of the best of the very best, they are almost without equal.