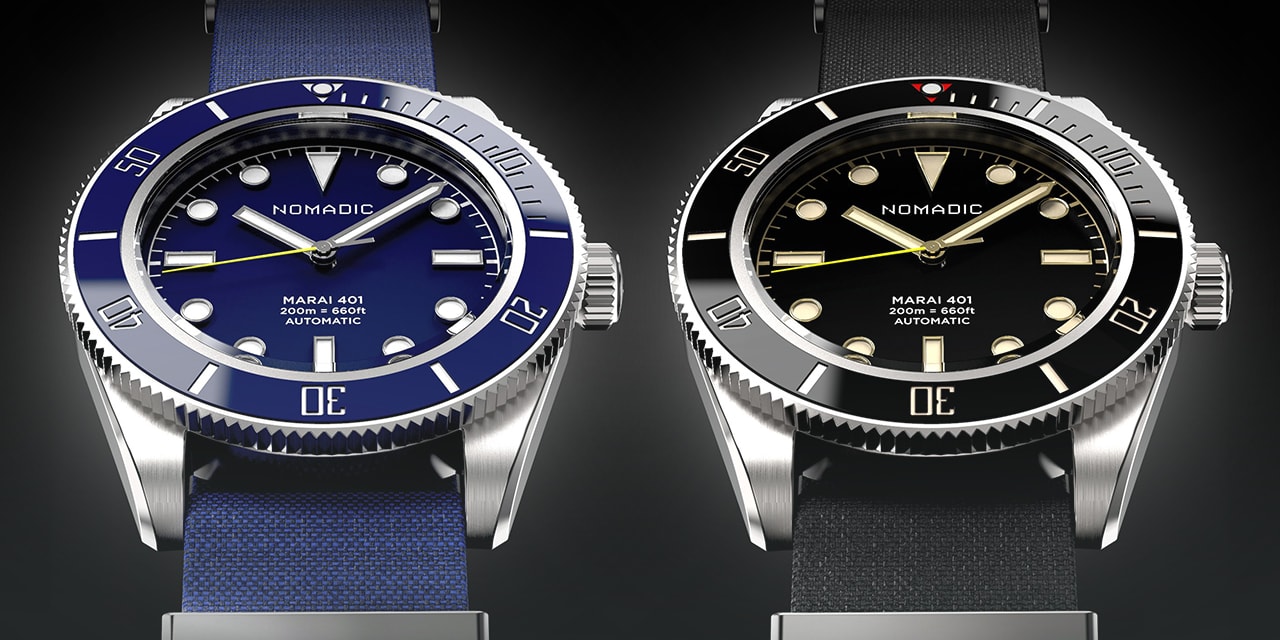 The Nomadic Maraí 401
One of the great joys of this job is getting to meet others who share a passion for horology. Recently, I had the pleasure of doing just that when I met the creator of a new startup who, after years of traveling and adventuring, has returned home to Belfast in Northern Ireland to form his own brand, appropriately named Nomadic.
Their debut offering is a vintage-inspired diver called the Maraí 401—and it's a beauty. As well as ticking all the boxes for what a modern tool watch needs, it has also tapped into the current love affair with all things retro. But what sets this piece apart is the smattering of wonderfully subtle details which point to the heritage of Belfast itself, as well as its most famous export.
I got to sit down with Peter, Nomadic's young (depressingly young, actually) founder, for a chat in the city's Titanic Hotel; another perfectly fitting location, as you'll see.
First, a Little Background
Peter got the idea for starting his own watch company a mere 12-months ago, meaning he has managed to get from concept to fully realized production in less than a year, during a worldwide pandemic—a hugely impressive feat.
We have gotten together in the Drawing Office Bar of the Titanic Hotel, the now repurposed rooms where, in the early years of the 20th century, draughtsmen put down the plans for the great ship when working for the White Star Line. The high vaulted ceilings with their massive skylights were designed to let in as much illumination as possible for the designers as they set about their diagrams. Even this afternoon, on one of the many grey and overcast days we enjoy here so much, the bar is flooded with light.
The Titanic Connection
The ill-fated liner and its association with Northern Ireland's main city both play a significant role in the Maraí 401.
For starters, the brand's name, Nomadic, along with its obvious connotations with global travel, is also the name of the Titanic's last surviving tender ship, now a working museum displayed outside the magnificent Titanic Exhibition Center. Additionally, the title, Maraí, is Irish for 'seafarer', and the '401' refers to the Titanic being the 401st vessel built in Belfast's Harland and Wolff shipyards.
Anyone even remotely familiar with this part of the world will also recognize Samson and Goliath, the gargantuan cranes which dominate the dock's skyline. Peter has included a nicely judged nod to those famous landmarks as well, by picking out the Maraí's seconds hand in the same bright yellow as the two gantries.
And, while the model comes with the option of a NATO strap, the example I see has a stainless steel bracelet with, of course, considering its shipbuilding legacy, riveted links.
The Maraí 401
When we meet up, Peter is wearing the prototype Maraí 401; a 40mm automatic dive watch with 200m water resistance and a ceramic bezel.
Handing it over to me, there's an instant feeling of solidity to everything, as you would expect seeing as its creator's background is in mechanical engineering. The bezel, especially, has a really satisfying feel to it, with just the right resistance to its 120 clicks. The ceramic dive insert also has a lovely muted finish, nicely matching the rest of the retro vibe.
Elsewhere, the 316L steel case has sharply machined bevels, and some further vintage touches such as the absence of crown guards or date display. The example I got to see had place-filler hands rather than the standard production ones, but the regular watches have no nonsense squared batons and, of course, that gleaming yellow seconds hand.
Inside is the Sellita SW200-1, an utterly reliable and bombproof caliber, beating at 28,800vph and with a 41-hour reserve.
A Talk With the Founder
Have you always been interested in watches?
Watches have always been a real passion of mine, especially as an engineer and wanting to know how they worked. I remember finding out as a kid that some watches don't have batteries in, and straight away was fascinated.
When did the idea for making your own watches first come about?
The first idea for making my own watches came to me last year and I didn't really entertain it seriously, I just thought, 'yeah that would be really cool someday'. But the more and more I thought about it, the more I researched it, I just thought, 'I could do that!' and then I just couldn't let the idea go and had to go for it.
It's been an exciting journey definitely. Lot of hard work, lot of sleepless nights.
What would you say have been the biggest challenges or the biggest surprises?
Everything's a bit surprising, seeing as it's all new. Learning as we've gone along, researching each new element of watch manufacturing and of the business side as well, that's all been a bit of a journey.
Are you a complete one-man band or do you have people working with you?
Nomadic Maraí 401 Watch
I worked with a few designers on finalizing some of the features on the watch, but pretty much it's just me. My wife as well, tirelessly working away in the background helping a lot with the social media. Instagram has been the main channel, where we're most active and where we try and reach out and spread the word. We have been developing the brand through there and it's been amazing actually, the reception we've got. It's been great seeing people being so supportive. I think that's been one of the biggest surprises actually, how supportive the community's been in terms of offering assistance and help.
My biggest fear was coming out with this watch and there was going to be crickets! No one was going to want this thing or no one was going to understand it, but so far, it's paid off and everyone does seem to be interested in it.
How has presale gone?
So far I've been pleasantly surprised. Especially considering the stage we're at, it's been tremendous the confidence people have, in me, I guess.
How have you financed the start up? Was it a Kickstarter?
No, I haven't done anything through Kickstarter so far. I thought about it but decided to finance it all myself. I launched the website, nomadicwatches.com, and started presale on there and that's given us the support initially to make the first batch and so that's being manufactured now.
Have you found it easy to find manufacturers?
No! It was a long road, getting multiple samples from multiple suppliers and trying to find out what worked and was going to be good enough.
I wanted to make the watch my own and make it unique. I wanted to include a nice little nod to home, or a nod to Belfast, but not so in your face—an 'if you're from here, you get it', sort of thing.
You've managed to do that and keep the whole thing clean and understated as well
I found when I was working through the designs, the more and more things I added to it, the busier and more complex it got, and I just thought, you know what, just strip it back to the basics.
For example, we have a choice of straps. So far, the steel bracelet seems to be the most popular choice, but the NATO isn't far behind. I've always been a steel bracelet kind of guy most of my life wearing watches, but only recently I've started wearing NATOs. I just like the way it dresses it down a little. I think a steel bracelet can make a watch quite formal and I like the more casual look. Most settings just aren't as formal, especially these days! Wearing a steel bracelet sitting in your pajamas, working from home doesn't make much sense!
We wanted to create something you could wear everyday. Stick it on, go out surfing, go to work, and not have to get too worried or precious about it. So, it's a bit like Belfast. There's no hint of pretentiousness here.
Do you have many competitors?
I've found there's loads of brands cheaper than us, with maybe Japanese movements, and then there's obviously tons of competitors in the £1,000-plus range and into the real luxury premium brands, the big Swiss players. But there's very little in the middle in-between there, and I wanted to pitch the watch in that sort of space, with a high quality movement for under £1,000.
Are you selling only through the website?
So far, we're purely online. And that's part of the reason why we've been able to keep the cost of the watch relatively low. It avoids additional retailer markups. So we can make the watch affordable without compromising on the quality of the components.
Future watches?
They are very much at the conceptual stage at the moment. I really want to do a GMT and I'd love to do an aviator, and then a chronograph as well. They are all in the lineup, not sure exactly which one is the next one to go for. I might speak to the guys on Instagram and see which one they'd prefer and judge it that way.
Would you keep the vintage feel across the range?
Certainly I want to keep that adventure feel, and I guess the vintage feel is part of that. But, yes, I'd want to keep that consistency across the board. There's still plenty of good stories to tell in terms of adventure and in terms of where the watches are coming from as well. My granddad actually used to work at Shorts, the aeroplane factory just behind here, so doing an aviator would be a nice nod to there as well.
And finally, if you had to sum your watch up in one sentence, what would you say?
It's a luxury watch that you can wear every day, and it's something that can stand up to any adventure you throw at it but still look great without breaking the bank.
The Nomadic Maraí 401 is available for preorder now, in classic Black and Gold or Deep Ocean Blue, at nomadicwatches.com, priced at £577 (NATO) or £622 (Steel Bracelet)
Photo Credits: Images used with authorization of Nomadic Watches.