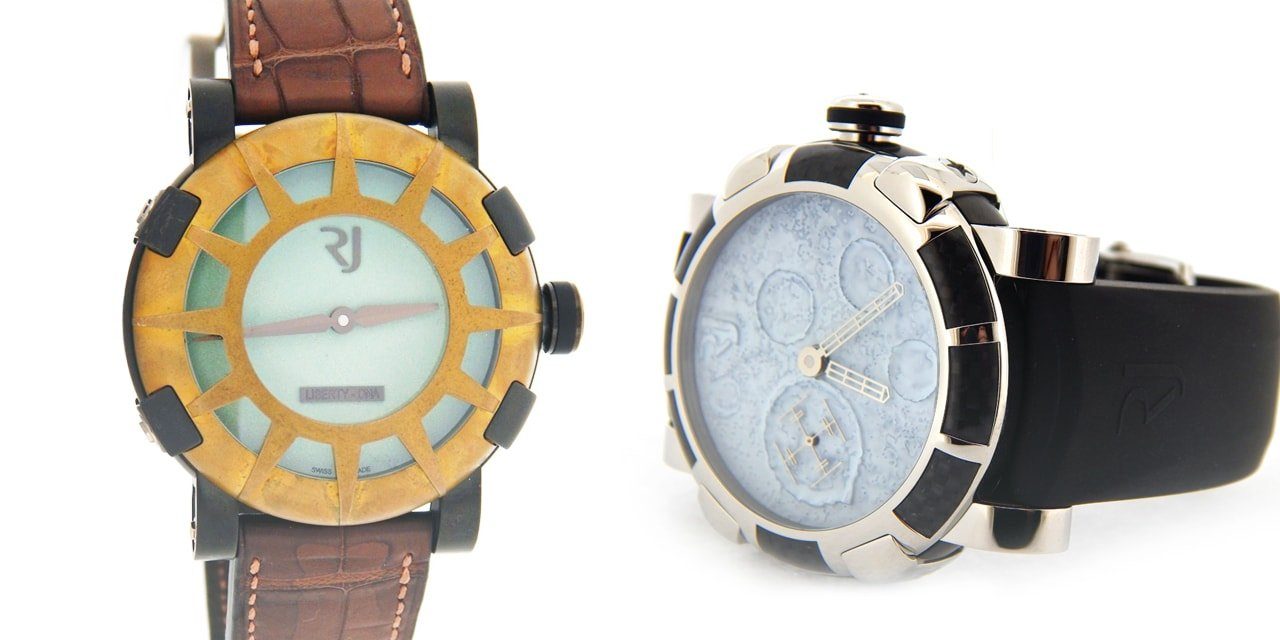 The Rise and Fall of Romain Jérôme
No one would ever claim trying to break into the horology industry was easy. It is a business dominated by a handful of mammoth players (the ones everyone has heard of regardless of how much interest watches hold for them), followed by a relatively large number of mainstream brands which are almost as recognizable.
After that, we dip into the murky world of the independent boutique marques.
These manufacturers, faced with the almost impossible task of getting themselves noticed by a wide enough audience to even survive, have to make the loudest noise they can with limited resources. As a result, this is where we tend to find the most imaginative, bizarre, sometimes ludicrous and oftentimes controversial timepieces on the market.
The models created by Romain Jérôme, or simply RJ as they became known, are the perfect illustration.
A world away from the conventional, nothing RJ put out in their 16-year history can or will be described as subtle or traditionalist. From the concepts themselves through to the extraordinary materials employed, everything about the brand was designed to cause a commotion.
It is a testament to their creativity that they were able to standout, even in such a packed arena.
Unfortunately, through a combination of turbulence at the top and the completely unavoidable effects of a worldwide pandemic, the label has become the first of possibly many similarly sized companies to be driven into bankruptcy this year. They were forced to shut their doors on February 27th 2020 with the loss of 33 jobs.
Below we take a look at RJ's legacy and some of the astonishing watches which weren't quite able to save them.
Romain Jérôme History
The brand began life in Geneva in 2004, founded by Alain Bajulaz, a passionate horology connoisseur and, as it turns out, keen golfer.
The newly christened Romain Jérôme (named after Bajulaz's two sons) hit the headlines immediately with their golf-themed debut offerings, and especially the Golf Master Time. By the standards of what would follow, it was a comparatively sane affair; or to put it another way, it actually looked like a watch.
Available in three versions; pink gold, white gold or platinum, the 42.9mm piece could be mistaken for a regular chronograph at first glance. But its pair of sub counters were not for totaling elapsed seconds and minutes. Rather, the dial at the ten o'clock kept track of the number of holes played, while the one opposite at the two o'clock showed the number of strokes per hole. (Although it only goes up to 11, so would be of no use to me!)
At the six o'clock was another aperture, which tallied up the overall number of strokes for the entire course.
While it was a first of its kind, as a complication it was actually fairly modest, requiring two additional pushers, again at the two and ten o'clock, and the whole thing was run by a modified version of the lowly ETA-2892-A2. That didn't stop RJ from slapping a decidedly haute horlogerie price tag on the 250 pieces made in each metal, which started at around €28,000. At the same time, the brand also launched special edition tourbillon versions in pink or white gold, limited to 50 each and costing north of €60,000.
A Change of Approach
As novel and interesting as the Golf Master Time was, it was a limited success at best. It may have been able to withstand forces of up to 5,000G and so easily survive the average swing, but it was still a large, fairly bulky watch and so somewhat unsuitable to be worn while playing. As such, it struggled to find an audience among serious golfers.
To take Romain Jérôme to the next level, it was decided new blood was needed at the helm, and the brand found it in the shape of Yvan Arpa, formerly the managing director of Hublot.
The man behind the Hublot Big Bang arrived in 2006 and turned up with the sort of vision which has seen him lauded as being among the most audacious watch designers of his generation.
Through his decades of experience, Arpa was only too aware of the role heritage and legacy have to play in the continued success of many leading watchmakers. Particularly today, with the entire industry currently cashing in on the whole vintage revival thing, many brands are delving back into the archives for inspiration. However, if your business was only formed in 2004, as Romain Jérôme was, that obviously isn't possible.
So, if you can't draw on the company's own past, the next best thing, in Arpa's opinion, was to include someone else's.
Quickly ditching the golf watches, RJ now turned to creating a piece which concentrated not just on luxury, but also on luxurious concepts; rarity, unattainability and, most of all, a genuine piece of history.
The Titanic
In 2007, Romain Jérôme brought forth their 'DNA of Famous Legends' series, and began in provocative style with the Titanic-DNA.
The brand reportedly bought a 3lb hunk of the Titanic's hull, retrieved from two miles down in the frozen Atlantic, and used it to create an alloy with steel taken from the Harland and Wolff shipyards in Belfast, where the doomed liner was built.
Going even further, the bold, opinion-splitting 46mm piece was given a dial painted black with a lacquer containing coal dust recovered from the debris field of the wreck site.
The upshot of the whole thing was a steampunk-looking behemoth, with a bezel specially aged and oxidized to cement the impression of not just inevitable decay, but also to give 'a message of hope, of life stronger than death, of rebirth,' in Arpa's own words.
There was, as you would imagine, plenty of those who thought it in bad taste. But there was no doubting the Titanic-DNA announced RJ's arrival in a big way. The series expanded to include ceramic models and gem-encrusted versions as well. Prices, when they went on sale at Baselworld, ranged from $7,800 to $173,100.
A Shock Departure
With the Titanic range doing what RJ needed the most, getting their brand name above the parapet, the next installment in the company's short but eventful tale was met with disbelief across the industry.
On July 6th, 2009, Yvan Arpa and four members of his management team were abruptly fired on the spot.
Having taken the business from a virtual also ran and converted it into an internationally acclaimed manufacturer, it made no sense at all and the reasons behind it are still hazy. Was is clear is that Arpa won the protracted three-year legal battle that ensued and, in a wonderful middle finger to his ex-employers, went on to make a unique watch called Rust & Dust to celebrate. The model's bezel was formed from all the staples removed from the mountain of legal papers generated by the case (it apparently took his team two weeks to remove and process them all) and had a dial containing ashes from the ceremonial burning of said papers! (I have to admit, I wasn't wholly familiar with Arpa before writing this, but I'm beginning to like him!)
Romain Jérôme Goes Pop (Culture)
Following Arpa's departure, Romain Jérôme's majority shareholder, Alliance Investment Group SA, headed by Saudi Prince Faisal bin Fahd bin Abdullah Al Saud, announced a new CEO.
Manuel Emch, the former head of Jaquet Droz, was brought in and was able to build on and expand the work already carried out at RJ.
With the brand's overriding motif-based loosely around air, sea and land, their first pilot's series had emerged shortly before Emch took over, in the shape of the Moon-DNA collection. These continued the premise of incorporating some very special materials into their next generation of watches, and within each of the 1,969 pieces of the limited edition models (after the year of the first moon landing) are tiny fragments of carbon fiber taken from the Apollo XI spacecraft, as well as actual lunar sand.
More of the type was to follow, with 2010's Eyjafjallajökull-DNA. Or, as it was better known, the Unpronounceable. This relatively tame 43mm creation included ash and rock taken from the Icelandic volcano which erupted that year, effectively closing down the entire world (sound familiar?!) into its case. The attention-grabbing dial featured a molten lava effect, as if bubbling up through a fissure in the surface.
The success of their new wave managed to open more doors for Romain Jérôme and they continued on their mission of 'borrowing' heritage from elsewhere, this time concentrating on pop culture icons.
From 2012, the brand began incorporating characters from the world of entertainment into their watches starting, with just a hint of satire, with an addition to the Moon-DNA range. Collaborating with Japanese video game company, Taito, the creators of all-time classic arcade game, Space Invaders, they launched the Moon Invader series.
The 46mm watches featured the famous pixelated aliens, bent on destruction, plus the heroic lone ship scooting along the bottom.
Following on from that, they were able to gain rights to the likes of Tetris, Donkey Kong and Super Mario Brothers, before carving out a comic-book niche with models centered around Batman, the Joker, Two-Face, and Spider-Man.
Following a different tack, RJ also started a 'Collaborations' range at the same time. Joining forces with various organizations allowed them to create a number of limited edition pieces with particular cultural significance, and none more so than the Liberty-DNA. This model, a tribute to NYC and made in conjunction with The Statue of Liberty-Ellis Island Foundation and The Gold Leaf Corporation, had a dial composed of copper particles taken from Lady Liberty herself, oxidized to a blue green patina. Covering it all, a 12-pointed bezel echoed the famous crown.
The End of the Adventure
There was another rejig at the top in 2017, with Emch removing himself from his role as CEO and becoming the delegate of the board of directors.
In his place came a second ex-Hublot alumni, Marco Tedeschi.
A subtle rebranding was the first order of business, with the unwieldy 'RJ-Romain Jerome' company name becoming simply RJ from there on in.
Tedeschi also created the first core collection the manufacture had seen, with the ARRAW. At its center, ARRAW drew on the Titanic-DNA models, with a large rounded case shape and the four trademark rubber bumpers on the bezel. The range was increased into a number of distinctive watches, for both men and women, and brought out in a variety of sizes and materials.
While the ARRAW was undoubtedly a striking and unique addition for RJ, unfortunately it wasn't going to be enough.
Whether or not the brand would have survived it there hadn't been a pandemic, we will never know. But the cold truth of the matter is, much of RJ's customer base was in Asia and the Far East, regions hit particularly hard financially when COVID-19 first struck.
In February, Alliance Investment Group suddenly decided to cease the flow of funds to RJ, leaving the board of directors with no choice but to file for bankruptcy.
What we are left with is a small but fascinating array of watches, created by one of the most daring and passionate independents of recent years.
Their output was sometimes poignant, often fun and nearly always quirky—a definite breath of fresh air in an industry rife with conservativeness and tradition. It is sad to think of what we have missed out on had they been able to continue.
— Featured Photo Credit: BeckerTime's Archive.