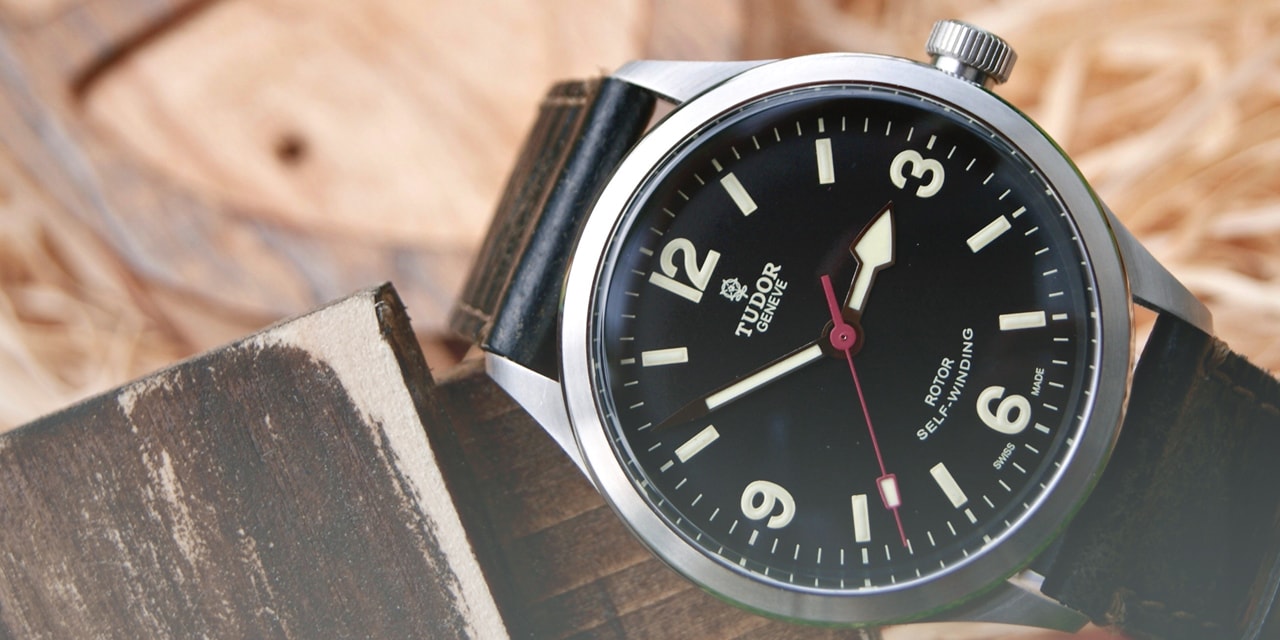 Tudor Watches: A Review
There was a time when Tudor was known simply as 'the poor man's Rolex'.
In fairness, seeing as Tudor is a subsidiary of Rolex, and the brand's watches have traditionally been priced far lower than those of its controlling company, it is easy to see why.
However, the description, which was always somewhat demeaning, bringing with it connotations of inferior workmanship is, these days, just downright wrong.
Yes, Tudor's catalog is orders of magnitude less expensive and, crucially, more accessible than Rolex's, but the quality of their output is practically on a par.
Far from being lost in the shadows cast by their legendary parent corporation, Tudor is forging its own identity, positioning itself as the younger, cooler brand—and doing it, ironically, with a keen focus on classic watches from the vaults.
The horology industry has taken a massive turn towards the vintage-inspired, with just about every manufacturer reissuing modern interpretations of some of their best from times past. Tudor's contributions have been amongst the most successful, reminding us all what a proper tool watch is supposed to look like and do.
It has seen the once underdog carve out an ever increasing slice of the pie; each new release a hit and sales going from strength to strength, with no sign of slowing down.
What's more, that one factor which traditionally put them behind Rolex in the public's perception—their use of third-party movements—is in the process of being resolved. Tudor is now producing fully in-house calibers, the final step in the eyes of many before any watchmaker can legitimately be considered a major player.
Below, we take a closer look at the brand's history, as well as exploring some of their most famous creations, past and present.
Tudor History
Although Tudor itself wouldn't come into being until the 1920s, and wasn't given much in the way of independence for another couple of decades after that, the idea of creating a Rolex watch for less than Rolex money occurred to brand founder Hans Wilsdorf very early in his career.
In fact, his first attempts at a second, lower cost alternative to the full-blooded premium line can be traced back to 1909, just four years after the launch Wilsdorf & Davis, which would go on to become Rolex.
However, there were a few false starts before things got underway. A whole host of names were used and quickly discarded for this new entity before settling on one which stuck—Omigra (rejected because of its similarity to Omega), then Falcon, Genex, Lexis, Hofex, Rolexis, Rolwatco and Marconi.
But, ever the Anglophile, Wilsdorf hit upon Tudor in 1926, taking the name from the English Royal dynasty, and the trademark was secured on his behalf by Swiss watchmaker Veuve de Philippe Hüther.
Tudor released its first watches in 1932, exclusively to the Australian market, and even had 'Rolex Watch Co. Ltd' inscribed on the dial below the Tudor text.
However, these models followed a similar pattern to that of Wilsdorf's earlier auxiliary lines, in that they completely outstripped the sales of the main brand. At the time, the wristwatch was in its relative infancy and the importance or otherwise of a homegrown caliber was not as significant to the watch buying public as it is today. Tudor appeared to be practically the same as Rolex in every way that mattered, but with a much reduced price tag. Therefore, it only made sense to opt for the cheaper of the two.
In 1946, Wilsdorf cut Tudor loose and registered the brand as Montres Tudor S.A, a joint stock company, with all shares owned by Rolex.
So it meant the manufacturer was able to benefit from all the innovations being made over at parent HQ, such as the Perpetual self-winding movement and waterproof Oyster case, while offering far greater value for money.
The two developed side-by-side, with Tudor's first dive model, the ref. 7922 Oyster Prince Submariner, debuting just a year after Rolex's legendary Sub arrived—kicking off a long and fruitful relationship with many of the world's military forces.
Yet, even though the quality of Tudor's output was plain to see, they couldn't quite shake their reputation as the runner-up prize; the watch for those who weren't able to afford a Rolex.
Modern Tudor Emerges From the Shadows
When Tudor turned 50 in 1996, they decided it was high time they shed all of their Rolex-branded components (mainly their cases, crowns and bracelets) and replaced them with ones bearing their own logo. It was a move which served to further separate the two companies, infusing Tudor with even more of its own character.
However, the start of the 21st century was a difficult time for the brand. Sales were down and it caused the manufacture to withdraw from the U.S. market, and many others.
The absence went on for more than a decade, and didn't come to an end until 2013.
But when they did return, it was with a completely revitalized collection which put them on the path to their current massive success.
The Heritage and Black Bay series' have seen Tudor delve into their extensive back catalog, cherry-pick the best of the best and reissue them for a contemporary audience, creating a range of vintage-inspired models which truly earn their tool watch tag. Meanwhile, the Pelagos watches demonstrate just how good a modern dive watch can be, with a 500m water resistance and state-of-the-art ceramic bezels.
But perhaps more importantly than all of that, Tudor has also taken the never-before-seen step of building their own movements. A huge milestone for any watchmaker, the creation of in-house calibers elevates any brand's value proposition in the eyes of collectors, transforming them from mere manufacturers to true manufactures.
As of now, the gap between Tudor and Rolex has never been smaller, and the once-overlooked subsidiary continues to go from strength to strength.
Vintage Tudor
While they may still have some way to go before they rival their controlling company in the brand recognition stakes, one area where Tudor are catching up to Rolex is in the value of their true vintage watches.
Many of the most sought after pieces are selling for incredible prices, and only seem to be getting more expensive.
Yet there are still some real bargains to be found.
The Tudor Ranger ref. 9050
Tudor's answer to the Rolex Explorer, the Ranger shares much of that watch's discreet charm while adding one or two quirks of its own.
At just 34mm in diameter, it is smaller than the Rolex, as well as being slimmer. But the dial with the 3/6/9 indexes, which has gone on to become the Explorer's calling card, is there, along with an overriding starkness to the design. The handset, however, is all Tudor; a broad arrow hour hand and a seconds hand with a luminous rectangle near the tip.
It was also offered in more variety than the Explorer. You can choose between models with automatic movements (marked with 'Prince' on the dial next to 'Oyster') or manually-winding (just 'Oyster') and with or without a date function (designated as 'Oysterdate'). There were also quartz versions made later into its run.
With prices still extremely reasonable for even the scarcest examples, the Tudor Ranger is a great buy, but a word of caution; as well as being quite a confusing piece to track down, mainly due to the fact Tudor didn't issue the Ranger with its own reference numbers until the 1980s (it shared numbers with the standard Oyster Prince models up till then), this is one of the most counterfeited watches in the vintage collecting world.
We advise a great deal of research on both watch and seller before pulling the trigger.
The Tudor Submariner ref. 7016
Known as the 'Snowflake', Tudor's Submariner ref. 7016 was produced from 1969 through to 1981.
It was released at the same time as the ref. 7021, which was identical save for a date function, much like as with Rolex's ref. 5512/3 and ref. 1680 Subs which also ran concurrently.
It gained its nickname from the shape of the hands, and more specifically the hour hand, topped with its luminous square. Until then, Tudor had been using Rolex's Mercedes handset for their sports models, but this new type was reportedly more readable. The indexes also changed from circles to large blocks for the same reason.
Another novel element with this generation of Tudor's Submariner was the choice of dial and bezel colors, in either black or a beautiful rich blue.
It was the first time the brand had really departed from the Rolex aesthetic, and it would work successfully at disconnecting the two.
However, the 39mm case was still an Oyster and waterproof to 200m, it had its crown guards and a screw down crown, and the bezel was the same as you would find on the Rolex model, so all the elements that made the Submariner the world's favorite dive watch were in place. It even sat on an Oyster bracelet.
The biggest difference was a mechanical one, with the ref. 7016 driven by an ETA 2483 instead of a domestic movement.
With its updated visuals, which have since gone on to define much of Tudor's output, the ref. 7016 is an historically important watch, but still a surprisingly affordable one. You can pick up an example for under $10,000.
Modern Tudor
Although they went through a rough patch at the hands of the quartz crisis, one from which it took a significant amount of time to recover, Tudor's reemergence in recent years has been epic.
Their portfolio is now stacked with some of the best tool watches in the industry, ones that hark back to simpler times, before such things were status symbols.
In many ways, Tudor has become what Rolex used to be; the manufacturer of robust yet versatile timepieces, with a distinctive style and formidable abilities, and all at very tempting prices.
The Tudor Black Bay Fifty-Eight
Possibly Tudor's biggest success story of recent years, the Black Bay Fifty-Eight series joins in with the current craze for all things yesteryear, and gets just about everything absolutely right.
Released in 2018, the range features 39mm cases, big crowns, matte dials, gilt indexes, no date functions and no crown guards. We even get domed crystals and a red triangle at the 12 o'clock on the aluminum bezel, complete with lume pip. In short, everything most loved about the first Tudor Sub to be rated to 200m, the ref. 7924 launched in 1958 (not coincidentally) is here, apart from the hands, which are the iconic Snowflake type.
Inside however, we see one of the brand's first homegrown calibers, the MT (for 'Manufacture Tudor') 5402. A huge step forward, the movement follows the Rolex adage of strength and simplicity rather than fancy complications and decorative finishing, but still manages to include a silicon hairspring and a 70-hour reserve.
The ever-growing Fifty-Eight family has four dial colors to choose from, and now contains a new all-gold version alongside the stainless steel models.
Best of all, this wonderful collection starts out priced under $3,500. An undoubted future classic.
The Tudor Black Bay Chrono
Another real beauty, Tudor's Black Bay Chrono takes us back to the glory days of the Rolex Daytona; as in, the first generation you now need to sell your house or kidney to acquire.
At 41mm, Tudor's chronograph is modern-sized, and with its screw down crown and pushers it has a water resistance rating of 200m. But styling-wise, this is another piece heavy on the retro nostalgia.
Available in either all-steel or two-tone S&G (Steel and Gold), each has its own form of Panda or reverse Panda dial, and all have the single line of red text so beloved by fans of the good old days.
In addition, along with a three-link steel bracelet or a black leather band, the three different versions can be had on a bund-style strap, as popularized by a certain Paul Newman when he wore his, well…Paul Newman.
Driving them all is the MT5813, a movement imported from Breitling in an exchange deal, with Tudor's own MT5612 going the other way for Breitling to use in their Superocean Heritage range.
Arriving with a column wheel-controlled chronograph and vertical clutch, Tudor add a silicon hairspring for its antimagnetic and temperature change-defying talents, and the caliber also benefits from a 70-hour reserve and 28,800vph frequency.
All in all, the Black Bay Chrono range carries on the excellent work Tudor has been doing for the last few years, providing a genuine alternative to their big brother but without the 'poor man's Rolex' stigma. They are now very much their own brand with their own identity, and one of the strongest out there.
— Featured Photo Credit: Manuel Rebic from London, England / Croatia / Germany / France, CC BY 2.0, via Wikimedia Commons.