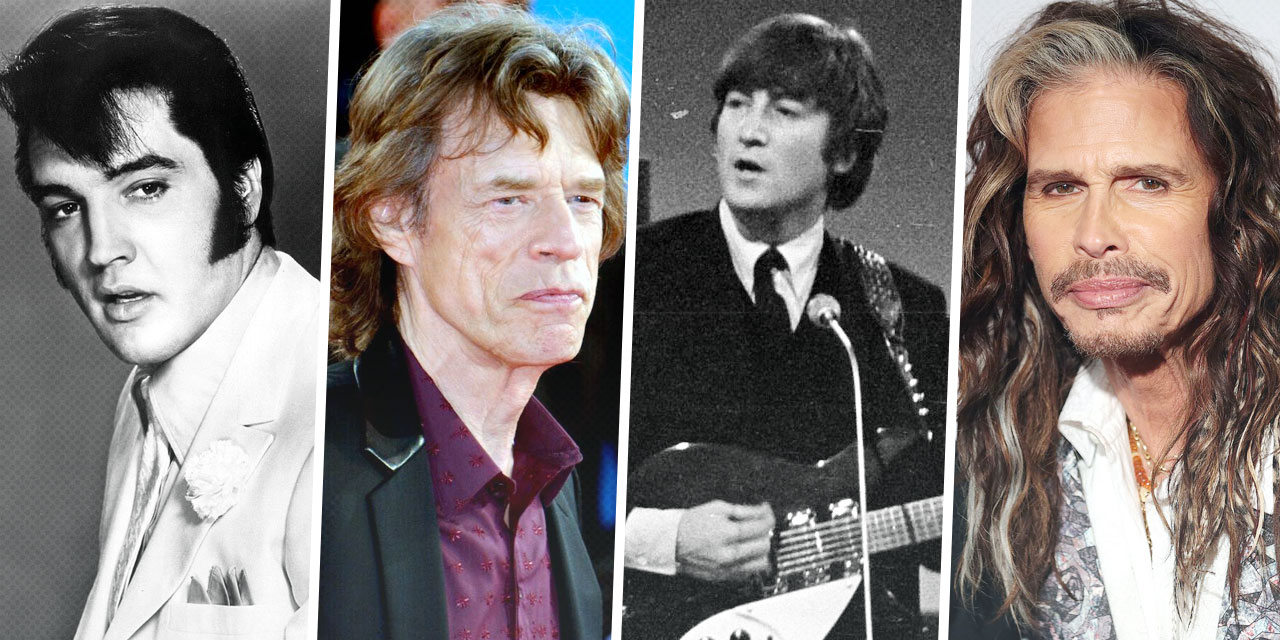 Whether They Wear Tag Heuer Watches, Philippe Patek or Pre Owned Rolex, We Don't Care, We are Just Glad There are Rock Stars Who Represent
We have written a few articles about famous people and the types of watches they wear. From time to time, we do mention the occasional rock star or another type of musician who happens to like wearing a watch. So we decided to focus solely on rock stars who wear watches, whether they wear Tag Heuer watches, Philippe Patek or used Rolex watches, we don't care, we are just glad there are rock stars who represent the watch community.
Elvis Presley
Let's start with Elvis Presley as he is the undisputed King of Rock and Roll. Well, mostly undisputed. Elvis was very well known for wearing a wide range of unusual watches. Pictures of him wearing an oddly shaped Hamilton Ventura and a square Corum can be easily found.
John Lennon
Say what you will about John Lennon, but the man did have good watch style. This rock legend may have broken up the Beatles and made other bad decisions in his short time on earth, but he was dead on in choosing watches. John was photographed on his 40th birthday wearing was seems to be a Patek Philippe Chronograph Triple Date Moonphase, pretty extravagant for a man whose Imagine lyrics include the phrase "Imagine no possessions."
Sir Paul McCartney
Sir Paul has been often spotted wearing his Patek Philippe Aquanaut, he was even wearing it on his wedding day back in 2011. It seems as John and Paul at least agreed that Patek Philippe watches were the bomb.
Mick Jagger
Mick Jagger is also a watch fan and splits time between Tag Heuer watches and a Seiko. Yes, Mick does wear a Seiko.
Bruce Springsteen
The "Boss" is a big fan of watches and can be seen wearing his favorite, a Rolex Submariner.
Axl Rose
When Axl Rose isn't causing some sort of disturbance in the world of rock, he is often seen sporting an Audemars Piguet.
Slash
When Slash is delivering a brutal guitar solo, you can't see his face due to his immense and iconic hair, but you will see the Breitling Chronomat on his left wrist.
Jon Bon Jovi
Jon Bon Jovi is a rock star with flair and his Hublot is a bold watch that fits his rock star life.
Steven Tyler
The "Demon of Screamin" rarely leaves his home with his Rolex Cosmograph Daytona. He owns a "Leopard" special edition which includes a skin strap, leopard texture diamond dial and an 18 karat flip-lock clasp.
Bono
You can see Bono wearing a very down-to-earth Rolex Day-Date, which seems to be very appropriate for a man who has helped so many charitable causes. Heck, he probably owns an Apple watch as well.
— Featured Photo Credits: Wikipedia Bio's of Celebrities in this Blog Post.