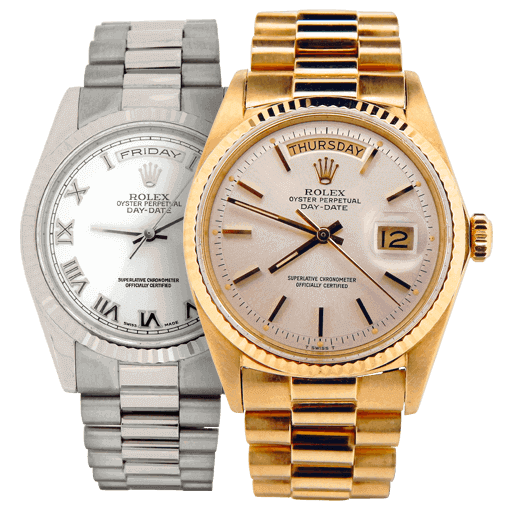 Pre Owned Rolex Presidential Day-Date Watches
The Rolex President Day-Date took over the mantle from the Datejust which was released a little more than a decade earlier. It featured only the finest precious metals with the Perpetual self-winding movement and water-resistant Oyster case. As a result, the Presidential Day-Date became an instant symbol of prestige and success. Shop our fine collection of used Rolex President watches and discover why Rolex enthusiasts and watch lovers continue to prefer this timepiece. Our Presidential Rolex Day-Date collection comes in solid 18K yellow gold, 18K white gold, 18K rose gold, and platinum. Also, be sure to check out our inventory with full diamond options.
Whether you're in the market for a Rolex Presidential Day-Date in yellow gold or the classic look of the Rolex Datejust, we think you'll agree, these models rise to a level of prestige seldom attained by any other watch.
Why The Rolex Day-Date Is Called The "President"
In 1956, the company introduced its Rolex Day-Date model. And as the name implies, it displayed the date and day of the week in separate apertures on the dial. Also during this time, Rolex subjected its chronometer to the highest precision tests. Then, they equipped the watch with a bracelet the company named the "Presidential Bracelet".  Ultimately, the Day-Date, with its exclusive bracelet, became Rolex's most successful model. It has been found on the wrists of many celebrities, global leaders, and American Presidents. As a result, the model has earned its nickname as the Rolex President watch.