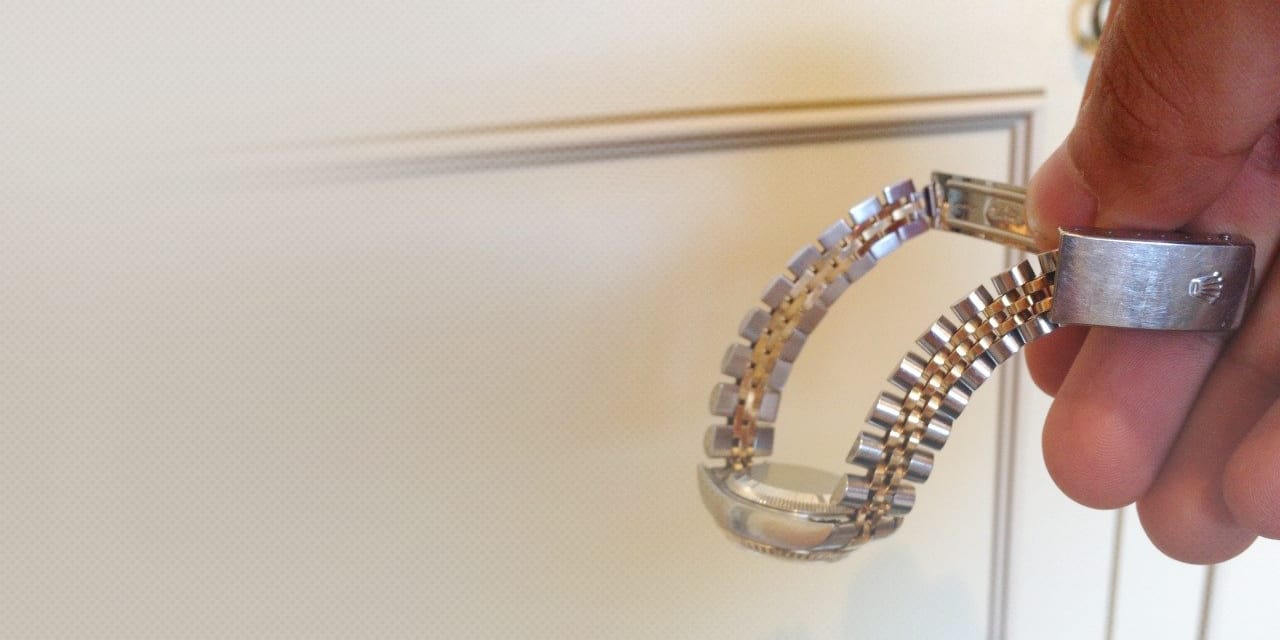 Check those screws and keep that Rolex bracelet clean
The Rolex Oyster bracelet is one of Rolex's trademark qualities found on all its watches. Current Rolex Oyster bracelets are made of 904L steel, like the watch case, and are very durable because of the design and manufacturing techniques used in manufacturing them. The Rolex Oyster bracelet is assembled with solid links and pivot pins that are press fit into the Oyster band links. The bracelet is fitted to the watch head with the use of a solid end link, and double shouldered spring bars. Fitting the bracelet is done with the use of Rolex's Oyster clasp, a spring loaded clasp utilizing milled stainless parts.
The Rolex Oyster bracelet has been criticized for years as being not as robust as the watch. It seemed that for years, Rolex put their engineering focus on the watch movement and case, but not the bracelet making for a long evolution for the watch strap. Since 2000, Rolex started updating their bracelets with solid links, re-engineering the clasps to include extension links and/or some type of easy adjustability, and adding solid end links.
Despite the added durability that comes with redesigned Oyster bracelets, there are still some maintenance items that should be done at least once a month to insure that the bracelet lasts as long as the watch. The first maintenance item is to clean the bracelet for reasons that go beyond aesthetics. There are between 12 and 16 pivot points on a Rolex Oyster bracelet, and double that on a Rolex Jubilee bracelet. In order to prevent what is known as "bracelet stretch," the bracelet should be cleaned weekly with simple soap and water, or wiped down with Veraet watch spray. A Rolex bracelet really does not stretch from tension, but rather because the pins holding the bracelet links intact wear because of dirt. The Oyster bracelet is a magnet for dirt because of the oil picked up from the wearer's skin. Oil attracts dirt and once adhered to a pin, acts as light sand paper wearing down both the link and the pin. Another preventive trick for bracelet stretch is to wear the watch as tight as what comfort allows. A loosely fitted bracelet wears more because of the movement of metal across the bracelet pins.
The other items to check are the bracelet screws. Occasionally, the screws might work loose. Check the screws with a 1.6 or 1.8mm screwdriver and if they are lose, drop a little LocTite 222 (red bottle, purple fluid) on the screw threads. Keeping the screws LocTited with fluid 222 will prevent the screws from backing out, yet is soft enough to remove the screws at a later date.
— Featured Photo Credit: BeckerTime's Archive.