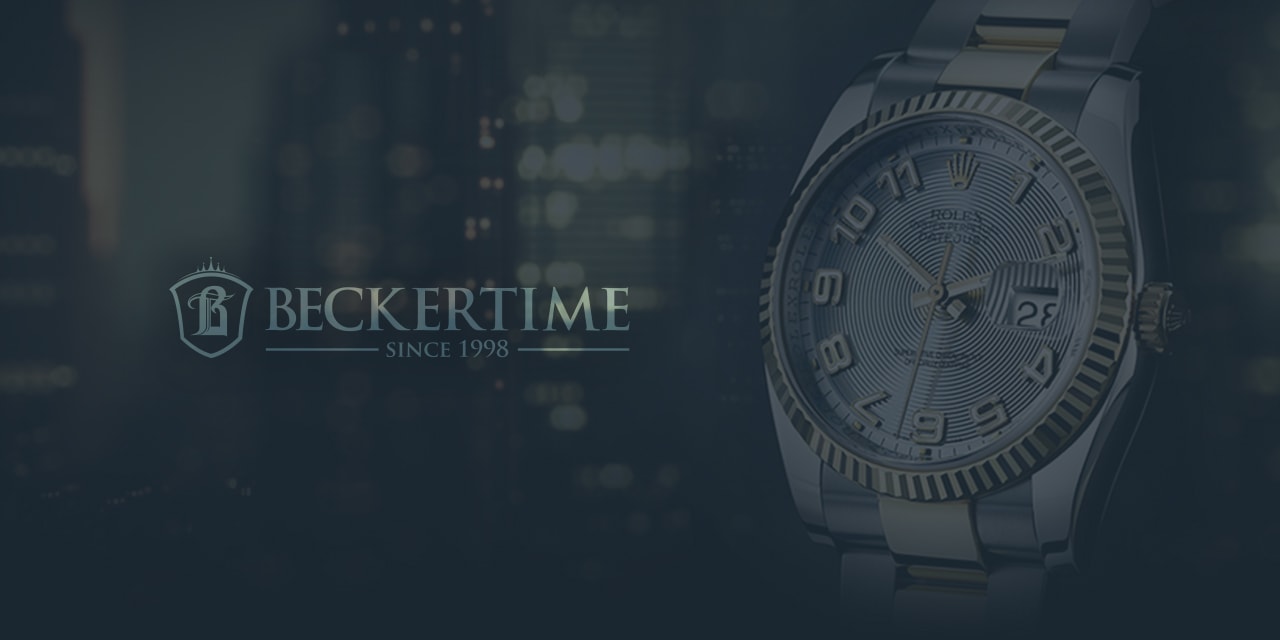 Important Parts of a Rolex Watch: The Dials
Welcome to the fifth installment of our Important Parts of a Rolex Watch. So far, we have covered the movements, the cases, the bezels, and the bracelets. Today, we'll be delving deep into Rolex dials. As the face of the watch, the dial is essential to the look of a timepiece and as we'll soon see, Rolex takes this very seriously, indeed.
Dial Production at Rolex Today
When it comes to luxury watches, there is no other brand that comes close to the recognition of a Rolex watch. This is a brand that is not only known around the world but it is also widely understood to be a symbol of prestige and excellence. So what makes a Rolex a Rolex? At the heart of it, Rolex has earned its reputation because of its obsession with perfection. And this obsession has led Rolex to become the most vertically integrated large-scale watch manufacturer on the planet.
Save for a few parts, Rolex makes almost every component of the watch in-house. In fact, the company has four separate sites in Switzerland, which employees over 6,000 people, each specialized in specific parts of the watch. Among these four locations, the Rolex Chêne-Bourg facility is the one dedicated to the development and production of dials, as well as gemology and gem-setting.
Largely made by hand, it takes over 60 operations today to complete a Rolex dial. Aside from some special dials made from materials such as meteorite, mother-of-pearl, and hard stones, Rolex dials are made from brass, while the dial markers are fashioned from 18k gold (also made in-house at Rolex's own gold foundry) to prevent tarnishing.
The hands are one of the few components that Rolex does not make. These are outsourced from Fiedler SA—a family-run business founded in 1846 that specializes in producing high-end hands for timepieces.
Bygone Era: When Rolex Used to Outsource Dials
As we've mentioned countless times before, prior to our modern-day expectation of equating perfection with making everything (from start to finish) in-house, it was standard operating procedure (for centuries) for watch companies to outsource watch components from companies specialized in making movements, cases, bracelets, and dials. And Rolex was no exception.
Expert dial makers, such as Stern (the same family at the helm of today's Patek Philippe), Lemrich, Beyeler, and Singer have all supplied Rolex with dials.
In their quest for complete vertical integration, Rolex ultimately purchased Beyeler in 2000. And that is why Rolex now has the capability to make dials in-house.
Rolex Dial Materials, Styles, and Colors
Throughout the history of the company, Rolex has paired their legendary watches with a slew of different dial designs, ranging in materials, colors, and styles.
Standard Dials
These are the most common types of dials found on Rolex watches. The dial plates are made of brass and they come in a vast array of color options. There are the neutrals like black, white, silver, champagne, and rhodium. There are colorful options like blue, green, grape, purple, and yellow. There are some special color dials like the electric blue "Z-Blue" dial of the modern Milgauss, the blue-to-black gradient "D-Blue" of the James Cameron Deepsea, and the "Ice-Blue" dials reserved for platinum Rolex watches.
In 2015, Rolex introduced a new laser-etching technique to the brass dials of the Day-Date 40 watches to offer decorative patterns such as striped, crosshatch, and quadrant.
Gem-Set Dials
As we previously mentioned, Rolex oversees their own gemology and gem-setting department. Therefore, not only does the company create their lavish gem-set dials, but they also source the precious stones—diamonds, sapphires, rubies, and emeralds—themselves to ensure the best quality possible. Gem-set Rolex dials can range from full diamond pavé surfaces to more subtle accents like gem-set hour markers.
While Rolex dress watches such as the Datejust, Day-Date, and Pearlmaster are typically the models that flaunt gems on their dials, Rolex has also furnished the dials of their sportier models, like the Submariner, GMT-Master, and Daytona, with precious gems too. Sometimes, you'll hear the term "Serti Dial," which normally refers to Submariner and GMT-Master dials set with diamond/sapphire/ruby indexes.
There are some notable gem-set dials to highlight. There's the Vignette Diamond dial made in three colors—blue, red, or brown—where the color goes from darker on the edge to lighter towards the center and is topped with diamond indexes. There's also the Zebra Diamond dial, featuring stripes of diamonds on a black background to resemble a zebra print. Similarly, there's a Wave Diamond dial that has the diamonds set across the dial in a wavy pattern. There's the String Diamond dial, which includes a circular string of diamonds on the edge of the dial, accompanying the diamond indexes.
A highly popular style are the Diamond Pavé dials with dazzling diamonds blanketing almost the entire face, leaving just enough room for dial details like indexes, calendar window, and hands.
Mother-of-Pearl Dials
Mother-of-pearl is extracted from the shell of an oyster. As a result, no two mother-of-pearl surfaces are the same. Characterized by unique iridescence and intriguing texture, mother-of-pearl colors run the gamut from light white to rosy pink to rich greenish/black. Rolex never color treats their mother-of-pearl dials, preferring to preserve the material's natural beauty.
Jubilee Dial or Anniversary Dials
The Jubilee dials, also known as Anniversary dials, have a repetitive "Rolex Rolex Rolex" pattern on them. These are available on select Datejust and Day-Date models. Older versions of the Jubilee dials have smaller Rolex font while newer ones have slightly larger text.
Concentric Dials
As the name suggests, the Rolex concentric dials feature circular patterns and there are a few different types. The simplest versions have one color embellished with a repetitive circular design starting from the center that radiates out to the periphery. Another version of the Rolex concentric dial is one that resembles a bulls-eye with three distinct sections—the outer circular section with hour markers, a section with the words "Superlative Chronometer Officially certified" printed in a circle, and the center "snailed" portion with engraved concentric circles.
A particularly popular version of the concentric dial is the Tuxedo dial, which includes a silver circular center enveloped by a wide black circular frame.
Logo Dials
These are special dials marked with emblems from other entities other than Rolex. For instance, there are the coveted Tiffany dials, stamped with the Tiffany & Co. logo to indicate that those now-vintage Rolex watches were sold at Tiffany & Co. stores. The same goes for the co-branded Cartier dials to signify that those now-vintage Rolex watches were retailed at Cartier boutiques.
The COMEX dials, found on select vintage Submariner and Sea-Dweller watches, denote special ordered pieces for the French commercial diving company, Compagnie Maritime d'Expertises.
Then there are the dials that Rolex customized for some Middle Eastern royals and governments—the Sultan of Oman crest dials, the Saudi Arabia crest dials, and the United Arab Emirates crest dials.
Finally, it may come as a surprise to some, but there are Rolex watches with Domino's logos on them too. The "Rolex Challenge," which began at Domino's Pizza in the 1970s and continues today, awards Domino Rolex watches to franchisees that hit specific weekly targets.
Engine-Turned Dials
In the 1960s, Rolex employed the engine-turned technique to produce—in very limited quantities—geometric guilloche dials with patterns such as hobnail, radiating lines, tapisserie, and others.
Hard Stone Dials
Back in the 1970s, Rolex began offering dials cut from hard stones like lapis lazuli, onyx, tiger's eye, opal, jasper, marble, and coral. As you can imagine, to cut the perfect dial from a block of hard stone is an arduous task but the resulting effect is well worth the effort.
Stella Lacquer Dials
In the 1970s and 1980s, Rolex made some watches with colorful lacquer dials, also known as "Stella" dials. To produce these vibrant and playful shades (turquoise, red, pink, orange, green, black, blue, yellow, and others), multiple layers of lacquer were painted onto a dial to produce deeply rich colors and shiny surfaces.
Wood Dials
Not satisfied with just stones and lacquer, Rolex continued with their dial material experimentation in the 1970s with burl wood dials. Prized for their beauty and rarity, a burl is a growth on a tree—a deformation if you will—that produces intriguing wood grain patterns. Rolex has in the past produced burled birch, mahogany, and walnut wood dials.
Textured Dials
Along with different colors and materials, Rolex has offered plenty of textured dials over the years. Some standout ones include the textile-like linen dial, the geometric honeycomb dial, the intriguing pyramid dial, the eye-catching houndstooth, the intricate Florentine finish, the symmetric vertical striped dial, and the richly horizontally textured blue dial that almost looks like denim.
On select ladies' Rolex watches, there are delicate patterns such as flowers and butterflies too.
Nipple Dial
Found on select gold and two tone vintage Submariner and GMT-Master watches, the nipple dial earned its nickname due to the shape of the protruding round hour markers, made in gold and filled with lume.
Sigma Dials
Characterized by the presence of the lower case Greek Letter sigma flanking "T SWISS T" below 6 o'clock, Sigma Dials denote that the hands and indexes on a watch were made of solid gold. Sigma dials can be found on select vintage watches from the 1970s.
Pie-Pan Dial
Found on some early men's vintage Rolex watches, a pie-pan dial in one where the outer edge slopes down—similar to the look of an actual upside down pie pan.
California Dial
In 1942, Rolex was granted a patent for a special dial configuration that consisted of a mix of Roman numerals, Arabic numerals, baton indexes, along with an inverted triangle at 12 o'clock. This Art Deco style dial would later be known as the California dial—but no one can say for certain how this dial gained its nickname.
Zephyr Dial
Available on select vintage Oyster Perpetual and Oyster Perpetual Date models, the Rolex Zephyr dial is one that includes a cross-hair pattern that divides the dial into four distinct sections and small circular luminescent plots for hour markers.
Radial Dial
The Rolex radial dial, found on a few vintage Oyster Perpetual Date watches, features a minute track with very long hash marks that extend to the same length as the hour markers.
This is not to be confused with the GMT-Master ref. 1675 radial dial, which includes smaller lume plots that are positioned further away from the outer minute track.
Exotic Dial aka Paul Newman Dial
In the 1960s, Rolex began offering what they referred to as an "exotic" dial (made by Singer, no less) option on their Daytona chronographs. The exotic dials differed from the standard Daytona dials by including Art Deco style numerals on the trio of subdials, housing square tips on the registers' hash marks, and featuring a slight sloping of the outer edge of the dial. Furthermore, the three subdials were made in a contrasting color to the main dial color and exotic dials sometimes (not always) featured three colors (red, black, white).
Due to their unusual designs, Daytona exotic dials were not a big seller—until Paul Newman was spotted wearing one. Since then, these specific dials are almost always referred to as "Paul Neman" dials and command extremely high prices in the vintage Rolex market.
In 2017, Paul Newman's own Daytona "Paul Newman" sold for a record-breaking $17.8 million.
Dial Markers, Indexes, and Hand Styles
Along with the dial material and color, what actually sits on top of the dial, namely the hands and the indexes, is another major contributor to the resulting look of the watch. Officially, Rolex calls dial markers "appliques" and these can refer to the famed Rolex crown at 12 o'clock and the hour markers encircling the dial. Today, indexes and hands are made from 18k gold to prevent tarnishing and are applied to the dial by hand.
Index Styles
Roman Numerals
Some Rolex watches use Roman numerals to mark the hours around the dial. Note the use of "IIII" instead of the correct "IV" at 4 o'clock. This is called the "clockmaker's four" and it is said that it brings better balance to the look of the dial.
Arabic Numerals
Arabic numerals are the name given to the most common system of number symbols we use today (0,1,2,3,4,5,6,7,8,9). Not to be confused with the numbers used in the Arabic language—which Rolex has also used sparingly over the years on some watches destined for the Middle East.
Arabic numerals can be used alone, or in the case of the Explorer-style dial, used to denote 3, 6, and 9 along with baton markers for the other hours.
Stick Index
Aptly named, stick indexes are long and slim hour markers. They are sometimes accompanied by small luminescent accents for legibility in low light.
Baton Indexes
Baton indexes are thick rectangular hour markers filled with luminescence for high legibility in the dark. Baton hour makers can be used alone or more often, accompanied by round and triangular markers on Rolex Professional models like the Submariner, GMT-Master, Yacht-Master, and Explorer II.
Round Indexes
Round indexes are used on the dials of Rolex Professional models along with baton and triangular indexes. All of these hour markers are filled with luminescence for easy reading in the dark.
Dagger Indexes
A style used on some vintage Rolex watches, dagger indexes are arrow-shaped indexes where the tips point towards the center of the dial. These types of indices are typically faceted.
Hand Styles
Alpha Hands
Commonly used on vintage Rolex watches, Alpha hands are characterized by wide bases and narrow stems.
Dauphine Hands
A classical style of watch hands, Dauphine hands are both faceted and triangular in shape. Found on some vintage Rolex watches.
Baton Hands
Sometimes also called stick hands, baton hands are simple straight hands used often by Rolex. They can have flat ends or slightly pointed tips. Furthermore, they can be luminescent or not.
Mercedes Hands
Perhaps the most famous of Rolex hands, the Mercedes hands set features a three-pointed star in the lume-filled round tip of the hour hand (resembling the famous car logo), a luminescent straight minute hand with a pointed tip, and a straight seconds hand with a lume-filled circular detail.
The 24-Hour Hand
Some Rolex watches, such as the GMT-Master and Explorer II, have an additional 24-hand used to read the hours on a 24-hour marked bezel. These hands have arrow shaped tips filled with lume.
Lightning Bolt Hand
One of the defining traits of a Rolex Milgauss watch is its seconds hand, which is designed to look like a bolt of lightning.
The Evolution of Luminescence On Rolex Dials
Naturally, the type of material used to give luminescence on a Rolex dial has evolved over time. Prior to the 1960s, similar all watches of the same era, Rolex used self-luminous radium paint on their watches. However, as we now know, radium is highly radioactive and exposure to it is very dangerous.
In 1963, Rolex switched to tritium paint for luminescence. While tritium is also radioactive, it's exponentially safer than radium since it emits very low energy radiation. Rolex dials that use tritium are marked with either "Swiss-T <25," "T Swiss Made T," or "T SWISS T" right below 6 o'clock.
In the mid-1990s, Rolex abandoned tritium in favor of photoluminescent materials. First Luminova followed by Super Luminova in 2000. Luminova and Super Luminova need exposure to light first to "charge" in order to glow bright green in the dark. The brightness eventually fades until it gets re-charged again.
In 2008, Rolex announced a proprietary luminescent material they dubbed Chromalight. Chromalight is also photoluminescent but it glows blue in the dark and Rolex maintains that it lasts longer than Super Luminova.
Sports Dial Development: From Gilt to Matte to Gloss
Many vintage Rolex Professional models—Submariner, GMT-Master, Explorer, and others—are equipped with black dials, which have of course also evolved over the course of Rolex's history.
Early models came fitted with gilt dials, characterized by golden text and details on a glossy black dial. Towards the end of the 1960s, Rolex phased out the gilt dials and began using matte black dials with white text. Finally, in the mid-1980s, Rolex switched back to glossy dials but this time, with white text and 18k gold surrounds around the hour markers.
Vintage Rolex Dials and a Discussion on Patina, Tropical, and Defects
It may seem incredible to onlookers, but those familiar with the nuances of vintage Rolex watch collecting understand that the smallest dial deviation can add thousands of dollars to the value of a Rolex watch.
There are a handful of terms that are commonly used when discussing vintage Rolex dials. For instance, patina refers to the color change—ranging from cream to yellow to brown—of radium and tritium details on a dial.
On the other hand, a "tropical dial" is used to describe a color change of the dial that occurs after years of sunlight exposure. It's also suspected that some Rolex dials in the 1950s and 1960s received a special chemical coating to protect them from the sun but it had the opposite effect and accelerated the color change. Tropical dials can include original black dials that turned to a brownish hue and original blue dials that turned to a violet shade.
Another defect dial that sometimes pops up in the secondary Rolex market is the "spider dial," nicknamed so for the unusual web of cracks on the surface. These dials are typically from the 1980s when Rolex switched from matte to glossy dials. Surprisingly, the company had not perfected the lacquer technique yet, thus causing these cracks.
A Word About Service Dials
If you send your Rolex into an official service center for maintenance, it is standard for them to replace broken, defective, or worn out parts—including dials. While vintage Rolex collectors are often looking for watches with all original parts, this is not as easy as it seems since Rolex routinely replaces parts during servicing.
Service dials are common on older Rolex watches and can explain why certain dials feature newer details (for example gold surrounds, updated lume, revised text) that do not match the production period of the watch.