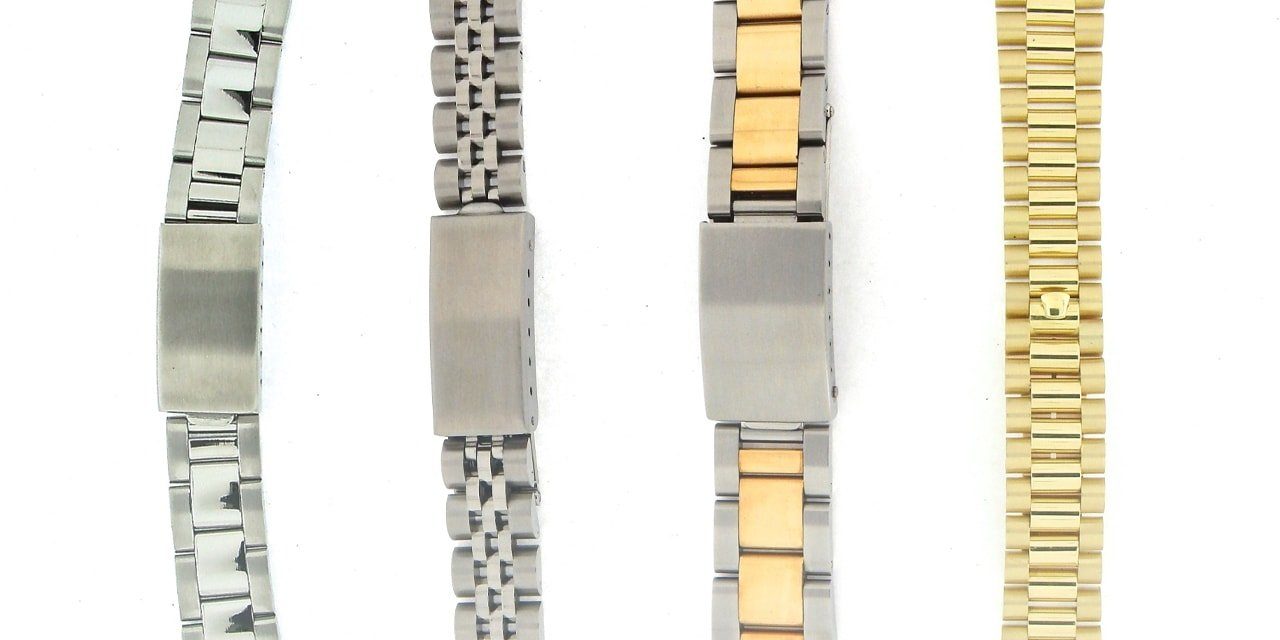 Rolex Customization—Bracelets
When it comes to customizing your Rolex watch, just about the quickest and easiest way to make a huge difference to the overall look of a piece is by switching up the bracelet.
As we saw with the latest issue Batman GMT-Master II, merely changing from the time-honored and expected Oyster bracelet to the far more intricate Jubilee has given a whole new dimension to the perennial favorite.
It is an element which sometimes goes under the radar with new collectors, seen just as the thing which stops the watch falling off your wrist, but its impact on the aesthetics is huge.
Below, we will look at some of the ways to completely transform your Rolex with this simple change.
The Rolex Bracelets
The brand makes a number of different bracelets, some used extensively across various different models, some restricted to only a handful of carefully selected pieces and others dedicated solely to one range.
Of them all, it is the trio of metal examples that remain the most famous. First to arrive, back in the 1930s, was the utilitarian three-link Oyster, followed by the five-link Jubilee, created especially for the release of the Datejust in 1945. Finally, the wonderful President bracelet, with its three links semicircular in shape rather than flat like the Oyster's, arrived with the Day-Date in 1956 (and from where the watch first derived its nickname).
Each of the three is available in a range of metals, with the Oyster and Jubilee offered in Everose, yellow and white gold, as well as stainless steel and the half gold/half steel combination known as Rolesor. The President, like the watch it was created for, has no steel or Rolesor option but does include a platinum version for the most luxurious pieces.
In more recent years, they have been joined by a heavily-bejeweled Pearlmaster bracelet exclusively for the series of the same name, as well as Rolex's first ever rubber strap, the Oysterflex.
All have their own personality and substituting one for another lends a watch its own particular characteristics.
For example, when the Yacht-Master was launched, it was fitted with the Oyster, as you would expect for one of the tool watch collection. However, when it emerged on the rubber Oysterflex band a few years later, it was like looking at a completely different model. All of a sudden, it had gone from dressy showmanship to elegant sportiness, a piece you could wear while actually involved in the rough and tumble of a regatta rather than just talking about it afterwards in the yacht club.
Similarly, taking the elaborate Jubilee off the Datejust and replacing it with the Oyster leaves you with a far more versatile everyday wear, softening some of the pretensions and making the whole a little less grandiose.
Experimenting with different bracelets on the various Rolex models throws out a range of unique and sometimes highly appealing looks.
Beyond Rolex
As good as Rolex's own bracelets are, they are not the only option for your watch. There is an enormous market of third party alternatives which can greatly modify the entire feeling of your watch.
If we take perhaps the brand's most celebrated creation, the Submariner, as an example, it can cover pretty much the whole spectrum of everything you could want from one model on its own, just by pairing it with different bracelets.
On its Rolex-issued Oyster, it is the everyman, able to pass in just about any situation both formal and informal.
If you happen to switch it up to a black leather strap, it is immediately transformed into a dapper dress watch. On brown leather, it is the perfect match for jeans and t-shirt. If you wanted to channel your inner Bond, fitting a cloth NATO strap is pure Goldfinger; impossibly stylish in a special forces kind of way. Plus, it is an ideal choice for summer, with the one-piece construction going under the case back and keeping the metal of the watch off your skin, and the material wicks away any moisture.
To really add your own personality, check out some of the brightly colored options from aftermarket companies such as Everest. This firm has a huge range in rubber and leather, in a variety of daring shades, each one with a bespoke fitting to match the cases of both modern and vintage models. Seeing something as accepted design-wise as the Submariner, sitting on a bright red rubber strap is a definite head turner, and adds a touch of quirkiness to an all-time classic.
Interestingly, in the world of Rolex collecting, fitting an aftermarket NATO strap, or one made from leather or rubber, has no detrimental effect on the value of a piece, so long as you keep the original. However, discarding the factory metal bracelet and replacing it with a third party alternative in steel, gold or platinum most certainly does.
Customizing Your Rolex Bracelet
Here at Beckertime, a huge number of our clients entrust us to customize their existing Rolex bracelets.
Of those, the majority are interested in our diamond-enhancing services; taking the standard item and besetting it with precious stones. It is something which can be done sparingly, the jewels just accenting various parts of the bracelet, or else every inch of the band can be blanketed, depending on tastes.
It is an option being explored by ever greater numbers of Rolex owners, giving them the ability to dictate exactly the style they want rather than buying a brand-issued diamond studded bracelet. It is also, by far, the least expensive route.
But there are other ways to leave yourself with a band that stands out from the crowd. Metal bracelets can be given a variety of finishes using different techniques.
A bark texture, something which was a factory option on the President between 1965 and the mid-nineties, can be applied. Created using a high pressure, diamond-tipped drill, the surface is given a series of engravings to simulate tree bark and is usually confined to the center links, although it can go over onto the whole bracelet as well as being echoed onto the bezel. It gives an unconventional effect which reflects light in a unique but highly attractive way.
A similar technique gives the Florentine finish, made by etching a series of tiny crosshatch patterns into a gold bracelet so the whole thing sparkles as if frosted with diamonds. It too was a popular decorative trend in the 70s and 80s, and seems to be making a comeback in recent years.
Another return from the 1960s and 1970s is the nugget bracelet. Originally a big favorite of Texas oil barons, it features a custom-made band designed to look as if it has been set with irregularly shaped pieces of real gold. By no means an understated look, it works particularly well on a Datejust or Day-Date, although it might struggle to find a home in the tool watch collection.
Altering the bracelet on your beloved Rolex, whether by modifying the existing one or swapping it for a new one altogether, is a quick and easy way to open up an entirely new set of visuals with a familiar piece.
One note worth remembering before doing so however concerns the brand themselves. As far as Rolex is concerned, changing any aspect of your watch away from factory conditions makes it a counterfeit. As such, they will generally refuse to service it when the maintenance schedule comes round.
If you have only fitted an aftermarket alternative, then no harm done. You can simply switch back to the original before sending it off. But if you have had diamonds set into your bracelet, or had it engraved with a specific type of finish, there is obviously no going back from that and you will need to find yourself a reputable independent Rolex service center to look after your watch.
If you have any questions about changing or customizing any part of your Rolex, please don't hesitate to get in touch with us here at Beckertime and we will be able to answer any questions you might have.
— Featured Photo Credits: BeckerTime's Photo Archive.