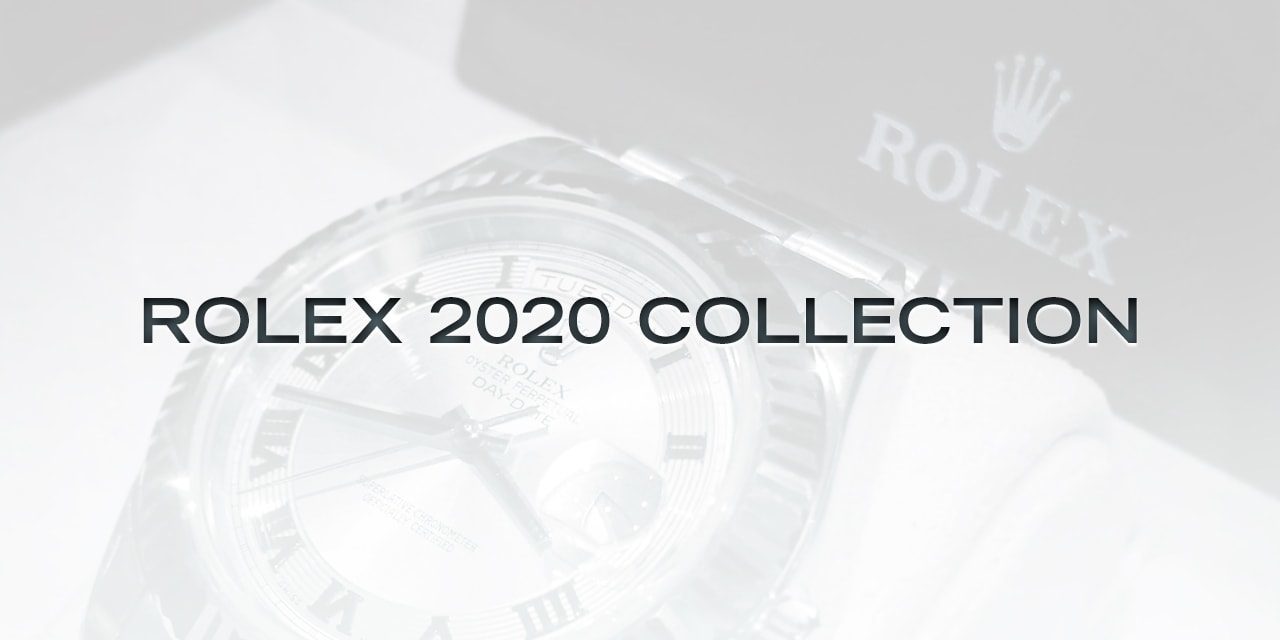 Rolex to Announce its 2020 Collection
If there's one thing I think we can all agree on, it is that 2020 has been pretty awful for just about everybody.
At times as dire as these, it always helps to be on the look out for any sort of good news that might come your way, and if you're a watch fan, Rolex has just provided some.
Back in April, the horology giant announced that this year was basically a wash, with COVID-19 forcing them to shut down their production facilities and, crucially, their annual extravaganza that is Baselworld being cancelled.
We had all resigned ourselves to the wait until 2021 for any new models to emerge from Geneva but, as is the way with the biggest name in watchmaking, Rolex has taken us by surprise again.
Earlier this month, the brand put out a statement asking retailers, industry journalists and selected media outlets to clear out their diaries from September 1st to 4th, for what they have described as a 'coordinated global launch' of their 2020 collection.
What Does That Mean?
Back in March, when it was first declared Baselworld was a no-go, the original plan from Rolex was for a number of scheduled press briefings to take place at the end of April to showcase this year's batch of offerings.
However when it became apparent the Coronavirus wasn't going anywhere anytime soon and gatherings of people, or just one-to-one meetings, were going to be extremely problematic, even those watered down plans were shelved—with the company issuing only a vague statement that the releases were postponed to 'a later date'.
We now know when that later date is, obviously chosen to coincide with the end of the inaugural Geneva Watch Days event, now the only major show still taking place, when the world's horology professionals will have, hopefully, already descended on Switzerland en masse.
So, We're Definitely Going to See Some New Rolex Watches?
It's likely but not definite by any means. Just because Rolex has chosen a time to release its 2020 catalog, it is still an insiders-only affair. There is no guarantee that the public is going to get to see these new models yet.
Virtually every industry holds previews and press junkets before an official launch, and the September events could well be a way simply to keep retailers and the media in the loop as to what the future holds.
The details of anything revealed at the time could conceivably be subject to some kind of NDA, with a full-scale unveiling scheduled for later in the year when (again, hopefully) more comprehensive assemblies will be allowed.
Though, as we have already seen, that too is far from assured. COVID-19 is still very much with us and should the pandemic worsen, who's to say this latest attempt by Rolex to get their hottest creations front and center won't face another delay or even cancellation?
It is all, obviously, up in the air at the moment, but at least there is a faint light at the end of the tunnel.
What Might We See?
Trying to second guess what Rolex might come out with each year is very much an exercise in futility. The brand is almost as famous for its secrecy as it is for its timepieces, but there are one or two eminent names overdue for some kind of revamp.
The obvious one remains arguably the most iconic dive watch of all time, the Submariner. It hasn't been updated for 10-years now, which is a long time for such a legendary model. The smart money is for the venerable Sub to finally be granted a new caliber, the Cal. 3235, replacing the workhorse Cal. 3135 which has run the show since 1988.
Less expected, but still possible, is a spot of reshaping. The Supercase, with its thicker lugs and crown guards, was introduced on the Sub in 2008. While it certainly granted a welcome uptick in wrist presence, it hasn't been without its detractors, particularly among fans of all things vintage. With nostalgia still in vogue among the watch community, could we perhaps see a return to more graceful proportions?
Another blast from the past may be a reissue of a 'Coke' GMT-Master II. The dual time zone model, in any of its guises, has probably been the most coveted piece from Rolex over the last few years. The demand for the red and blue 'Pepsi' and blue and black 'Batman' has so far outstripped supply that waiting lists at ADs are years long, and prices on the pre-owned market can be twice the retail or above. There hasn't been a black and red Cerachrom bezeled GMT-Master II as of yet, something many fans feel is due a remedy. This may be the 'Coke's' year.
Of course, it isn't just what Rolex gives, it is what it takes away that is often of the most interest—particularly to collectors with an eye on future investment potential. A discontinued watch, especially one of the highly desirable pieces, is likely to see a leap in value as a secondary buy. The ref. 116610LV Submariner, otherwise known as the Hulk, is one such that has been rumored to be heading for the exit door for a couple of years now. It wouldn't be the biggest surprise ever for it to be quietly retired, or even to follow the GMT's example and reemerge on a Jubilee bracelet instead of its traditional Oyster.
Further speculations over the last 12-months have included some more outlandish suggestions such as an 18k gold Explorer or one with a white dial, neither things which have occurred since the model's introduction in 1953. A Cerachrom bezeled Explorer II is another one from the gossip mill, but I wouldn't be holding my breath over that one either.
Time, as is appropriate considering the subject matter, will tell.
But When Do We Get Our Hands On Them?
Guessing what is on the horizon is all very well, but when will any of these potential new watches be for sale?
Rolex has been fiercely limiting its supply of certain models for years, mainly the steel sports collection. Now, with their production line grinding to a halt for months on end due to the shutdown of their factories, we can only imagine the size of the backlog there is to deal with.
The announcement of a fresh wave from the most successful manufacturer in history is always a welcome one, but the wait to get one on your wrist is likely to go on for some time yet.
— Featured Photo Credit: PublicDomainPictures.net Archive.