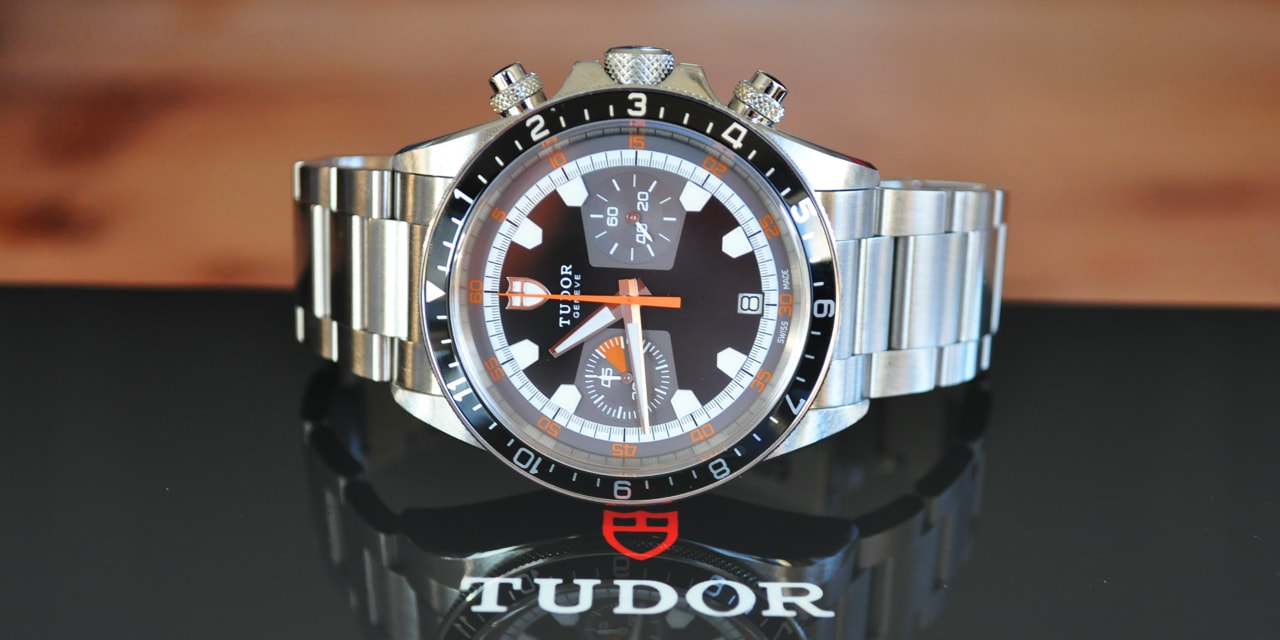 Rolex Tudor Heritage Chrono
When Hans Wilsdorf wanted a watch for the everyman, he knew that his flagship brand, Rolex was not the watch line. So, starting in 1946, Wilsdorf unveiled the Tudor watches complete with a rose flower logo a symbol of the English Tudor dynasty. The first Tudor watches, the Tudor Oyster and Oyster Prince utilized waterproof cases and automatic self-winding movements. The Rose emblem gave way to a shield in the early 1950's when many Tudor watches were deployed with the French, British, and U.S. Navy.
Tudor is considered the everyman's watch because it utilizes Rolex's trademark and patented technologies, but with a more affordable yet reliable ETA movement. Tudor has had a 16 year absence in the United States market, but all that change last month when Tudor wristwatches found themselves at Rolex dealers. Priced in the $2000-$5000 range, Tudor is positioned to compete with many other shopping mall brands such as Tag-Heuer and Omega. Both Tag-Heuer and Omega utilize ETA movements making the watch brand face-off even more obvious. Despite Omega's and Tag-Heuer's long provenance, Tudor had designed their watches utilizing designs from the iconic 1960's and 70's, but updating them with the latest metallurgical and horological advancements. Tudor possesses the technologies of the present with a hat-tip to the past that no other watch brand attempts.
In no place as that is more obvious is the release of the Tudor Heritage Chrono Blue. Unveiled at the BaselWorld Watch Fair last May, the Heritage Chrono reinterprets a 1973 chronograph complete with updates to the movement, case, and dial. For a watch that is below the $5000 price range, the Tudor Heritage Chrono Blue caused as much attention at the BaselWorld Watch Fair as the stratospherically priced top end luxury watches.
The Tudor Heritage Chrono Blue is a beautiful watch. The watch face utilizes blue, orange, and crème colors paired with a blue bezel that looks very 1970's. Unlike the 70's version, this watch is 42mm wide, monstrous in 1970 dimensions, and tall sitting at 13mm. The watch shows Rolex heritage with an Oyster case with screw down chrono pushers (like the Rolex Daytona), a screw down caseback, Oyster style bracelet, and an Oyster-like bracelet safety clasp. Although the Heritage Chrono uses Rolex Oyster technology, the shapes, bevels and finish is different than standard Rolex making the Tudor line even more distinct than the Rolex line.
The Tudor Heritage utilizes a ETA 2892 movement with a Dupuis Depraz chrono module which is a combination not found on basic ETA movement chronographs. The ETA 2892 can be serviced by practically any competent watchmaker, but unlike other ETA movements, can be serviced by any Rolex Service Center worldwide.
There is no question why the Tudor Heritage Chrono made such a splash at BaselWorld. The tough part now is finding one.
— Featured Photo Credit: Pixabay (cc) Archive.