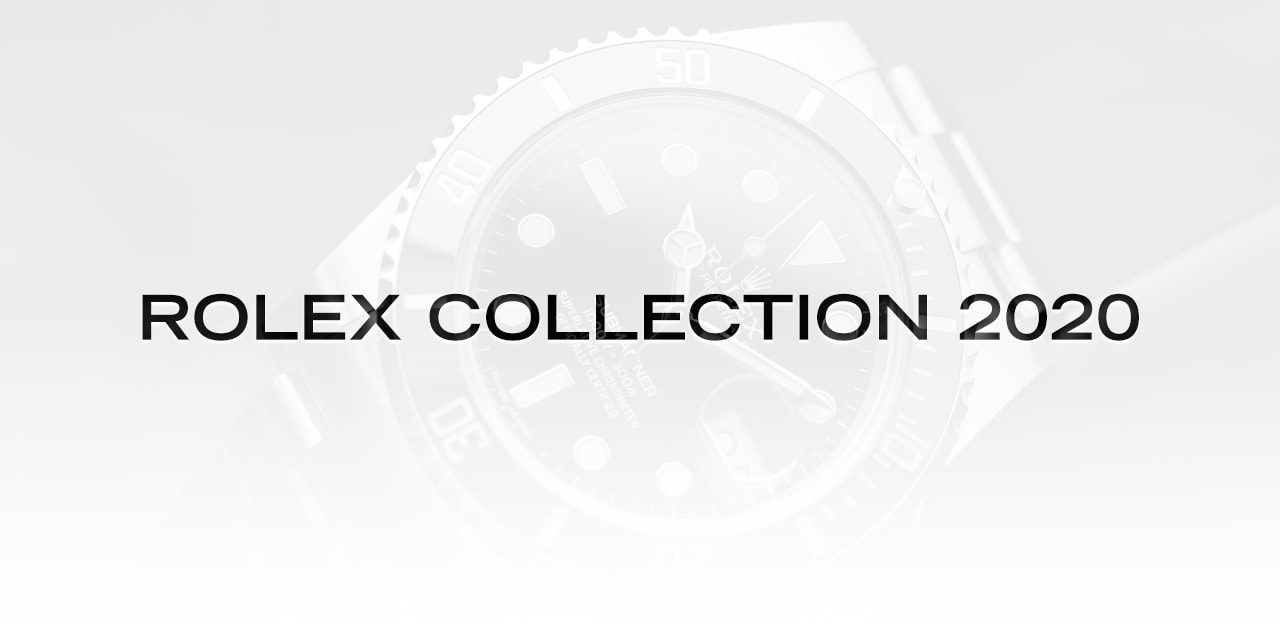 Rolex Unveils its 2020 Collection…Finally
Well, it was starting to look like it just wasn't going to happen for us this year. Proving that not even a name as big as Rolex is immune to a worldwide pandemic, back in April the brand declared any new releases for 2020 would be postponed to 'a later date', with many industry pundits interpreting that as meaning 2021.
It coincided with a complete shutdown of the manufacture's production line due to the spread of COVID-19, and the highly publicized Baselworld shenanigans, which saw Rolex, Patek, Tudor and just about everyone else finally part ways with their primary showcase for watch unveilings.
But, as is the way with Rolex, there was still time for a surprise. In July, they put out a statement asking retailers, industry journalists and media outlets to prepare themselves for a coordinated global launch of their latest collection, coming in September.
We now know what that collection consists of; an industry icon got a facelift, an entry-level watch got bigger models at both ends of the range (along with a bunch of funky dials), a long serving stalwart increased its selection of midsize models and the ultimate travel companion got some new shoes.
As usual, however, it is what Rolex decides to take away which makes as many headlines as what it introduces, and this year sees the retirement of at least one real fan favorite.
Read on below to discover all about the brand's latest creations.
The Rolex Submariner ref. 12661X & ref. 124060
Finally!
It feels like year after year we are just sitting waiting for something to happen to the world's favorite dive watch.
Rolex's legendary Submariner is one of the most timeless designs in the book, its core styling basically unaltered since 1959, when the ref. 5512 turned up sporting crown guards.
The last significant change happened in 2010 when it was unveiled with the so-called Super Case—a bulky, broad-shouldered look, with lugs and guards twice the thickness of previous generations. The move away from its formerly flowing lines was something of an opinion-splitter, with some appreciating the increase in wrist presence while others missed the classic contours.
This new generation, the ref. 12661X, appears to be trying to appeal to both sides. For the first time in more than 60-years, the Sub has genuinely increased in size, up to 41mm from 40mm. Not only that, but the Super Case has been softened; the lugs have had 0.5mm shaved off each inner edge, leaving them thinner and sharper and reminiscent of references of old. (The bracelet has been widened too, from 20mm to 21mm, to fit the new lug gap).
Similarly, the crown guards have been trimmed back to give a more elegant curve. It has left us with a Sub large enough to placate those who complained that 40mm was too small for a modern tool watch, but with enough retro touches to satisfy the current trend for all things vintage.
The new collection consists of eight models—three in steel (including the only no-date, the ref. 124060), two in all-yellow 18k gold, two in yellow Rolesor (both types with either blue or black dial and matching bezel) and a white gold piece with blue bezel.
Of them all, it is obviously the steel watches which will have Rolex fans beating down the doors to ADs, especially as one of them marks the return of the Kermit.
Yes, the Hulk is no more. The vibrant green dialed and bezeled Sub has been a hugely sought-after version since its introduction in 2010. Its replacement keeps the green surround but tempers it with a standard black dial, as did the 50th anniversary edition of the Submariner back in 2003, quickly gaining its Muppet moniker. The underplayed color scheme is a fitting match for the newly relaxed Sub shape, just as the previous Super Case warranted a more eye-catching display with the Hulk's bright green sunray dial.
Perhaps more importantly than all that though, the Submariner finally gets its new engine.
It had been using the Cal. 3135, admittedly recognized as one of the finest mass-produced movements ever made, since 1988. Considering Rolex had its replacement, the next generation Cal. 3235, ready to go since 2015 (and both the Sea-Dweller and Deepsea already have it) it is a long overdue upgrade.
It is an almost top to bottom refit over the Cal. 3135, with 90% new components, including the heralded Chronergy escapement. The Cal. 3235 has now been rolled out wholesale across the time-and-date Rolex catalog, with only the 34mm Date still powered by the old caliber.
Rolex Submariner 2020 Features
So there we have it, at long last, a Submariner for the new decade. The changes, however small they may sound written down, add up to a lot. Quite possibly the most important sports watch of them all, this latest version is set to be another unqualified success.
| | |
| --- | --- |
| Size: | 41mm |
| Water Resistance: | 300m/660ft |
| Case Material: | 904L Oystersteel/18k Yellow or White Gold/Yellow Rolesor |
| Caliber: | Manufacture Cal. 3235 |
| Dial: | Black/Blue |
| Bezel: | Cerachrom Black/Blue/Green |
| Bracelet: | Oyster Bracelet |
| Price Range: | 8,100 to $39,650 |
The Rolex Datejust 31 ref. 278274 and ref. 278384RBR
Really a Lady-Datejust in all but name, the 31mm version of Rolex's all-time bestselling watch received four new models in the latest round of releases.
Unusually, all were cast in white Rolesor, a configuration of steel and gold which varies slightly from the yellow or Everose variety.
On those, 904L Oystersteel makes up the case and outer bracelet links, with the bezel, winding crown and inner links all forged in the precious metal. As for white Rolesor, because of the similarity in tone between it and the steel, only the bezel is made from gold.
Of the 2020 models, three differ only in dial color and bracelet choice. We get a white lacquer piece with Roman numeral indexes, and two sunray finish models, both with baton markers. One is in dark grey, the other in what Rolex describes as mint green, but which actually looks more of a sea green to me. I am, however, not a green expert.
Other than that, they all have the traditional golden fluted bezel to add a touch of subtle sophistication, along with one of two bracelet styles. The white dialed watch is fitted with an Oyster bracelet, the other two with the five-link Jubilee.
The fourth addition to the range, the ref. 278384RBR, is a little different.
Another sunray dial, this time in a beautiful deep aubergine, it is ringed by a bezel set with 46 brilliant cut diamonds. A further 11 gems make up the VI hour marker (6, for those who don't speak Roman).
Inside each one is the wonderful Cal. 2236, a movement launched in 2014 and the first ever from Rolex to use a silicon hairspring. Dubbed Syloxi by the brand, it is rumored to outperform even the Parachrom Bleu used most everywhere else.
These most recent inclusions to the 31mm range slot in amongst literally hundreds of others. The Datejust has long been the everyman (or woman) of the Rolex collection, offering up an almost incalculable array of different dial, bezel, metal and bracelet combinations, in order to appeal to as wide a cross-section of tastes as possible. For either gender, its main role remains to be that one great watch that goes with anything and lasts a lifetime.
Rolex Datejust 31 2020 Features
| | |
| --- | --- |
| Size: | 31mm |
| Water Resistance: | 100m/330ft |
| Material: | White Rolesor |
| Caliber: | Manufacture Cal. 2236 |
| Dial: | Dark Grey/White Lacquer/Mint Green/Aubergine |
| Bezel: | Fluted White Gold/Diamond Set |
| Bracelet: | Oyster/Jubilee Bracelet |
| Price Range: | 7,800 to $16,050 |
The Rolex Oyster Perpetual
Although it is, not surprisingly, the revamped Submariner getting the lion's share of the attention, perhaps the biggest Rolex shakeup for 2020 has been to their entry-level piece.
The Oyster Perpetual is the longest continually-serving name in the brand's portfolio, and one which forms the backbone for just about everything else Rolex has ever made.
The modern form is as simple as a wristwatch can get; stainless steel head to toe, three hands to tell the time, and that's it. Not even a date display to muddy up the dial.
For this year though, there has been a pretty major shift right across the range. The two ends of the sizing spectrum, the 26mm at the bottom and the 39mm at the top, have both been discontinued and replaced with a 28mm and a 41mm. As well as that, those and the other three versions; the 31mm, 34mm and 36mm, have all graduated to their next level movements. So now the two smallest models are driven by the Cal. 2232, while the rest use the Cal. 3230.
And as if all that wasn't enough, the assortment of new colors on offer are vibrant to say the least. Harking back to the Stella dials fitted to the Datejust and Day-Date in the 1970s, you can have most of the sizes with faces of canary yellow, coral red, light turquoise, forest green or candy pink, alongside the conventional examples. It is almost as if Rolex, that most traditional of manufacturers, is having a bit of fun.
Even more impressively, these latest pieces, with their cutting-edge calibers, are only about $200 more expensive than the last generation.
The upswing in sizing options is also quite interesting. The former 26mm model was the smallest watch Rolex produced for a while and is seemingly now just too little for contemporary tastes, while the 39mm was only introduced in 2015 and has already been dropped.
Although the oversize watch fad has pretty much gone, the brand's 36mm models are all now marketed as an option for both men and women, whereas they would have been solely for a male audience not that long ago. Everything has simply moved up a notch throughout the collection, and with the demise of the 39mm Oyster Perpetual, only the Explorer and Pearlmaster are left in that size. Expect larger versions of both in the near future.
Rolex Oyster Perpetual 2020 Features
| | |
| --- | --- |
| Size: | (New) 28mm, 31mm, 34mm, 36mm, (New) 41mm. 26mm and 39mm Discontinued |
| Water Resistance: | 100m/330ft |
| Material: | Oystersteel |
| Caliber: | Manufacture Cal. 2232/Cal. 3230 |
| Dial: | New: Candy Pink, Light Turquoise, Forest Green, Coral Red, Canary Yellow |
| Bezel: | Steel. Smooth |
| Bracelet: | Oyster Bracelet |
| Price Range: | 5,100-$5,900 |
The Rolex Sky-Dweller
To end with, we have a new Sky-Dweller. Well, no we don't, actually. We have the same Sky-Dweller as before, but it is now available with Rolex's Oysterflex (which we are not allowed to call a rubber strap).
As we saw when the steel GMT-Master II went from the Oyster to the Jubilee, a change in bracelet causes the brand's legions of fans to lose their collective minds. Such a seemingly minor swap can totally change the watch's personality, and with these 'new' Sky-Dwellers that is especially true.
They have been brought in as a substitute for the leather strap versions retired a couple of years ago, and the Oysterflex completely transforms the entire look of the model. Whereas the rest of the range on metal bracelets have a particularly sober air, the black rubber strap (sorry, high-performance hypoallergenic polymer over flexible titanium and nickel alloy blade) has a far more relaxed, sporty nature.
The Oysterflex was first seen on the Everose Yacht-Master when it debuted in 2015, and then later on a number of Daytona models. On both of those watches too, the inclusion of Rolex's latest bracelet was a breath of fresh air; still obviously luxurious but with some of the tool-like essence Rolex first built its reputation on reinstated.
The Sky-Dweller has six models fitted with the Oysterflex and, like the Daytona, they are all solid gold versions; three in 18k yellow and three in Everose gold. There is a white dial option in both metals, with a black and a champagne face making up the yellow gold range, while the Everose collection is completed by dark rhodium and chocolate dials.
Elsewhere, nothing else has needed to be altered. The Sky-Dweller only came out in 2012, so it is possibly too soon for anything more major than a bracelet change. It is still the most complicated watch in the catalog, packing in a date function, a GMT and the first annual calendar Rolex has ever made.
It was a slow starter on its initial release, but the arrival of the less expensive steel models in recent years has seen its popularity really start to soar. No doubt this revitalized look will only bolster its reputation.
Rolex Sky-Dweller 2020 Features
| | |
| --- | --- |
| Size: | 42mm |
| Water Resistance: | 100m/330ft |
| Material: | 18k Yellow (ref. 326238) or Everose Gold (ref. 326235) |
| Caliber: | Manufacture Cal. 9001 |
| Dial: | Black, White, Dark Rhodium, Champagne, Chocolate |
| Bezel: | Fluted Ring Command Bezel |
| Bracelet: | Oysterflex |
| Price Range: | 40,000-$41,500 |
— Featured Photo Credits: Pixabay & BeckerTime's Archive.