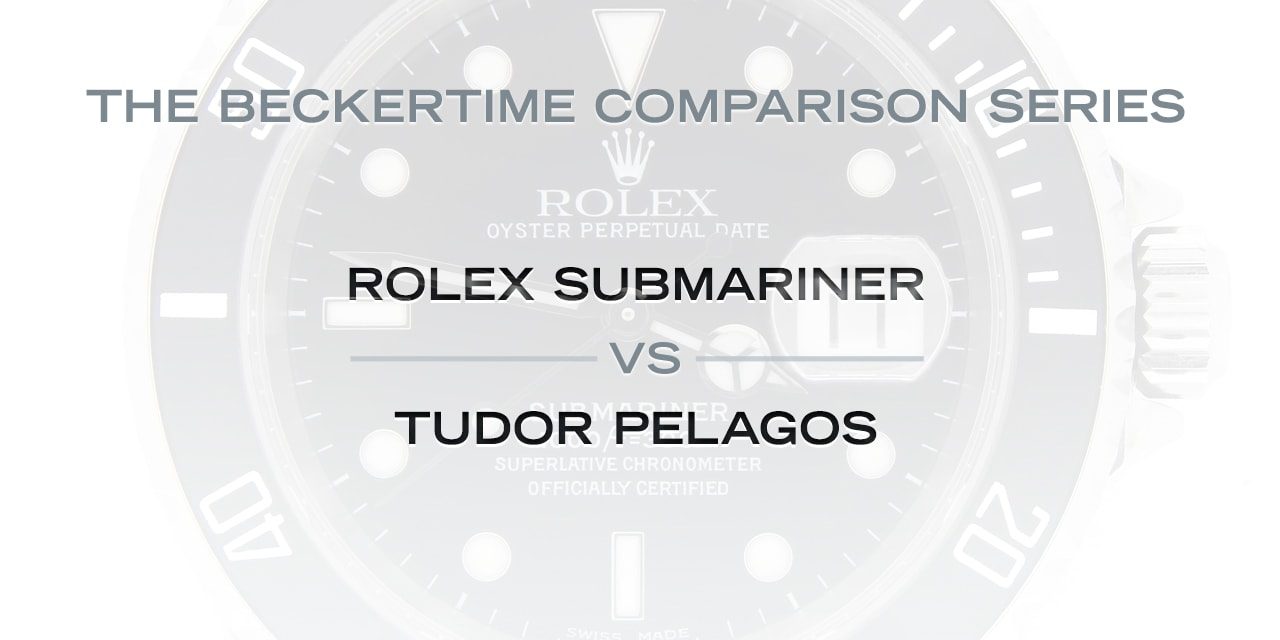 The Beckertime Comparison Series: The Rolex Submariner Vs. The Tudor Pelagos
The basic parameters for what a modern dive watch needs to have to be considered fit for purpose were essentially laid down nearly 70-years ago. And, contrary to what some might think, it wasn't actually the Rolex Submariner which did it.
That honor lies with the Blancpain Fifty Fathoms, designed in 1953 for the French Navy's Special Forces divers. It was the Fifty Fathoms which was the first to be given a rotating bezel engraved with a 60-minute scale, large luminous hands and hour markers, a high contrast black and white dial and, obviously, a robust waterproof case.
However, it was Rolex's Sub which took all those elements and combined them all into a design so perfectly executed and timeless that it became the aesthetic bandwagon for just about every other manufacturer to jump aboard since then.
Today, you can line up as many mechanical luxury dive watches as you can get your hands on next to each other, stand 10-feet away, and the visual parallels are impossible to ignore.
Watch Design and Storytelling
It is commonly recognized that any story, whether it's a novel, a play or a movie, follows one of just seven basic plots. What makes them all different is the way that plot is handled; the unique style each individual writer brings.
Similarly with watches, and dive watches especially—every brand has the same list of attributes they need to include, the challenge is to get their own particular expressions and characteristics implanted into the design.
It is all the more impressive then that it is Rolex's sister company, Tudor which has pulled it off so effectively with their Pelagos range. The watches may have all the identical key points as the Submariner, but they have freshened up the looks so much that they are able to stand alone.
The Pelagos series has been a vital factor in the continued resurgence of Tudor in recent years, the brand only coming back to American shores in 2013 after a long absence.
So pitting it against the Submariner range, regardless of the brands behind them both, is an interesting contest.
The Rolex Submariner Versus The Tudor Pelagos
The Metals
When Tudor reemerged onto the U.S. scene after a 13-year hiatus, it was with a new raft of watches that drew heavily on past glories.
The Heritage Chrono and Heritage Black Bay collections were, and continue to be, beautifully thought-out, vintage-inspired pieces taking their cues from previous Tudor models from as far back as the 1950s.
Arriving at the same time was the Pelagos, a thoroughly modern diver that didn't rely on a dial full of creamy fauxtina to ramp up the nostalgia but was rather a bona fide tool watch for the modern era.
It was also the first watch from either Tudor or Rolex themselves to be made from titanium.
For a metal with such a laundry list of benefits, it is a surprise that titanium isn't more prevalent in the horology industry. To begin with, it is immune to pitting and corrosion, two features which would suggest it is perfect dive watch material. It is also about 30% stronger than stainless steel while being around 40% lighter, and is bio-compatible; that is, it doesn't activate any allergies in the wearer as a steel alloy with a high nickel content can.
However, stacked up against all that is the fact that titanium scratches more easily than steel, and has a greater flexibility, meaning it is less forgiving to machine. Polishing titanium is also difficult, but that has left the Pelagos with a handsome matte satin finish to its case and bracelet—completely appropriate for a tool watch.
Compare that with the Sub's selection of different metals. It has been a while now since Rolex's most famous sports watch was bought with actual diving at the front of the buyer's mind. To many purists, the watch crossed over into status symbol territory at the end of the 1960s with the arrival of a date function, something Rolex didn't seem too perturbed about seeing as solid gold models quickly followed.
There are still white and yellow all-gold pieces today, along with two-tone Rolesor, each high enough up on the pricing spectrum to make none but the bravest risk their shine aboard the notorious ding-factory that is the average dive boat.
The steel versions, on the other hand, are a different matter. Rolex, almost uniquely in the industry, employs 904L stainless steel across the board in their current collection. Dubbed Oystersteel by the brand, they chose to adopt the alloy over the 316L they and the rest of the watchmaking fraternity had been using for generations solely for its corrosion resistance. Their technicians had noticed the screw threads on their older 316L dive watch case backs had become prone to rust and deterioration after prolonged exposure not just to seawater, but also merely to sweat from the skin. 904L steel, usually the preserve of the aerospace and chemical engineering spheres, solved the problem. But it didn't come cheap. Rolex had to completely retool their manufacturing infrastructure to work with the new metal, at enormous expense.
There's no doubt all of Rolex's steel watches are just about as robust and hardy as you are likely to encounter, and their dive watches in particular. Yet, 904L's increased resistance to acids is because of the additional elements in its makeup, including a higher percentage of nickel, something which is known to cause allergic reactions in some.
As well as that, it is two or three times more expensive to produce and work than 316L, and has significantly more weight than titanium.
That last isn't necessarily good or bad. Many people equate heaviness in a luxury item with quality and so a noticeable heft on the wrist is welcome. Others will prefer the lightness and comfort of titanium on an all-day, everyday watch.
The Designs
The basic styling of the Rolex Submariner seems to have been with us since before the earth cooled. As an example of sophisticated industrial design, it is hard to think of anything to match it.
Between 1959, when the ref. 5512 debuted, and 2010 when Rolex introduced the Super Case, the Sub's silhouette went essentially unchanged.
While the Super Case models kept the same diameter on paper, the wider lugs and crown guards split opinion, Rolex taking the move as a compromise, trying to appease those who were starting to consider 40mm too small for a sports watch.
That altered again just a few weeks ago when, at long last, a new Submariner surfaced, this time with a genuine increase in size up to 41mm. More than that, the former graceful lines of classic references are back, and it is a move which has been well received from almost every corner.
Although only brought in 10-years ago, the Super Case was in danger of making the Submariner look (whisper it) outdated. It smacked of a trend for more aggressive-looking watches which, thankfully, seems to be no longer in fashion.
Other than that, nothing has really been done, nor has it needed to be. The dial layout is the same (ok, the hands are a teeny bit longer) but those indexes are as they have nearly always been, the signature mix of dots and batons, with the inverted triangle for the 12 o'clock. But the larger playing surface, while it is only an extra 1mm, has given the latest Sub a better overall balance.
On the Pelagos, although it has, as we discussed, the same elements to work with, it is undoubtedly a tool watch.
For a start, it is 42mm which is arguably the perfect size. The case, with its lovely muted finish, looks rock solid. The lugs are relatively thin compared even to the Submariner's neo-vintage case, but have good thick bevels which give off an air of class.
It also has a couple of things the Rolex doesn't.
Firstly it has a water resistance of 500m, versus the Sub's 300m, setting it up as a watch for serious divers. That is backed up by the inclusion of a Helium Escape Valve, something you will only find on the Sea-Dweller and Deepsea over at the parent company. Additionally, the Pelagos's bezel has luminescent numerals, with the lume injected directly into the ceramic insert. I did a lot of technical diving in a previous life, and can attest as to how useful that will be in very low visibility, especially during decompression stops.
It is on the dial where we see some major differences. The Snowflake hands are lifted from some of Tudor's divers from the 60s and 70s, as are the square hour markers. They may be an acquired taste for some, but there's no arguing they're distinctive and they are really the Pelagos's only concession to the current craze for all things retro.
The date display at the three o'clock is unobtrusive, blending in nicely and looking like just another index at first glance. The lack of Cyclops magnifying lens, a constant bone of contention with Rolex fans, only helps it keep a low profile.
There are actually three versions of the watch as opposed to the Rolex's eight. All three Tudors are in titanium, with either a black or blue dial and bezel, along with, absolute joy of joys for those oddballs among us, a left-handed model. As well as having its winding crown on the opposite side, the Pelagos LHD goes the more evocative route with pretend beige patina, a roulette date wheel and a single red line of text.
I have to admit, it is on my list of potentials, not only for its attractive visuals but also for the sheer novelty of owning a watch I could set without taking it off. Can you imagine?!
The Movements
As I'm sure you know, for most of their respective histories, the biggest difference between Rolex and Tudor has been down to their movements.
More specifically, Rolex has long made their own engines in-house while Tudor has been served by third-party calibers, generally from ETA.
The substantial investment it takes to design, fabricate, test and build even the simplest movement is the main reason for the normally significant price gap between the two brands.
When the Pelagos was first launched, it was indeed powered by an ETA—the 2824. Post-2014 however, and Tudor has developed their own caliber for the watch, the MT5612.
True to their Rolex roots, performance is the critical consideration with Tudor's mechanism. The MT5612 won't be winning any Geneva Seals for decorative finishing, but it is a big, strong powerhouse of a thing in the best tradition of tool watch drivers.
Beating at 28,800vph, the COSC-certified movement manages to pack in a 70-hour reserve and benefits from a silicon hairspring to stave off magnetic field and temperature-induced inaccuracies.
Inside the Rolex Submariner is another thing entirely however. After sticking with the legendary Cal. 3135 for an unbelievable 32-years (and long after both the Sea-Dweller and Deepsea upgraded their internals) the Sub has finally been fitted with the next generation Cal. 3235.
Practically redesigned from the ground up, this new caliber replaces around 90% of the components of the outgoing Cal. 3135. Most critically, it houses the Chronergy escapement, a stripped-down, skeletonized version of the conventional Swiss lever escapement which gives an extra 15% efficiency.
Also providing a 70-hour autonomy, Rolex's movement surpasses the COSC's standards and meets the brand's own timekeeping criteria of -2/+2 seconds a day.
The Prices
In-house movement notwithstanding, you still get a lot of change buying the Tudor over the Rolex.
The current price for any of the three Pelagos models is around $4,300. The lowest retail cost for the Sub (with date) is 'officially' $9,150.
And why is 'officially' in quotes? Because unless you are incredibly lucky, chances are you won't be buying your Submariner from a Rolex AD at list price. The manufacture limits the supply of their most popular watches at the best of times (which these ain't) to drive up demand anyway, and with COVID shutting their production facilities down for months at the beginning of the year, the backlog is likely to reduce it even further.
A quick check on the preowned market suggests the best you can hope to get this year's steel Sub for at the moment is the best part of $20,000.
If you want the Kermit reissue, with its green bezel, you'll need to scrape together an extra $5,000 or so on top.
Icons of horology or not, that is a lot of money for a watch.
Of course, if you actually manage to pick one up at retail, you have immediately doubled your money should you decide you sell it on. And the Rolex Submariner also has one of the strongest investment potentials in the business. Buying at the right price means you are unlikely to ever lose much money on it down the line, something which can't be said about the Pelagos.
Who Wins?
I don't think it is fair to say that modern Rolex has gotten complacent. They can still surprise and delight, coming out with all-new creations and untried complications such as the Sky-Dweller and Yacht-Master II from a few years ago.
It might be fairer to suggest that their core offerings, the former tool models stemming from the 1950s, have settled down and grown comfortable. The rough and ready Submariner Bond wore as he took on Dr. No, for instance, is a world away, culturally-speaking, than the one available today. Yes, the current example might outpace that classic in just about every respect, but it is now such a polished performer it is hard to imagine it anywhere but behind a desk, trying not to get its bracelet scratched.
That's where Tudor comes in. A brand once in Rolex's perpetual shadow, it now seems to be taking up the proper tool watch baton and running with it. The Pelagos is what the Submariner used to be, in the same way as Tudor's Black Bay GMT is what the Rolex GMT-Master was 40 or 50-years ago.
There is just something a little more rebellious about Tudor, a bit less well-behaved. There's a real energy to their output and a willingness to experiment. Best of all, they are far more affordable and orders of magnitude more accessible.
Don't get me wrong, Rolex would always be my first choice if money wasn't an issue. Sadly it is, but only being able to afford a Tudor certainly doesn't feel like the consolation prize it used to these days.
— Featured Cover Photo: BeckerTime's Archive.