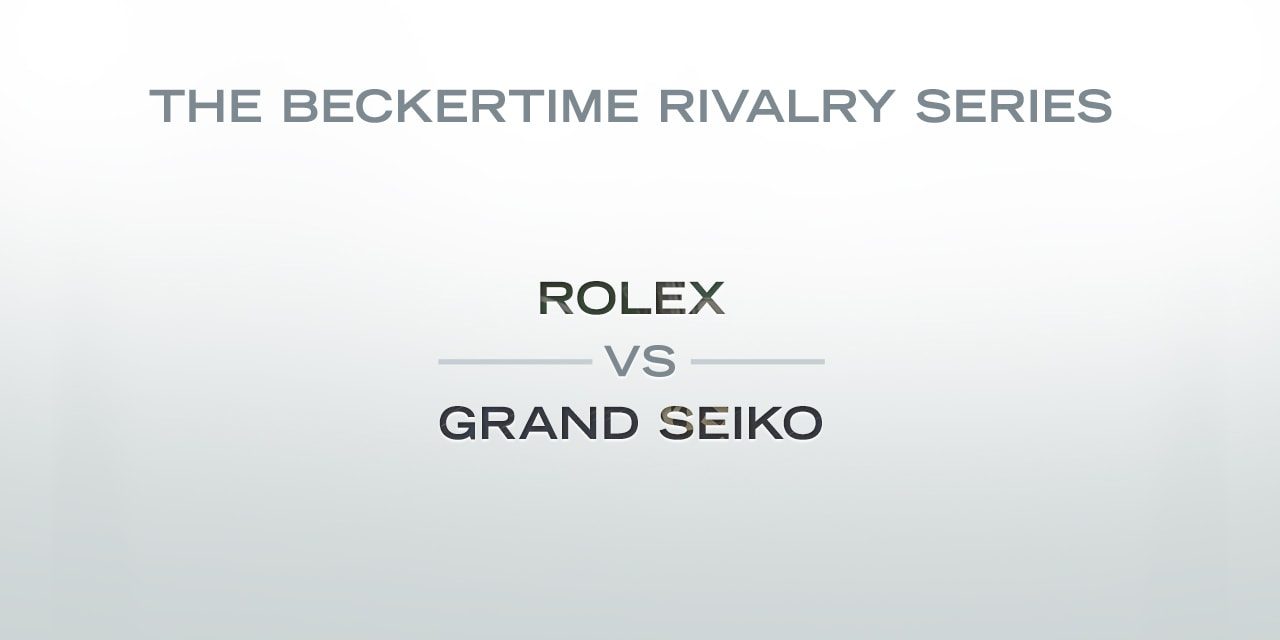 The Beckertime Rivalry Series: Rolex versus Grand Seiko
It wouldn't have been that long ago that the idea of pitting the behemoth that is Rolex, or indeed any of the great Swiss maisons, against a horology brand from Japan would have been seen as laughable.
Switzerland has dominated the high end luxury watch business since the end of the Second World War, whilst the Land of the Rising Sun has been known primarily for doing its best to end the industry completely in the 1970s and '80s with its championing of quartz technology kicking off the so-called 'Quartz Crisis'.
So it is a testament to just how far that nation's flagship manufacture has come in recent years that a competition between Rolex and Grand Seiko is now not only far from being a preposterous notion, but has become a genuine contest.
Switzerland may still hold a virtual monopoly over the industry, but Grand Seiko's legacy of extraordinary innovation is responsible for some of the most talked about models of recent years.
Two Great Brands
Both of these players have a very well stocked portfolio, with a wide ranging assembly of diverse products, but all shot through with an immediately recognizable design identity.
Within each of their respective lineups you will find simple time-and-date pieces, GMTs, chronographs and tasteful dress models through to full-blooded tool watches.
Rolex split their offerings up into two broad groups, the Professional Collection and the Classic Collection (discounting the Cellini range for the time being), with those further subdivided into the various model names.
As for Grand Seiko, they have five separate watch families; the Masterpiece, the Evolution 9, theHeritage, the Sport and the Elegance Collections.
Let's take a look at each one:
Rolex Professional Collection: This is where you will find Rolex's, and arguably watchmaking's, most famous creations. 'Professional Collection' in this instance is really just another way of saying 'Tool Watch Collection', a genre of models Rolex can take most of the credit for inventing, back in the 1950s.
The Submariner, GMT-Master II, Daytona, Sea-Dweller, Deepsea, Explorer, Explorer II, Milgauss, Air-King, Yacht-Master and Yacht-Master II are all to be found here. Each was originally designed to serve a specific purpose beyond merely telling the time, whether that was to accompany divers to previously unheard of depths or timing endurance race car events. And while these watches are realistically never bought to fulfill those roles anymore, and haven't been for quite some time, the fact remains they rank amongst the most capable models ever made.
Rolex Classic Collection: The more formal offerings from Rolex get put into the Classic Collection, pieces made to be worn everyday and in just about any situation. Here you will find the Day-Date, Datejust, Oyster Perpetual and Sky-Dweller.
Grand Seiko Masterpiece Collection: Living up to its name, Grand Seiko's Masterpiece Collection is only created by the brand's most elite watchmakers, handpicked and sequestered away in their own private studio deep in the Japanese Alps. Taking the revolutionary Spring Drive as their base, the small group of exquisite models represent the pinnacle of the manufacture's expertise.
Grand Seiko Evolution 9 Collection: This is where Grand Seiko looks to the future, with a new generation of watches that manage to retain the best of the manufacture's tradition, while simultaneously evolving them to a more contemporary aesthetic.
Grand Seiko Heritage Collection: An unashamedly retro-inspired group of watches, this is Grand Seiko drawing from its archives with classically styled models, updated to include the latest technology in their movements.
Grand Seiko Sport Collection: Here you will find the most robust watches in the portfolio; divers, chronographs and GMTs are all represented, with a focus on legibility and reliability. Power comes from either mechanical, quartz or the Spring Drive.
Grand Seiko Elegance Collection: A family of fine dress watches, with a typically understated feel. Perfect for either an everyday wear or special occasion.
Rolex Versus Grand Seiko: Styling
In terms of the styling of their respective watches, and in particular the shape of their cases, the two brands aren't a million miles from each other. Both eschew the more unorthodox, eccentric forms in favor of simple, rounded profiles and clean lines.
Many of Rolex's most famous creations have looked pretty much the same since before the Earth cooled, with perhaps a begrudging increase in size by a millimeter or so in recent years.
Grand Seiko set out their styling rules in 1967, less than a decade after coming into existence, with the famed 'Grammar of Design' playbook, devised specifically to allow their watches to 'sparkle with quality' and compete with the best from Switzerland. Among the guidelines set out was the edict that surfaces should be as flat and wide as was feasible in order to catch as much light as possible, and that, wherever they could, every surface should be given a mirror finish through what is known as Zaratsu polishing. It means Grand Seiko watches typically have some beautiful facets in their cases and an exquisite shine.
However, Rolex's models have a certain glimmer too, unlike more or less anything else in the industry, due to their near exclusive use of 904L steel and precious metals forged in their own foundry.
If you study both collections, you will also see some striking similarities in models overall. Grand Seiko's SBGE283 Evolution 9 GMT, for instance, has a definite Rolex Explorer II vibe to it, with its 24-hour engraved bezel. Similarly, the SBGJ237 isn't fooling anyone as to its GMT-Master II Batman inspiration. And, of course, the diver SBGH289 will be mistaken for a Rolex Submariner at first glance many times, thanks to its near carbon copy design, even down to the dot and baton indexes and Mercedes-esque hour hand.
None of these are criticisms of course. There's a reason Rolex have stuck with the same styling language for the last 70-years; it just works. And just about every watch manufacturer in the world, luxury or otherwise, has a Sub lookalike in their collection somewhere.
Rolex Versus Grand Seiko: Movements
Both brands are fully-fledged manufactures, in that, they produce every element which goes into their watches themselves, including their movements.
For Rolex, that means a relatively small series of nothing but self-winding mechanical calibers, built to keep within the most tortuous tolerances for accuracy and designed to withstand some especially harsh treatment.
The company makes very few highly complicated models, with the majority being modest time-only or time-and-date pieces. That equates to correspondingly modest movements, refined over decades until they are recognized as being among the best and most reliable mass-produced mechanisms available.
In that way, they are the perfect representation of the brand itself. There is nothing superfluous about the average Rolex watch. Everything serves a purpose, and the caliber is there to drive the watch rather than excite and amaze with its technical prowess. The finishing will be industrial at best, for the simple reason you will likely never see it. No watch in their current lineup has a display case back. But that leaves them free to just perfect what needs perfecting, i.e. the timekeeping precision. Their Superlative Chronometer certificate, above and beyond anything laid down by the COSC, guarantees as accuracy of -2/+2 seconds a day.
Over at Grand Seiko, there is a heady mix of mechanical, quartz and Spring Drive movements, again all developed and built in-house. Many of the mechanical calibers, especially in the Sports Collection and the chronographs in particular, are known as Hi-Beat movements. Ticking away at 36,000vph, as opposed to Rolex's standard 28,800vph, leaves them (according to the brand) with a greater degree of accuracy and stability. Whether or not that translates into real life is open for discussion.
The quartz movements, although they may be snootily looked down on by purists, are very much a different breed to the usual run-of-the-mill disposable throwaway. Firstly, GS grows their own quartz crystals, selecting only the most flawless ones to use in their watches. Each model's integrated circuit (IC) is then programmed specifically to work perfectly with the exact qualities of each individual crystal. In addition, the movement is set up to sample the ambient temperature 540 times a day and adjust itself accordingly. All that adds up to a caliber with an accuracy of +/- 10 seconds a year.
And then, there's the Spring Drive. Invented in 1999, the easiest way to think of it is as a hybrid version of a mechanical and quartz movement. The energy comes from a mainspring, as with traditional movements, but the back and forth balance wheel is replaced by a glide wheel, which turns only in one direction, continuously. Then, in place of an escapement, Grand Seiko use an electromagnet, called a stator, to release the energy in stages but without causing any friction. That process generates an electrical current, which runs through an IC and a quartz crystal oscillator. This self-generating power supply is the reason there is no need for batteries with the Spring Drive.
The upshot of all that is a precision of 1-second a day and a seconds hand which sweeps around the dial with an unbeatable smoothness.
Rolex Versus Grand Seiko: Pricing
On average, a Rolex watch will cost more than the equivalent (as far as is possible) Grand Seiko model. That is, of course, to be expected. Rolex is arguably the brand which springs to mind the fastest when someone asks you to name a status symbol, and has been since the 1980s. The quality of their products is matched only by their marketing acumen, and buying one is one of those events you will always remember. All that has to be paid for (or its impact will be diminished) and so prices have risen accordingly.
However, Grand Seiko isn't that far behind. Entry level models from the brand kick off around the $5,000 mark, compared to around $6,000 for the most affordable Rolex. At the top end, there is little in GS's lineup that exceeds $20,000 outside of their limited editions, whereas Rolex goes up to well over $100,000 for something like a platinum Day-Date.
But obviously, that only tells one small part of the story. Trying to buy a Rolex at retail is a nightmare, and has been for years. It can be a mission to even get yourself on the waiting list for the most popular models, and if you can, chances are you won't be picking your watch up for around 2-years at a minimum. That has led to some extreme premiums on the preowned market, until the gap between their prices and Grand Seiko's is now a yawning chasm.
On the flip side of that, resale costs for Rolex watches far outshine those for GS. You would be unlucky to lose money on a Rolex if you decide to sell it on and chances are they will accumulate in value. With Grand Seiko, while the buy-in may be cheaper, only very few models perform well as investments, with most dropping in value over the years.
Rolex versus Grand Seiko is certainly not a one-sided battle, with both producing high quality watches with impressive technical prowess.
On the whole though, the Swiss brand maintains the upper hand, thanks to a mix of storied heritage, timeless designs and a styling cohesion running through the entire collection few others can match.
However, Grand Seiko has never been closer to their main rival, with an extremely innovative family of different movements and some superbly derived models, at attractive prices.
The one thing they can't rival, which is true for just about every manufacturer in the industry, is the name recognition or the status associated with Rolex. Whether that will change in the future, only time will tell.
Featured Photo: BeckerTime's Archive.