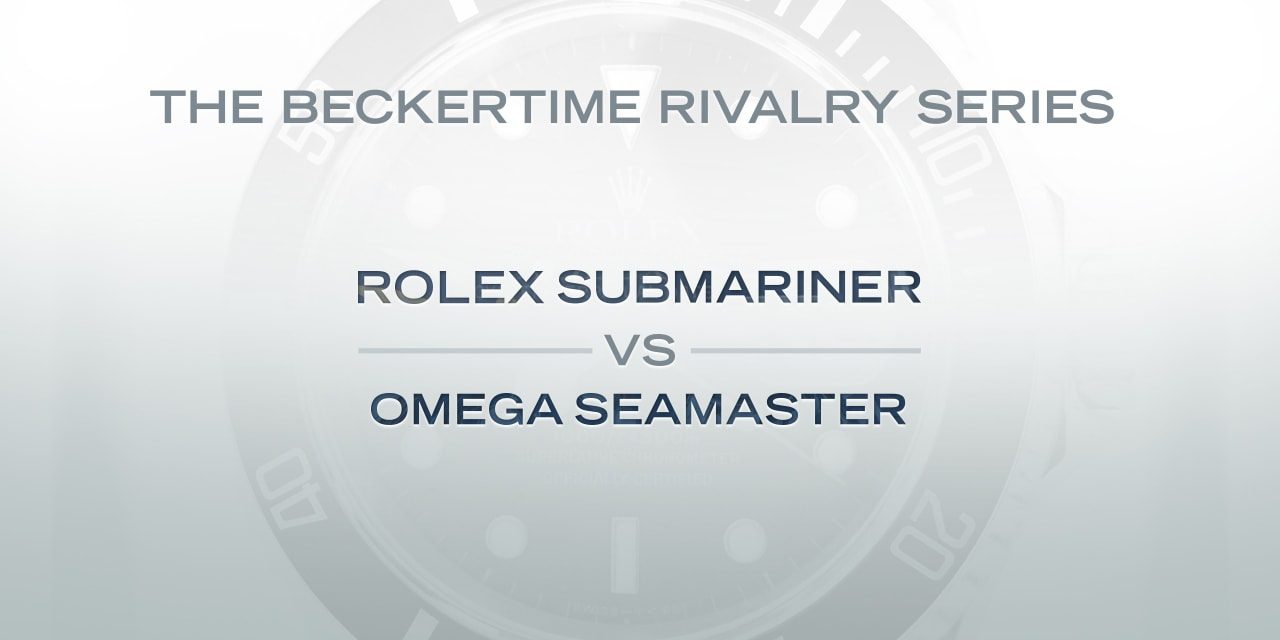 The Beckertime Rivalry Series: The Rolex Submariner Versus the Omega Seamaster
The horology industry is one rife with competition, whether it be brand against brand or even watch versus watch.
In all honesty, there's nothing like a bit of healthy sparring to both drive manufacturers forward to even greater heights as well as giving their respective fans the ability to do that thing they love best—argue.
There is no shortage of these match-ups across the sector and so we have decided to dedicate an entire series of blog posts to highlighting some of the most famous—and a number of not so famous—examples.
And to kick us off, we've chosen to jump in with both feet with perhaps the most hotly debated clash of them all; the Rolex Submariner versus the Omega Seamaster.
Here we go!
Rolex Submariner versus the Omega Seamaster
First things first, let's get the important details out the way. Which Submariner and, more crucially, which Seamaster?
There are a grand total of eight Subs in the modern Rolex collection—three in steel (including the only no-date model), two in Rolesor (two-tone steel and yellow gold) and one each in solid white and solid yellow gold. Each example has a specific bezel or dial color, ranging from black to green to blue.
And that's it. Nothing complicated. A Sub is a Sub is a Sub.
Then there's the Omega Seamaster range. Saying you wear a Seamaster is a bit like saying you drive 'a car'. Yes, but that doesn't really narrow it down.
The image that probably springs to mind first is one of the Seamaster Diver 300M models, made famous by Pierce Brosnan in Goldeneye. There are about 50 of those in the lineup currently.
Then there's the bigger brother, the Seamaster Planet Ocean. There are now more than 50 of those.
Or maybe you meant the Seamaster Heritage range (another 61 pieces) which is a throwback to the original 1950s watches and which now, for some reason, has also subsumed the Railmaster, Bullhead, Ploprof and City Editions.
And don't forget the Seamaster Aqua Terra—all 131 of them.
My math isn't perfect, but I make that eight playing about 300.
So to keep it fair, we'll go the Rolex Submariner Date standing up against the Omega Diver 300M Co-Axial Master Chronometer, both in steel and both at or near the least expensive ends of their respective families.
Rolex Submariner versus the Omega Seamaster: Basic Details
Let's do a point-by-point rundown.
The Rolex Submariner ref. 126610LN/LV
Features:
Size:—41mm
Materials:—904L Stainless Steel
Functions:—Time with Running Seconds. Date
Dial:—Black
Bezel:—Black/Green Cerachrom Unidirectional Dive Bezel
Crystal:—Sapphire with Cyclops Magnifying Lens
Water Resistance:—300m/1,000ft
Movement:—Rolex Manufacture Cal. 3235
Bracelet:—Three-Link Oyster Bracelet. 904L Steel
Price:—$9,150-$9,550
The Omega Seamaster Diver 300M
Features:
Size:—42mm
Materials:—316L Stainless Steel
Functions:—Time with Running Seconds. Date. Helium Escape Valve
Dial:—Black/Green/Blue/Grey/White
Bezel:—Black/Green/Blue Ceramic Unidirectional Dive Bezel
Crystal:—Domed Sapphire
Water Resistance:—300m/1,000ft
Movement:—Omega Manufacture Master Chronometer Caliber 8800
Bracelet:—Steel Five-Link Bracelet/Color Matched Rubber Strap
Price:—$5,100-$5,400
So, two ostensibly similar watches on the surface, but even a quick glance let's us see there are some key differences between these diving titans.
Looks
Probably the single most significant determining factor other than price for anyone in the market for one of these watches.
Right from the outset, it is worth noting that both timepieces are extremely good looking. Choose either and you get a handsome, masculine design to wear, with personal taste being the main decider.
However, the Rolex's aesthetic is the more time-honored one. That setup of high contrast black and white dial, the simple baton indexes and the iconic Mercedes handset has been such a mainstay, not just in the brand's legacy but in horology in general, for years now. So much so that, more often than not, the Submariner is the image which pops into your head when you hear the word 'watch'.
It is a look which was cemented practically from the very first reference in 1953 and it is one which has remained for the last 70-years, very much in an 'if it's not broke' kind of way.
The perfect meeting now of vintage and modern, the Sub increased in size last year to a more up-to-date 41mm, after a near-lifetime of 40mm, but drew back from the opinion-dividing Super Case which started in 2010 and returned to its formerly sweeping lines. In so doing, Rolex pulled off the most difficult trick in any industrial design; keeping both sides happy.
As for the Omega, that also marries up old and new, although the old in this case only goes back to 1993.
That was the year the 300M debuted, somehow managing to cause a sensation even in arguably watchmaking's most congested field. The style, the rich blue coloring and the distinctive wave dial all served to elevate the Seamaster above the usual Submariner-imitating fare. The fact that it immediately became 007's timepiece of choice didn't hurt either.
The current version has restored that wave dial after a generation or so of absence, now even more acutely laser-cut, and the case has also grown in size up to 42mm.
The handset is clearly legible, despite being openworked, and the indexes and bezel numerals are big and bold. Plus, it has Omega's trademark sensually curved lyre lugs adding a nice touch of individuality.
So both watches are real lookers, with Omega perhaps edging it in the contemporary stakes and the Rolex the more classically styled. In short, there is no wrong decision.
Options
As pointed out already, there are only two date-equipped steel Submariners; both with black dials, one with a corresponding black bezel, the other in green.
It is typically conservative from Rolex, a manufacture which only rarely lets its hair down and shakes things up. Does it matter? Not at all. Icons are called icons for a reason.
Omega offers far more choice, with five different dial colors and three bezel shades. The black, white and blue dial options have been massively popular for a long time now, and the more recent grey-faced piece is another standout. But the Seamaster range has been further supplemented with a green variant of its own this year, a color very much in vogue right now, and it too is sure to be very well received. It is a more muted tone than on the Submariner, not as obvious and covers both the dial and bezel.
Also unlike the Rolex, the Omega's dials are ceramic and have a definite chameleonic quality in differing light conditions.
Each Seamaster model is available on one of two strap choices. The steel bracelet is a quality item, with five staggered links and a thick, bulky clasp. But you can also up the sporty quotient with a rubber strap, color matched to each watch's bezel.
As for the Submariner, that only comes on the famous Oyster bracelet, a three-solid link band with the ingenious Glidelock extension system on the Oysterclasp for quick and easy adjustments.
Functions
At their heart, both these watches do the same thing—tell you the time and date. As complications go, that is as about as modest as they come and your choice will likely come down to which one does it in a style you enjoy most.
The Omega Seamaster however does have one other trick up its sleeve, although to be honest, it is a fairly useless one.
On the left side of the case, at the 10 o'clock position, is what looks like a second winding crown. That is actually a helium escape valve, something invented in the 1960s, ironically enough by Rolex. The brand developed it for their fledgling Sea-Dweller model, a watch designed to withstand depths far in excess of anything their Submariner was meant to experience. The Sea-Dweller was created for professional saturation divers, those who spent long weeks living under enormous pressures in underwater habitats. In those environments, the gases the divers breathed, and in particular helium, the gas with the smallest molecule of them all, would seep inside their watch cases. When those crews returned to the surface and the pressures lowered, the gases would expand and often shoot the sapphire crystals protecting the dials off, destroying the watch. The escape valve was fitted to allow the helium to leak out gradually.
On the Seamaster it is a manually operated device (Rolex's HEV opens automatically) and Omega say it can be used underwater.
Will you ever use it? I'm going to guess no, not ever. But, if you're someone who tends to fidget with things in boring office meetings, it gives hours of entertainment!
Movement
As well as the larger dimensions and return to a more svelte profile, the other big news with the latest Submariner reference is the long-awaited upgrade to Rolex's latest generation of calibers.
The much-loved and highly respected Cal. 3135 has been replaced with the Cal. 3235, bringing with it more than 90% new parts and 14 patents.
Most importantly, the Sub's upgraded engine gets the brand's proprietary Chronergy escapement and a longer mainspring, contained within a barrel with thinner walls, leading to an increase in power reserve to 70-hours.
As for accuracy, Rolex's own Superlative Chronometer certification goes far beyond anything required by the COSC, and guarantees a timekeeping precision of between -2/+2 seconds a day. The watch also carries a 5-year warranty and 10-year service interval recommendation.
With the Seamaster, as with nearly everything from Omega these days, the Caliber 8800 movement inside is a Master Chronometer. An endorsement made in conjunction with METAS, Switzerland's Federal Institute of Metrology, it not only ensures incredible accuracy (between 0/+5 seconds a day) but also the watch's resistance to magnetic fields of up to 15,000 gauss.
The Caliber 8800 is fitted with Omega's exclusive co-axial escapement as well. In essence, the co-axial eliminates all the movements which cause friction, leading to better timekeeping and longer service intervals. About every six to eight years is the suggestion.
Price
By far the biggest difference between these watches only becomes evident when it comes time to pay.
Theoretically, the Rolex Submariner costs $9,150 for the black bezeled example and $9,550 for the green.
The Seamaster costs $5,100 for a model on the rubber strap and $5,400 for the steel bracelet version, across all colors.
So that is already a big difference. But of course, this being about Rolex, it is far less straightforward than that.
Trying to walk into a Rolex authorized dealer and walk out with the Sub the same day is virtually impossible. I'm currently on the waiting list for one from my local boutique and they have no idea when they might get one to sell me, but I've been told it could be as long as two years.
The other option would be to find a new model on the preowned market, but the cheapest one I can see at the moment costs just shy of $20,000. (Nope!)
It is a situation Rolex swears up and down is not of their making, but the more cynical potential Professional Collection buyers seem to think it is just the brand restricting supply to increase the exclusivity factor on which the manufacture relies so much. Whatever it is, it is a frustrating situation.
No such problems with the Seamaster. Chances are any Omega dealership will have at least one model to tempt you with and, depending on your negotiation skills, you could conceivably wrangle yourself a small discount. At the least, you might get a few brand goodies thrown in for good will.
So, at least when it comes time to open the wallet for one of these two, it's a no contest.
That is our rundown on the perennial Submariner versus Seamaster debate. Hopefully it will have helped you along with a verdict. But if not, you can rest easy in the knowledge that, on this subject at least, there is no bad decision.
Featured Photo: BeckerTime's Archive.