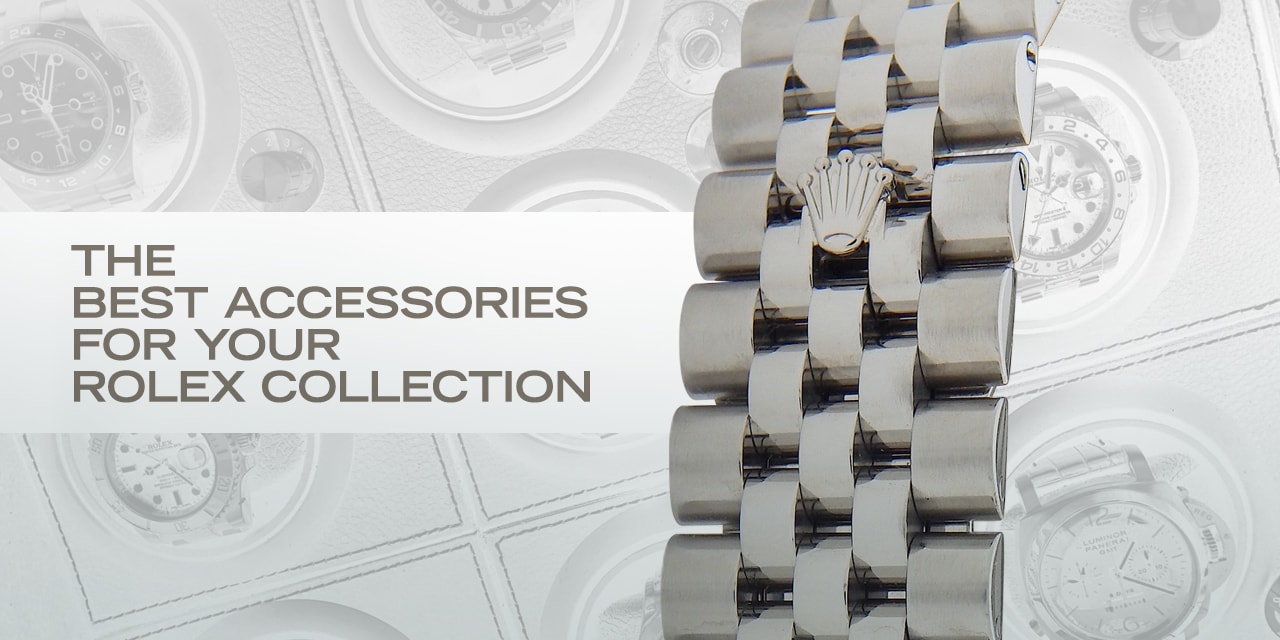 The Best Accessories for Your Rolex Collection
Building a watch collection is a real labor of love. Like any truly fine product, especially a vintage one, the work doesn't simply stop once you have tracked down and purchased that one particular reference you have had your eye on for years.
Just as you wouldn't expect a classic sports car to run issue-free forever without looking after it properly, the same is true for your collection of timepieces.
Storing or transporting luxury watches is not something to skimp on if you want them to perform at their peak, so we have put together a list of some of the best accessories available to help give your Rolexes the TLC they deserve.
Watch Winder
Rolex pioneered the concept of the self-winding watch in the 1930s when they perfected their 'Perpetual' mechanism, incorporating a crescent-shaped weight that kept the watch's mainspring wound with just the motion of the wearer's arm.
It was the invention that truly popularized the wristwatch in the eyes of the public and has formed the backbone of Rolex's, and most other manufacturers', ranges ever since.
Over the several generations that have followed, the brand's automatic calibers have been in a near constant state of refinement, until today's examples can be left stationary for the better part of three days and still keep running—what is known as their power reserve.
However, there is no escaping that the whole system inside mechanical watches relies on movement, and if you are not wearing a model regularly, it is eventually going to stop.
While not the end of the world (you can easily start them again by winding the crown) it can certainly be an inconvenience, particularly if talking about vintage date pieces that precede Rolex's Quickset feature, or a more modern annual calendar complication such as the Sky-Dweller.
An elegant solution is to invest in a watch winder. These are cases that automatically keep your timepieces moving and thus ticking along perfectly.
There are a simply bewildering number of options to choose from, either mains or battery operated, with space for just one watch or up to 12 or even more.
Of course, they have the secondary purpose of acting as display cases for your assortment of horological masterpieces, and come in every style imaginable; from old school mahogany that brings to mind antique humidors in gentleman's clubs to futuristic glass and carbon fiber creations for the ultra modern collector.
As you might expect, there is also a huge variation in cost and you can expect to pay anything from around $100 to…well, however much you want to spend.
We have a particular fondness for the LN Love Nestseries of single winders with prices starting at a very reasonable $69.99.
At the other end of the spectrum, those with more extensive collections might want to think about investing in the CheopzSafe Watch Winder, which not only has space for a dozen models but also has explosion-proof glass, an alarm and dual digital and card key locks. Yours for around $4,000. (Amazon is offering free shipping though, so…there's that!)
Travel Cases
Going on a vacation or business trip usually comes with a certain amount of wear and tear being exacted on body, soul and luggage. Airports are very few people's idea of a good time and carrying your favorite pieces through security, even in your carry-on, can be a recipe for heartbreaking damage.
If you are thinking of taking a selection of watches with you, getting yourself a dedicated travel case is definitely worth considering.
Obviously, with weight and space at a premium, you are going to need something compact. There are generally two types of travel case available—a soft roll made from canvas or leather, or a more rigid version.
Both offer excellent protection, although you will have to decide on the trade off between the lightweight advantages afforded by the former over the added safeguards of the latter.
Again, much like the automatic winders, there is an enormous amount of choice here, and they have the prices to match. However, this is one arena where it can really pay dividends to stretch the budget a little to get the very best.
Check out theBamford Watch Department'scamouflage-print suede roll. Coming in at around $230 it might seem a little pricey, but the soft, thick material is of the highest quality and gives superb defense against traveling's rough treatment. With enough space for up to six watches, it makes a neat and stylish companion.
At the money-no-object end, there is the Santiago Gonzalez Crocodile Watch Roll. Achingly sophisticated, this robust case is made from tough hide and has a soft, cushioned interior to pamper your precious cargo. It does come at a price though—about $995 to be exact.
Bracelets
As beautifully engineered as they are, even Rolex metal bracelets are prone to damage or stretching over time. To get your band back to wearable condition, it can be as simple as adjusting the length by removing a link, or it could be that you need to replace the bracelet altogether.
You will find there is no shortage of options should you need a new Oyster or Jubilee for your cherished piece, but beyond that, there are a number of possibilities open to you for changing up the look of your watch entirely.
Fitting an old favorite with a leather or rubber bracelet from one of the slew of third-party manufacturers out there can completely rejuvenate the overall aesthetic of the piece.
One company that takes this sort of thing extremely seriously is Everest, a former Kickstarter brand that makes model, and even reference, specific straps for almost every model in the Rolex catalog.
They offer a wide range of bracelets, in either vulcanized rubber or vegetable tanned leather, each one specifically tailored to fit the various contours of the modern Rolex range. For instance, the Submariner, from the 1980s examples to present day, can be fitted with bracelets perfectly rounded to marry up to the shape of the case, giving a gap-free connection between the two.
The rubber straps come in a choice of six custom colors and give a definite contemporary, sporty aspect, while the leather, with four color options, add a real touch of unorthodox class.
While certainly not cheap (the straps vary in price for around $210 to $250) they excel at utterly transforming and modernizing the appearance of your watch, and helping you stand out from the crowd.
Sized to your requirements and supplied with 2.0mm spring bars, they make a great alternative to the ubiquitous metal bracelets.
— Feature Photo: BeckerTime Archive.