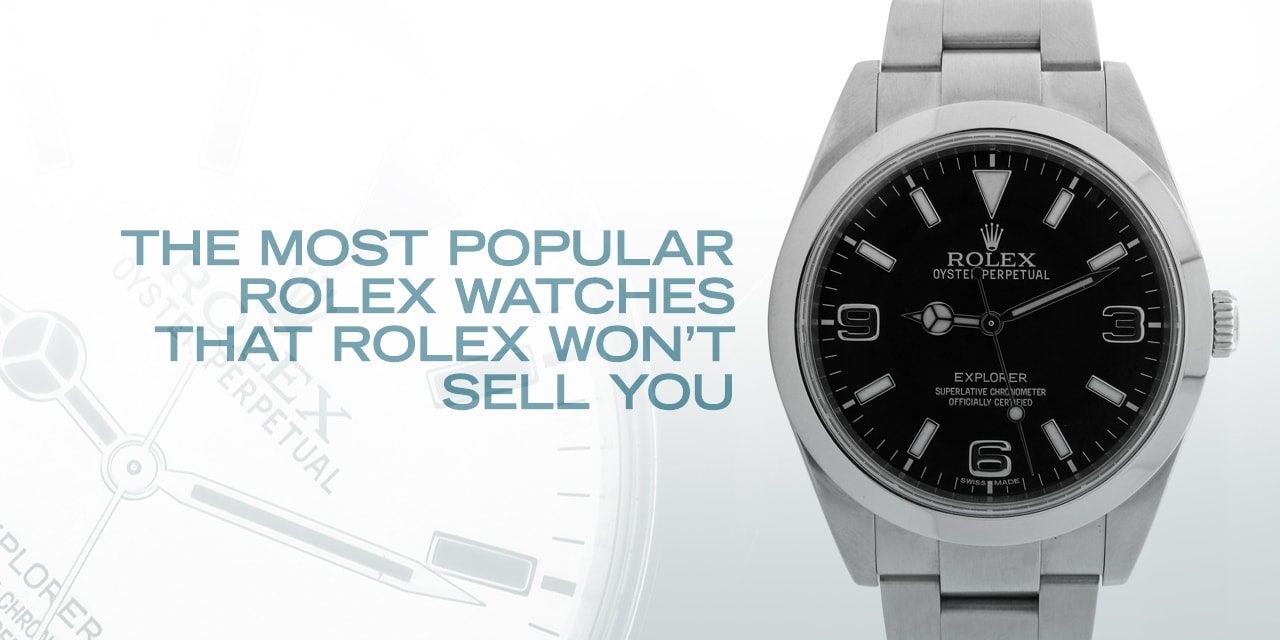 The Most Popular Rolex Watches That Rolex Won't Sell You
I guess part of being a collector, of anything, is having to deal with a certain amount of frustration.
In most cases, an item's value is linked to its obtainability or lack thereof, and nowhere more so than with Rolex watches.
If you're shopping around for your first and innocently wander into your local boutique, credit card in hand, expecting to walk out with a brand new Submariner or Daytona, you're in for a rude awakening. Your chances hover around the zero-or-less mark and in some places (my local AD being one of them) you have only slightly better odds of even getting on the waiting list.
And that is for models the brand is currently still making.
Every year Rolex retires handfuls of their watches, either completely or in favor of an upgraded version, leaving disappointed would-be consumers in their wake. Many of these pieces enjoyed a huge amount of popularity while still in production and are very sorely missed, often leaving us all confused as to why they would be discontinued.
Below we have picked out a number of our favorites—Rolex watches you can now only find on the preowned market.
The Rolex Explorer ref. 214270
I'm putting this one at the start because I took it really personally! The Explorer has long been my all-time most wanted Rolex; an austere, stripped-down work of art, the dark horse of the whole collection, created to celebrate a magnificent human triumph and one which has gone practically unchanged since its introduction in 1953.
Moreover, it has, in my opinion, the subtlest 'cool' factor of any Rolex. Yes, the Submariner might always be looked at as the James Bond watch, but you know who wore an Explorer his whole life? Ian Fleming.
The only problem with it, for me, was the size. For the first 57 years of its life the Explorer was issued solely as a 36mm model; ideal dimensions for a 20th-century piece, but conspicuously small in more modern times for what is, technically, a tool watch.
So you can imagine my delight when, in 2010, Rolex took the completely unexpected step of bumping those measurements up to 39mm. Finally, an Explorer that wouldn't look out of place on the wrist of a 6'7" Slenderman lookalike.
Sadly, that was also the year I bought a house and started a family, and my wife insisted that any money I made should go towards supporting both (I know! There's no telling what will set them off).
Still, there was no rush. With the trend for ever-increasing watch sizes, this new model was sure to be around forever. It might even go bigger.
Flash forward to 2021. Rolex decides to retire the 39mm Explorer and take it back to 36mm, just as I was on the cusp of pulling the trigger (I may have bought one or eight other watches in the interim, but that's just between us).
Why they did it, I have no idea. I also don't know why they elected to release a Rolesor version, something else which had never cropped up in the model's extremely long history. What I do know is that I had to pay £3,000 over the retail price to secure my Explorer ref. 214270 as a preowned buy, as it became a hugely sought-after piece almost immediately.
Still, as much as that stung, it was worth it. It is the watch I look at the most when I'm wearing it, whether I'm wondering what the time is or not.
In my view, Rolex has never spawned a cleaner or more successful design. That softly curving case with its polished flanks and bezel. The Mercedes hands swamped in lume. The jet black dial and those 3/6/9 numerals, as inconsequential as they sound, lift the whole thing to a different plane.
It will always be an understated masterpiece in whatever size it is issued but, for me, the 39mm version is unsurpassed.
Rolex Oyster Perpetual 41 ref. 124300 'Tiffany' Blue Dial
This is a strange one. Demand for the Oyster Perpetual, the all-things-to-all-people, multi-sized gateway into Rolex ownership, went insane last year and it was really all the fault of Patek Philippe.
The final hurrah of Patek's outgoing legend, the ref. 5711 Nautilus, was a strictly limited edition cosigned by Tiffany's & Co. featuring a dial in the same duck egg blue as the famed jeweler's branding. With only 170-pieces being produced (one for every year Tiffany's and Patek have been in partnership) the clamor for this particular variant of what was probably the most desirable watch of the last 20 years became like nothing else we've ever seen. Its official price of $52,635 was little more than a joke and examples have since been auctioned for more than $6.5m.
The paucity of that limited edition obviously left many people disappointed and so other watches sporting dials in 'Tiffany Blue' subsequently exploded in popularity as it became the shade of 2021.
Enter the Oyster Perpetual. Rolex released a number of brightly colored versions of the OP in 2020 in a range of sizes, including the debut of a new 41mm model. Taking their cue from the Stella dialed Day-Date's of the 1970s, the watch became available in lurid shades of green, red and yellow, as well as a pleasing turquoise which wasn't a million miles away from that of a certain jewelry store's logo.
All of a sudden the most overlooked watch in Rolex's collection went stratospheric, taking it from its official asking price of around $5,900 to its current position on the preowned market where you will be lucky to get your hands on one for under $30,000.
The fact the watch had nothing to do with Tiffany's at all didn't seem to matter, even though the two entities have enjoyed a long and fruitful relationship in the past, from the 1950s to the end of the '90s. There was no double signature on the dial and the color wasn't an exact match either. Regardless, you will still see it sold on the secondary market as the Tiffany Oyster Perpetual 41.
But one place you won't find it is on the Rolex website. By Watches & Wonders 2022 it was gone, having been in production for just two years. As with the 39mm Explorer, why the brand decided to axe this obvious golden goose is a mystery and will likely remain so, and the same with all the red and yellow models which were similarly done away with.
Happily, however, you can still get a blue OP in either 31mm or 36mm but once again, best of luck obtaining one through official channels.
Rolex GMT-Master II ref. 116710LN
Rolex's renowned dual time companion, the GMT-Master II, is a textbook example of just how important the use of color is in the overall success of any timepiece design.
From the outset, the model's bezel has been central to the identity of the watch, starting out with a blue and red split, instantly coined the 'Pepsi' by fans.
Other combinations followed, with each one garnering its own unofficial nickname from Rolex devotees. The brown and gold version stemming from the end of the '60s and still selling hotly today has always been dubbed the 'Root Beer'. Continuing the soda theme, the fondly remembered black and red mix will forever be the 'Coke'. And most recently, the first twin shade GMT bezel cast in Rolex's own Cerachrom ceramic material is known as the 'Batman' for its blue and black livery.
However, in a bid to cater to as many buyers as possible, the brand also offered an all-black surround from as far back as the ref. 1675 of 1967. More understated than the colorized versions, this was a watch for the discreet luxury traveler—someone who needed a way to keep tabs on two (or three) time zones at once but who had no desire to show off about it.
It was always something of an odd inclusion in the range because as well as providing a stylistic focal point, the two-color bezels also had practical value. The strong contrast told the wearer at a glance whether the additional GMT hour hand was pointing at the nighttime or daytime half of the bezel. More than that, it separated the watch, visually, from the Submariner, with the two looking extremely similar in most other respects.
Still, it was a popular alternative, so when the GMT-Master hit its half-century in 2005 it became the piece Rolex elected to demonstrate their new Cerachrom alloy. And as they had yet to perfect the process which allowed them to add two colors to it, the anniversary watches all came fitted with solid black bezels.
The ref. 116718LN was the first, an 18k gold model with either black or green dial. 2006 brought us the Rolesor ref. 116713LN, with the all-steel ref. 116710LN finally arriving in 2007.
All three references continued in the lineup until 2019 when they were withdrawn, and they now stand as the last of the type to feature a single color bezel. Interestingly, that generation of the GMT was also the one to unveil Rolex's love-it-or-hate-it Super Case, with its bulked-up shoulders and fatter crown guards.
So, we have a relatively short-lived, steel example of the most-loved traveler's watch in existence, from the most admired manufacture in the world, and it is one which both unveiled brand new elements and retired others. To anyone even remotely familiar with watch collecting, or collecting in general, that all adds up to an almost ironclad future asset. Strangely, however, you can still pick up examples of the ref. 116710LN on the preowned market for around $15,000, making it possibly one of the most tempting bargains in the industry.
At Beckertime, we would never advocate buying a watch merely for its investment potential, but if that is something on which you have at least half an eye, we would certainly recommend getting in sooner rather than later.
— Featured Photo: BeckerTime's Archive