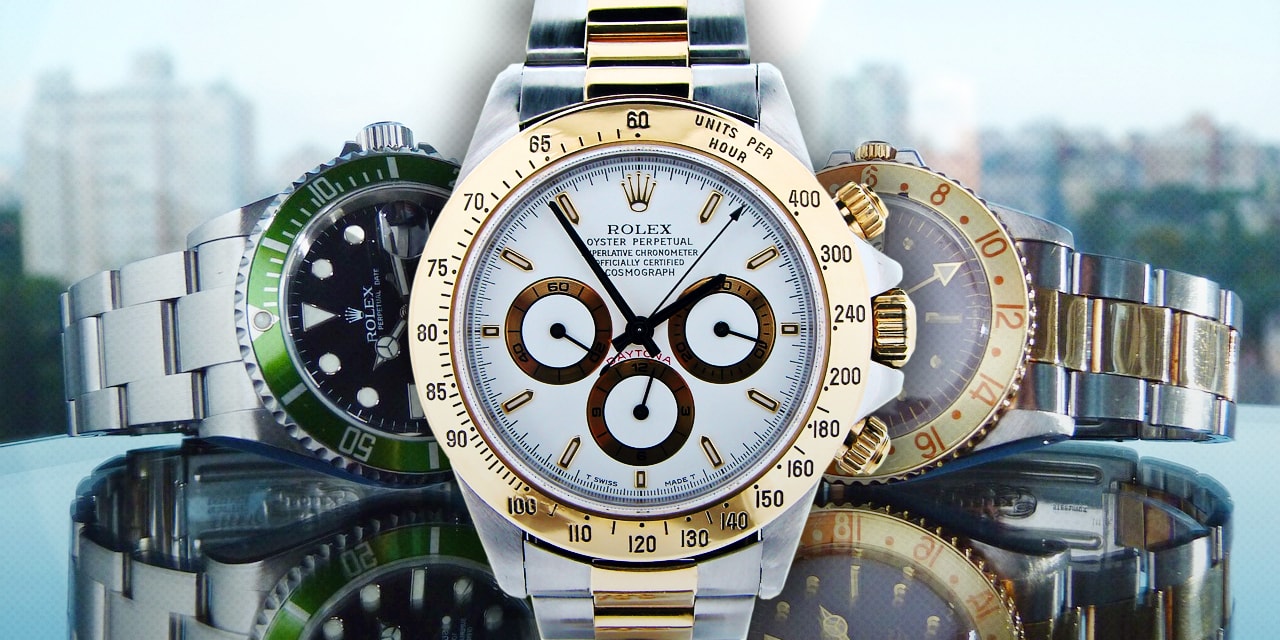 The Preowned Rolex Market
With its current staggering popularity, it can be something of a surprise to learn just how new the phenomenon of watch collecting is.
It wasn't really until the start of the 1980s that the market for vintage wristwatches began, any sparse interest before that going to accumulating antique pocket watches.
But from around 1982 onwards, a number of the top luxury manufacturers took to the auction scene, buying back some of the more historically important pieces which had been sold in their earlier days, and placing them in their own museums.
Before long, with the excesses of the decade in full flow, collecting classic timepieces became both a major hobby for the general public, as well as one more way those with plenty of cash could park some of their money. Wristwatches as an investment was something few people had considered before, but as demand for ever rarer models from the past exploded, helped along by the typical collector's one-upmanship factor, prices at the top end increased significantly.
d
Then as now, there were a handful of manufacturers that were massively sought after, not just as a future financial asset, but for their aesthetics, provenance and engineering virtuosity. And sitting right at the top of this particular tree, like today, was Rolex.
The Offline Days
There is no denying that the internet has done more to popularize watch collecting than just about anything else. It has given a universally accessible platform for anyone to buy and sell their pieces, whether they are doing it professionally, as a part time gig or just as a one-off.
In the pre-internet days, it was far trickier. Dedicated watch auctions didn't exist until the mid-80s, with Antiquorum leading the way. Before then, any timepieces up for sale tended to be bundled in with other high value items, and the events themselves were seen as solely for the élite, restricting access to all but the wealthy and well connected.
As collecting grew in popularity throughout the decade however, a number of magazines emerged to allow people to not only trade in watches, but to provide the sort of depth of information that is so essential to the occupation. At the same time, several other auction houses joined the movement and started holding sales of some extremely prized watches from various manufacturers. Antiquorum themselves were the first to put on a thematic auction, devoted to just one brand, when they celebrated the 150th anniversary of one of the horology world's grandest houses in 1989 with the Art of Patek Philippe sale.
And where were Rolex in all of this? They were in the middle of reinventing themselves at the time, from the makers of elegantly tough tool watches into the ultimate lifestyle brand. Whether they wanted to or not, the move was forced on them by the quartz crisis which had already wiped out the majority of their traditional Swiss compatriots. Realizing springs and gears were not going to be able to compete with the flood of electronic models coming in from Japan and the U.S. on terms of affordability or accuracy, they decided to do battle on things like luxuriousness, heritage and the sheer aspirational quality of a fine mechanical timepiece.
Although no Rolex has ever been described as cheap, the company increased prices considerably during the 80s, instantly making their watches less affordable and therefore more desirable. They also began upping the opulence quotient on many models, with diamond and other gemstone accents on dials and bezels.
On the whole, it was a hugely successful strategy and initiated the process of elevating the Rolex name beyond all others in the industry, to where they still are today. But there was one model in particular that performed so well, it not only underlined the brand as the most innovative and important watchmakers on the planet, it is also thought in some quarters to have been responsible for the exponential rise of watch collecting itself.
The Daytona
Rolex's Cosmograph Daytona had been around and underperforming for a quarter of a century by 1988, which was the year the second generation launched.
Unlike the earlier iteration, this one had an automatic caliber, a heavily reworked version of Zenith's El Primero. With Rolex's burgeoning reputation as makers of both the finest watches and the best status symbols, coupled with the rarity of a chronograph that could wind itself, demand for the Daytona was massive. Unfortunately (but actually fortuitously), because the model's movement was being supplied from outside and each one had to undergo major surgery before being put to work, production times were relatively slow and the company was unable to keep up. In a scene we are all far too familiar with now, long waiting lists started to develop, as well as huge premiums being charged for those wanting to jump the queue.
But there were a large number of people unwilling to either wait or pay over the odds, and for them the only option was to delve back into the archives and find themselves one of the original manually-winding pieces.
Pretty soon, prices for these once shunned watches were heading a long way north, and one especially unusual variant with a three-color dial was selling for huge sums. The exotic dial Daytonas were pretty scarce anyway, with only one being made for every 20 regular models, but their association to movie legend Paul Newman put it in another league altogether. The desirability of the watch was immense and they would soon come to dominate the industry.
Even so, the preowned market was still very much in its infancy, and remained fairly exclusive. It wouldn't be until the start of the 1990s that the playing field really leveled out.
Going Online
On the 6th August 1991, the internet became publicly available. Over the next few years, it would transform…well, everything really. The way we watched TV, read books, socialized, shared knowledge—and bought preowned watches.
Even in the Information Age, the popularity of traditional mechanical timepieces continued to grow, with not even the rise of Smart Watches able to overtake them.
Numerous platforms sprang up to give people the opportunity to buy and sell their pieces, and even more were generated in order to exchange information; something it soon became apparent was vital. With the potential profits in the vintage watch market rising year after year, it was only a matter of time before the less than honest element made an entrance. Fake models became more abundant, with Rolex the main target for two reasons. Firstly, they were the most recognizable and popular watchmakers in the world, a globally accepted symbol of success. And secondly, compared to the likes of Patek or Audemars Piguet, they were reasonably simple to copy. Even if parts of a watch for sale were genuine, many would have replacement components passed off as the original, so ruining the value. The various forums that appeared online became essential to helping avoid these forgeries and Frankenwatches.
In all, the internet made the whole thing more democratic, and more inclusive. Now anyone with a computer connection could learn all they needed to know to get the watch they wanted, as well as an easy way to actually buy it, without having to negotiate the auction house scene.
It was not all just on a screen though. Several groups developed, such as RedBar, which consisted of a number of true-blue enthusiasts meeting up in their various chapters around the world to show off their latest acquisition, share their passion for horology in general and trade pieces with other members. The obvious benefit to this was being able to handle the watch itself and verify its authenticity in the flesh rather than in a photo.
Preowned Rolex
Of all the top marques, none perform as well as Rolex on the preowned market. They are by far the most well-known manufacturer of all time and a byword for achievement and success. But more than that, in order to maintain their reputation of exclusivity, the brand has severely limited the production of some of their most desirable creations. We are now in a position where it is next to impossible to walk into an authorized Rolex dealer and come out with a steel sports watch of any description. That has led to prices of sometimes double the retail, or even more, being levied on so-called preowned models through independent vendors.
As for the real vintage pieces from the 50s, 60s and 70s, their star continues to rise.
What were once seen as robust and reliable watches meant for professionals doing a job are now looked at more as works of art. The rarest examples change hands for staggering amounts, perhaps none more so than the Paul Newman Daytonas we looked at earlier.
But each new year seems to bring up a new favorite. More recently, the humble Explorer has enjoyed a resurgence, with fans drawn to its essential toolishness, the original spirit of Rolex from the old days.
One thing is certain; the brand dominates the preowned luxury watch market and will more than likely continue to do so. Whether in terms of pure aesthetics, historic importance or merely investment potential, nothing compares to Rolex.
— Featured Photo Credit: Pixabay (cc) & BeckerTime's Archive.