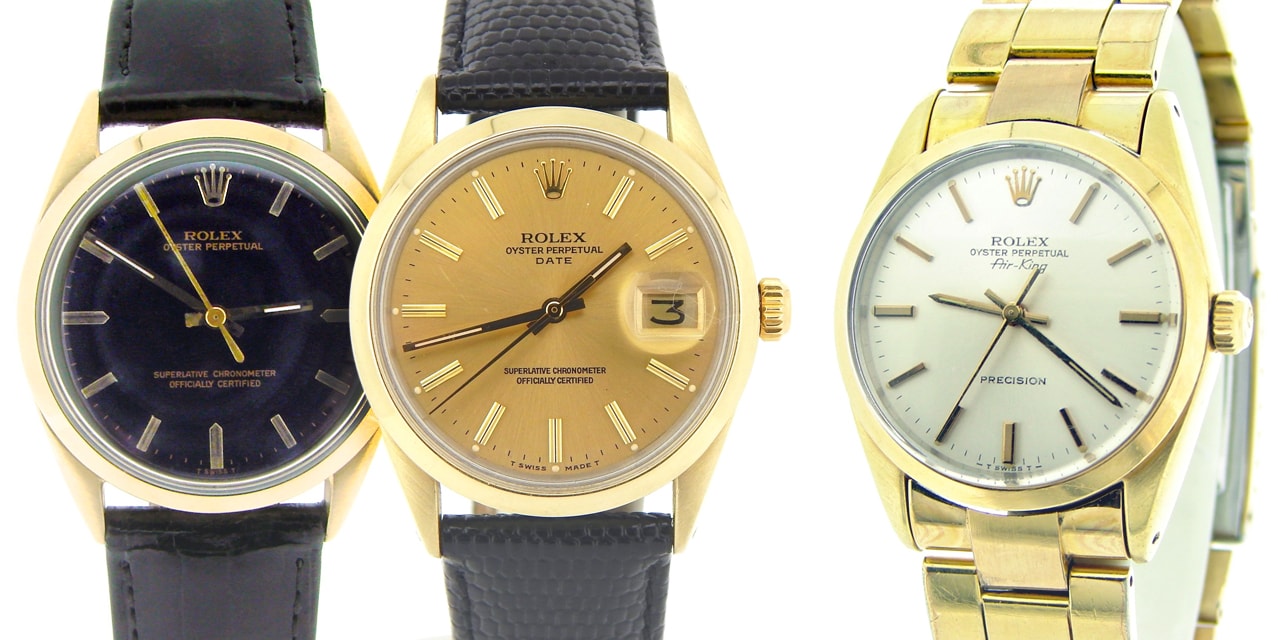 The Rolex Metals Series: Gold Shell
These days, Rolex is very much the purveyor of the aspirational lifestyle and the last word in luxurious exclusivity.
Buying a Rolex watch in the modern era is an event—and they want it to feel special. At the top end, that is achieved by some eye-wateringly high prices, reserving the most elite pieces for only those select few with serious buying power. As for the entry level, the brand ruthlessly restricts the supply of many of their biggest hitters—the steel sports models in particular—so customers are obliged to draw on impressive levels of patience to sit out their time on the official waiting lists. Or, of course, they can jump the queue on the preowned market—with its eye-wateringly high prices.
It all comes down to making sure that owning a Rolex is something truly out of the ordinary.
It hasn't always been that way though. The brand got themselves in this enviable position through decades of producing fine watches at all price points; still maintaining a reputation of superior craftsmanship, but appealing to a wider base.
To that end, the company has used a number of different materials and practices in their construction, and one of the most accessible is what is known as gold shell.
No longer found anywhere in the lineup, it was something which offered all the opulent bearing of a solid gold watch but at a reduced cost.
Below, we take a look in a bit more detail.
What is Gold Shell?
A Rolex gold shell watch describes one with a stainless steel case, over which has been laid a relatively thick layer of 14K gold.
The sheet of the precious metal was then pressure formed, hammered and soldered into place, before being finished and polished as normal.
It gives the appearance, at first glance, of an all-gold watch, although they can usually be identified by looking at the rehaut (the inner bezel ring surrounding the dial). This would be left with the bare steel, whereas it would also be gold on a solid model.
Sometimes known as gold cap, it acted as a step up from another method commonly used in jewelry making; gold plating. That would involve using an electro-chemical process to fuse the two metals together, leaving only a very thin coat, usually somewhere between 10-20 microns thick.
According to Rolex adverts at the time (where the watches are referred to as 'Golden Eggs') their gold shell models had a coating of 240 microns, about the thickness of two-and-a-half sheets of paper. Other manufacturers at the time, the likes of Bulova or Elgin, also produced gold cap models, typically 10K and about 100 microns thick.
Rolex's Gold Shell Watches
Although fairly popular, Rolex used gold shell only sparingly and it was restricted to just a small handful of models.
Below, we have listed Rolex's gold shell watches.
The Air-King
The Date
| Ref. | Year |
| --- | --- |
| 1550 | 1977-1983 |
| 15505 | 1983-1992 |
The Oyster Perpetual
| Ref. | Year |
| --- | --- |
| 6334 | 1954-1959 |
| 1024 | 1964-1989 |
| 1005 | 1959-1983 |
— Featured Photo Credit: BeckerTime's Archive.