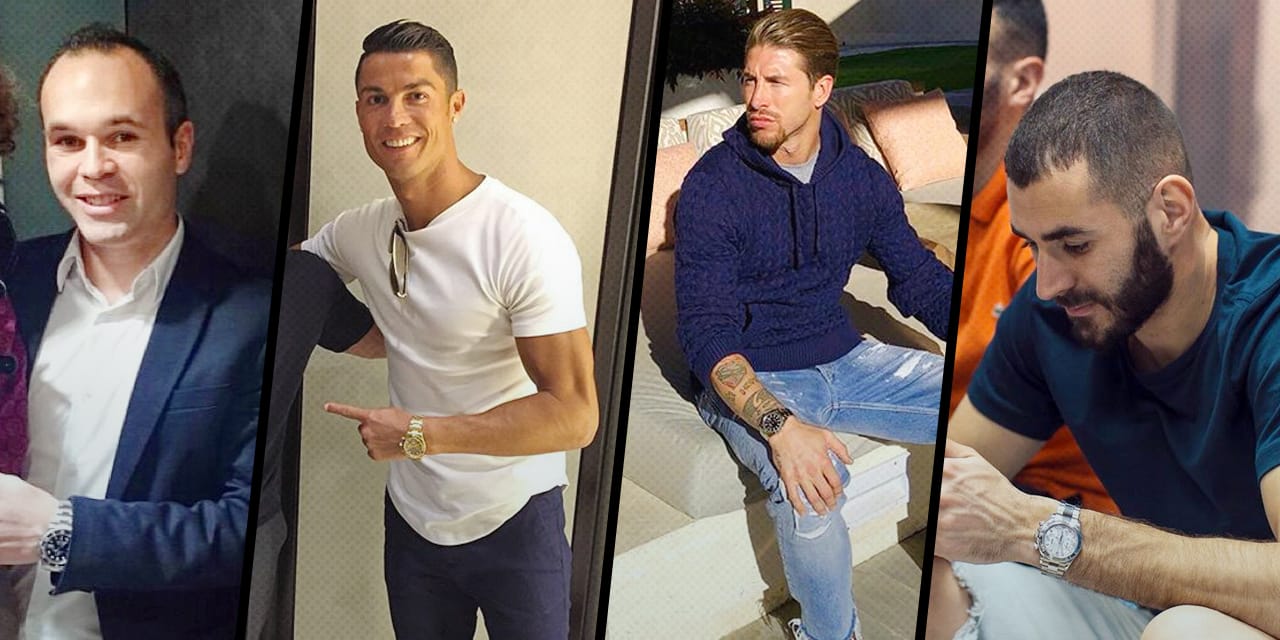 The Rolex Watches that the World's Best Soccer Players Sport
Soccer (or football to the rest of the world) fans are gearing up for the FIFA World Cup 2018—the sport's most elite tournament. Scheduled only every four years, this year's edition is set to take place in Russia starting June 14 and will run for just over 30 days. Although Team USA did not qualify for the World Cup this time, we'll still be tuning to the games to watch other nations play for the trophy. In fact, the FIFA World Cup is the most viewed sporting event internationally with billions of people watching the tournament. Unsurprisingly, with legions of fans following their every move, soccer players are some of the highest paid athletes. And what do these super rich celebrity athletes spend their cash on? Along with mansions, cars, planes, and boats, we've spotted a ton of top timepieces too. Of course, there are plenty of Rolex watches to go around in the professional soccer crowd, so let's have a closer look at some of the favorites.
The Rolex Daytona Watches
After a quick look at what top soccer players wear when they're not on the field, it becomes immediately clear that the Rolex Daytona is the must-have luxury timepiece. While the sport's most famous player, Cristiano Ronaldo (Real Madrid/Portugal), is an ambassador for TAG Heuer, he still wears his yellow gold Rolex Daytona (and yellow gold Sky-Dweller).
Other soccer stars that wear a yellow gold Daytona are Alexis Sanchez (Manchester United/Chile), James Rodriguez (Bayern Munich/Columbia), Philippe Coutinho (Barcelona/Brazil), and Karim Benzema (Real Madrid/France). In fact, Karim Benzema has an impressive amount of Rolex watches in his collection, such as a white gold Daytona, a two tone Submariner, the green "Hulk" Submariner, the white gold and blue "Smurf" Submariner, and a yellow gold Day-Date President to name a few.
On the other hand, Sergio Ramos (Real Madrid/Spain), Sami Khedira (Juventus/Germany), and Leroy Sané (Manchester City/Germany) love to wear their Everose gold Daytona watches often.
Stainless steel Daytona watches are also popular with famous soccer players. Paulo Dybala (Juventus/Argentina) wears a full steel Daytona while Simon Mignolet (Liverpool/Belgium) and Manuel Neuer (Bayern Munich/Germany) both wear the new steel and ceramic Daytona.
Finally, we've spotted the ultra-lavish anniversary platinum Daytona with the brown ceramic bezel on the wrists of Zlatan Ibrahimovic (LA Galaxy/Sweden) and Mesut Ozil (Arsenal/Germany).
The Rolex Submariner Watches
Along with the Daytona chronograph, the Rolex Submariner dive watch is also a popular choice for soccer's leading players. In addition to their Daytona watches mentioned above, James Rodriguez wears a two tone steel and gold Submariner while Sergio Ramos wears a yellow gold and blue Submariner.
What's more, Mario Balotelli (Nice/Italy) has been spotted with his stainless steel Submariner, as has Andres Iniesta (Barcelona/Spain).
We recently covered the favorite Rolex watches of NBA basketball players and it was evident that their favorite Rolex watches were Day-Date President models and Sky-Dweller models. So it's an interesting comparison that soccer players tend to lean towards Daytona chronographs and Submariner models. Regardless of the models, all these Rolex sports watches are simply superb and these incredible athletes who are currently at the top of their game look fantastic sporting them.
— Featured Photo Credits: Official Instagram of Celebrities in this Blog Post.