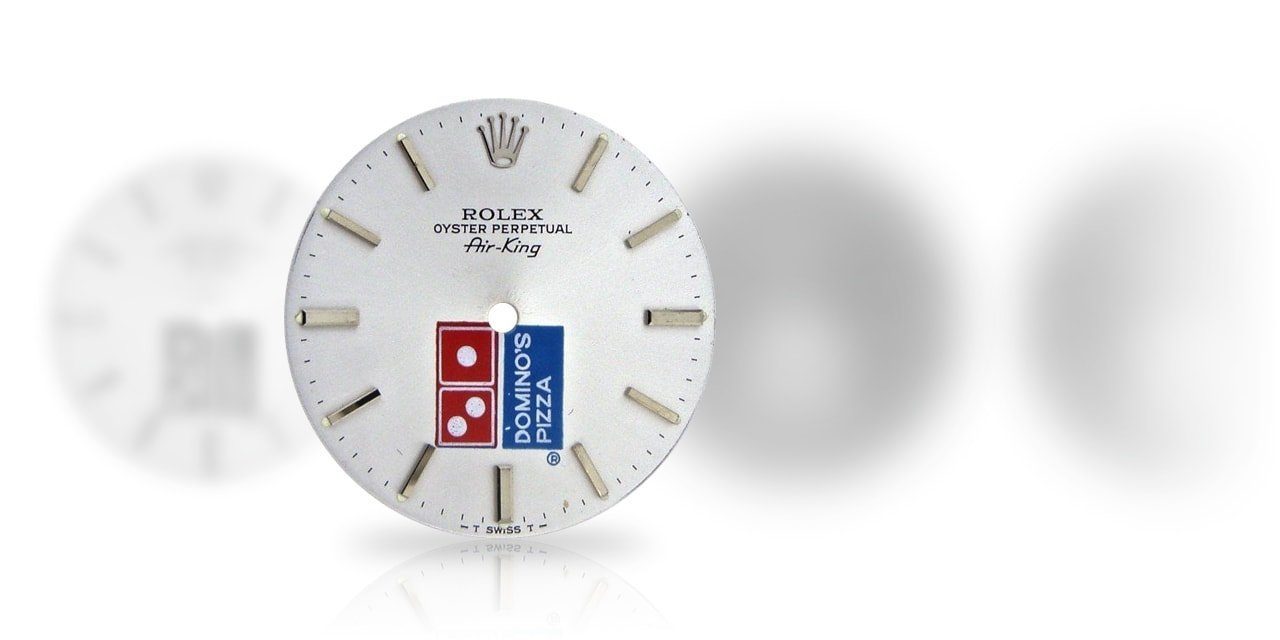 The Top 10 Rolex Dials
Of all the numerous elements that go into making a watch, the dial is by far the most immediately striking. For it to be a success, every feature, from the color to the indexes to the material, has to be able to work together to form an harmonious whole.
Much like our own faces, there is an almost infinite variety out there, and Rolex are responsible for some of the most remarkable examples—and it is something they continue to pioneer in their contemporary collection.
Below, we have raided the archives as well as looked at the modern portfolio to bring you our Top 10 Rolex Dials.
The Rolex Submariner ref. 1680/8
For a brand which has done more than any other to perfect the wristwatch, it is something of an irony just how excited Rolex collectors get over imperfections.
Many of the most desired and sought after vintage pieces become so valuable precisely because they are flawed in some way.
Released in 1978, the first Submariner to be offered in solid gold (and the first series to include a date function), the ref. 1680/8, came in two variants. One with black dial and bezel, and this, the same watch but in blue.
However, while that was distinctive enough, through the years those blue faces have changed to a rich purple—a form of 'tropical' dial coloring caused by exposure to sunlight and a certain amount of moisture.
The defect is one that continues over time, making each watch ever changing and unique, and to a collector, unique equals prestigious. Complete with their retro nipple style hour markers, these regal-looking Subs command significant premiums on the preowned market.
Rolex Daytona ref. 16520 Patrizzi
Another mistake from Rolex which causes fans to go weak at the knees (and bank accounts), the so-called Patrizzi dials also feature a color change, although of a less noticeable kind.
When the second generation of the world's favorite chronograph received a self-winding movement for the first time in 1988, the so-called Zenith Daytona range kicked off with a steel model, the ref. 16520, available with either a black or white dial.
For a very short time between 1994 and 1995, Rolex used an organic varnish called Zapon on the black dialed versions which, it was discovered later, did not provide the necessary coverage to the whole face. In another form of tropical fading, the silver outer rings on the iconic trio of sub dials on these examples have oxidized as they react with UV rays, turning a golden brown color.
Named after Antiquorum founder Osvaldo Patrizzi, who was the first to discover the fault, these increasingly rare models regularly trade for more than twice the price of unaffected models from the same generation.
GMT-Master ref. 6542 Albino
In the world of Rolex collecting, there's rare, ultra rare and mythical. This is the latter.
The ref. 6542 is the original GMT-Master, first released in 1954. It was a collaboration project between Rolex and leading airline Pan-Am, the carrier in need of a watch capable of showing two time zones simultaneously in order to help their crews fight off jetlag.
The result was a massive success from the start, and quickly became the ultimate travel companion. While Pan-Am's pilots were given black dialed versions, the company, as the story goes, ordered around 100 white dialed pieces for their executives.
However, it is so long ago and the watch is so rare, its existence has now crossed over into folklore. If one does occasionally crop up at auction, it is usually followed by cries of fake!
One of those that even the hardest of hardcore devotees might go their whole lives without seeing, the Albino GMT-Master is about as enigmatic as Rolex gets.
Rolex GMT-Master II ref. 126719BLRO
Coming right up to date with that dual time zone legend, the last few years have seen Rolex introduce a host of exciting developments. The reinstatement of the Pepsi color scheme on a steel model has set new levels for desirability, and something as simple as putting the blue and black Batman variant on a Jubilee bracelet has done the same.
But for those wanting something truly one-of-a-kind, 2019 brought us the ref. 126719BLRO, a white gold case topped with a dial crafted from meteorite.
It is not the first time the brand has used the material. The Daytona, Day-Date and Datejust have all been issued with dials made from slivers of the Gibeon meteorite which was discovered in Namibia in 1838.
The famous Widmanstätten pattern that forms on its surface, caused by the cooling of its crystallized iron and nickel composites, makes each slice unique—perfect for use in a highly exclusive watch.
With the Namibian government now imposing a ban on any more of the meteorite being used for any purpose, these new additions to the stellar GMT series are assured of grail watch status in the future.
Rolex Day-Date ref. 1803 Stella Dial
Speaking of stellar (see what I did there?!) the 1970s gave rise to a brief run of anti-establishment rebellion among that most conservative of icons, the Day-Date.
The watch of world leaders and business moguls got the full-on John Lennon Rolls Royce treatment when Rolex fitted the ref. 1803 with a range of blindingly psychedelic dials in bright pink, orange, lime green, turquoise and a host of others.
The lacquered, multi-layered enamel faces transformed the poster-child for traditionalism into a flamboyant showman. Named after American artist Frank Stella, renowned for his peacockish color palette, the Stella dial Day-Dates were aimed at a Middle Eastern market. But they were slow sellers, leading to a short production run, and it would take until 2013 before a new series of colorful faces would grace the grand old statesman of dress watches.
Rolex Air-King Dominoes Pizza
If you tried to think of a brand lesslikely to be associated with Rolex, then Dominoes Pizza would likely be near the top of the list.
Yet, the world's leading manufacturer of luxury watches and the fast food chain have had a collaboration for decades. Somehow, Dominoes were granted permission to co-brand with Rolex on their Air-King model, slapping their logo on the face at the six o'clock. The resulting piece was gifted to managers whose stores hit $30,000 in weekly sales for four weeks in a row.
Rolex used to have a tradition of adding various company insignia to their dials on a number of pieces for similar reasons, with the watches usually acting as retirement presents for departing workers with many years service.
However, it doesn't happen anymore, and while the Dominoes partnership is still ongoing, the company's trademark has now shifted to a more inconspicuous location on the bracelet.
The double logo dial models are fairly rare, although no one seems to have any idea just how many there are in circulation. But they are definitely unusual, and as such command something in the region of 10-20% over the price of standard models.
Rolex Daytona Paul Newman
There just cannot be a list of this type without mentioning the daddy of all desirable dials, the Paul Newmans.
Officially called the 'exotic' dials, these colorful and extremely rare Art Deco variations on the customary face were fitted to some of the first six references of the Rolex Daytona.
Made not by Rolex themselves but by auxiliary brand Singer, and usually by special order, they came out of total obscurity in the 1970s when one found its way onto the wrist of Hollywood royalty. A gift from wife Joanne Woodward as he embarked on his motor racing career, one photo on the cover of an Italian magazine of Paul Newman wearing his ref. 6239 was all it took to catapult the watch into the firmament.
Today, a first generation Daytona with an exotic dial will dwarf the price of a standard piece, and you would be very lucky to find one for less than $200,000. Yet that's peanuts compared to what was paid for the actual model worn by the man himself. In 2017, Paul Newman's Paul Newman became the most expensive wristwatch ever sold at auction when the hammer dropped at $17.7m.
Rolex ref. 6085 'The Dragon'
The 1950s were an extraordinary time for Rolex, a period of inventiveness unrivalled by any other even in their own storied saga.
As well as giving rise to a range of watches which have since gone onto superstardom, it was also a period where the brand experimented widely.
One such venture brought us this, a ref. 6085 Oyster Perpetual with a stunning Cloisonné enamel dial.
Created for Rolex by famous dial makers Stern Frères, they are almost unbelievably low in number. It is thought only five were ever produced depicting a dragon, each fitted to a different reference, making this watch absolutely unique.
It is an incredibly tricky and costly technique, involving laying out the framework for the design in gold wire, before filling each part in with different color enamel powder and firing at 1,000 degrees.
Everything is done by hand, including the final polishing to ensure the delicate surface doesn't crack.
As you would expect, seeing these for sales is something of an event, and this particular example, a 33mm watch in a 14k yellow gold case, went for CHF 670,000 in 2016.
Rolex Date ref. 6694 Mickey Mouse
If there is some doubt over whether or not Pan-Am's Albino GMT-Masters actually ever existed, it is nothing compared to this.
There's no shortage of Rolex watches with aftermarket Mickey Mouse dials stuck on, but there is also a rumor (and nothing more) that during the 60s, 70s and into the 80s, there was an official relationship between the watchmaker and Disney Corp. It allegedly resulted in a model being created for Disney's board of directors, a Rolex Date with the rodent himself front and center, reminiscent of the original Ingersoll pieces.
As a co-brand goes, it makes slightly more sense than the Dominoes Pizza Air-Kings, with Rolex and Disney both sharing about the same level of global recognition. But you will go a long time before you find anyone who has so much as seen one of the genuine articles, let alone owned one.
Are they real or are they merely an anecdote? We may never know.
Rolex Submariner Explorer Dial
We started with the genesis of all future dive watches, so let's finish with it.
In truth, there were so many miniscule variations across the dial range during the Submariner's formative years they could easily fill a list on their own. You will hear phrases like Single Red, Exclamation Point, 2-Line, 4-Line, Underline and a thousand others bandied about if you do any digging into the model's long history, each with varying degrees of scarcity and value.
But among the absolute rarest, with just a literal handful being made, were the 3/6/9 Explorer dial examples.
In all, they were fitted, sparingly, to five different references; 6200, 6538, 5510, 5512 and 5513.
Today, practically none of the first three survive, while the 5512 and 5513 do appear occasionally at auction. One of the most interesting turned up in 2016 at Christie's, a ref. 5512 once belonging to a member of a British Police specialist firearms unit who had taken part in the London Iranian Embassy siege in 1980. Between the watch's extreme rarity and its fascinating backstory, it sailed past its estimate and was sold for CHF 197,000.
As time goes on, and these already incredibly scarce Submariner anomalies get even lower in number, you can expect the price to rise even further.
Featured Photo Credit: BeckerTime's Archive.