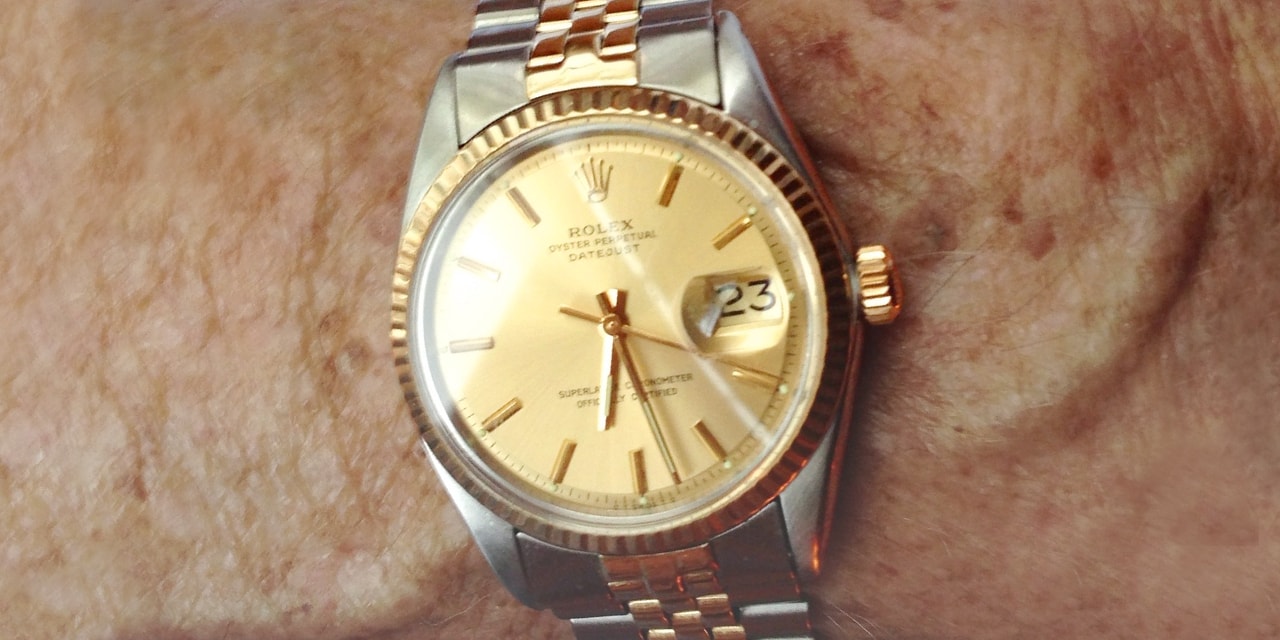 My Uncle's Watch
When my uncle gets up every morning, one of the first things he does is strap on his faithful watch. He's 93 years old, a former captain of industry, and I'm damn proud of the guy. In fact, he and I are both named for his father. He put himself through college just before World War II on a football scholarship, eating one meal a day, and working full time to boot (he still holds a rushing record at Denver University).
Later, working his way through law school, he was continually harassed by the Dean, who knew he had no intention of practicing law upon graduation. He was aimed squarely at the business world and he simply "wanted to know what to expect" during the day-to-day ins and outs of a climb up the corporate ladder. And climb he did, topping out as CEO of a news conglomerate.
Uncle Ed's Watch
What better pedigree could one wish for in a captain of industry – or an old-school wearer of wrist watches?
And the watch in question? It's a two-tone Rolex DateJust on a Jubilee bracelet. No diamonds, no frills. Works with any outfit. Stick hour markers on a gold dial. Everything you need in a businessman's watch, nothing you don't. He purchased it forty years ago in Hong Kong while passing through on business. And he's worn it virtually every day, from that day to this.
So why this story? Well, to remind us all there was a time when a man didn't need a blingy watch to shout his status. Instead, he conveyed it by the example he set and the way he carried himself. And those two behaviors dictated the way he conducted business, the quality of the clothes he wore, the shoes he slipped on every morning – and the watch he strapped to his wrist.
A watch like the Datejust doesn't shout, "THIS IS WHO I AM!" Instead, it speaks softly, discretely. And we all know what a little discretion will get you.
— Featured Photo Credit: Ed Estlow for BeckerTime's Archive.