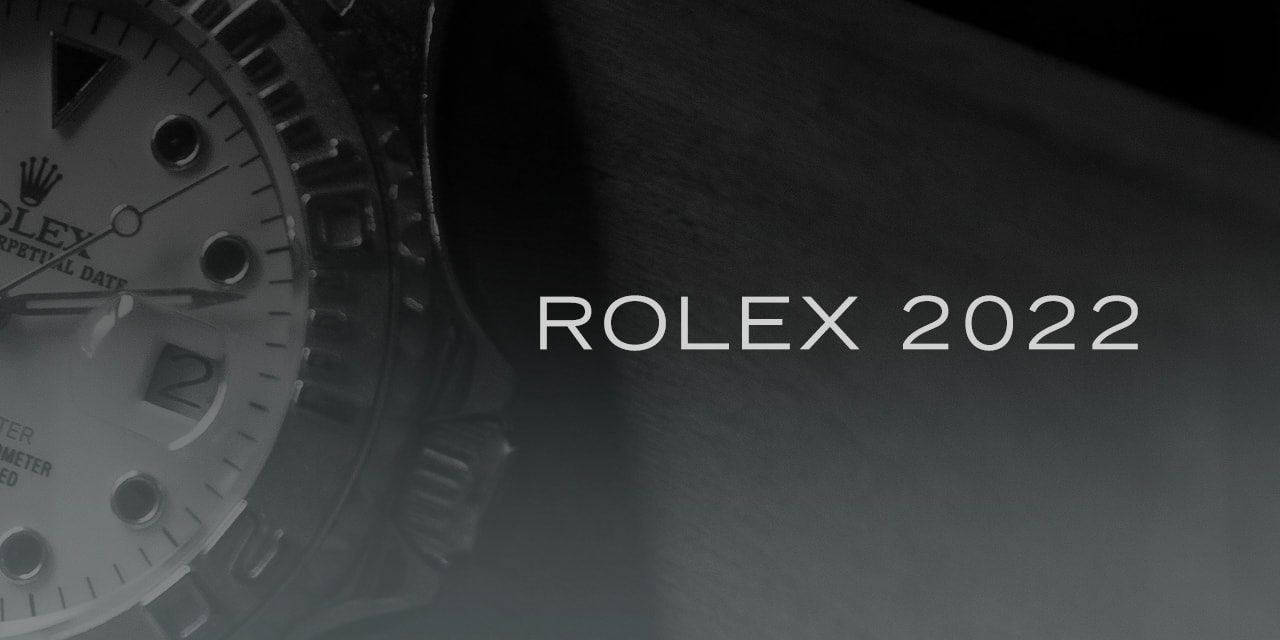 What Will Rolex Bring Us in 2022?
With the demise of Baselworld, the annual stage for Rolex's announcement of new models for as far back as most can remember, our attention is drawn this time around to its replacement event, Watches & Wonders Geneva, on March 30th.
This is now the brand's platform for the big unveiling and as always gives us the opportunity to get our predictions for what the horology giant has in store
this year completely wrong.
Trying to second guess what Rolex might be about to tempt us with is one of those labors of love we all enjoy, no matter how incorrect our predictions usually are, year after year.
As you will remember, the last Watches & Wonders expo brought us 16 new Rolex models; the Explorer went back to its original 36mm and also added a Rolesor version. The Explorer II received a complete revamp on its half century. The Daytona was given a range of meteorite dials. The Datejust was also issued with some new faces, and the steel GMT-Master IIs got their Oyster bracelets back.
Beautiful timepieces, of course, but we all sort of agreed the new Rolexes didn't exactly set the world on fire. Will this year be any different?
Here's what we think could show up:
A 10th Anniversary Sky-Dweller?
As fans of the brand, or watches in general, will know, there's nothing a manufacturer enjoys more than a good birthday bash. Rolex has a good few names coming of various ages this year, and the Sky-Dweller, their massively impressive, annual calendar-equipped traveler's model hits double figures in 2022.
Debuting in 2012 to muted acclaim, the Sky-Dweller has elevated itself in more recent times to become one of Rolex's most sought after pieces. The release of several steel references has brought prices down to more reasonable levels from the solid gold earlier examples, and the brand has upped the sporty quotient by fitting some with their Oysterflex rubber strap.
So what might we expect for its big anniversary? Well, previous models have been treated to either unusual colorways or platinum cases or even, in some instances, both.
The GMT-Master II and the Day-Date each received distinctive green dials on their birthdays—50th and 60threspectively. And, of course, the Daytona was issued in a stunning platinum version with ice blue dial when it reached its fifth decade in 2013.
It wouldn't be the biggest surprise to see the Sky-Dweller get at least some attention, although it might still be a little too young of a watch for the more outlandish celebrations.
The Yacht-Master Hits 30
Another significant milestone this year, the Yacht-Master, sort of a Submariner in a fancy suit, turns the big 3-0.
This feels like a bigger deal than the Sky-Dweller and the perennially underrepresented sports watch is somewhat overdue for some kind of update anyway.
There has been plenty of speculation that Rolex could actually introduce their first ever fully titanium model in the shape of a 42mm Yacht-Master this year, using the current white gold piece as a base. British sailing champion, Sir Ben Ainslie has been spotted on several occasions wearing a custom made example and many think this could be the year one is created for the general public.
Personally I'm not so sure. While titanium is certainly an ideal watch making material, it doesn't feel like a very Rolex-y one to me. As well as having a matte finish, which would immediately put it in a category all its own in their collection, the metal's main USP is its lightness. And in many people's minds, a true luxury product is one with plenty of weight to it. Heaviness, rightly or wrongly, brings with it a perception of high quality and the Yacht-Master has always been one of the brand's most unashamedly luxurious creations.
I'm going to guess Rolex will leave any titanium hijinks to auxiliary company Tudor and their wonderful Pelagos range and dream up something else for the Yacht-Master.
Is it All or Nothing For the Milgauss?
There aren't many anymore, but there are one or two examples in the portfolio which could still be described as the 'forgotten Rolex'.
The Milgauss, a scientist's antimagnetic watch dreamt up in the 1950s, is certainly one of them.
It is a model which has lived its life in the relative shadows and was even discontinued in the 1980s following a history of disappointing sales.
It was a surprise then when, in 2007, it was brought back to celebrate the opening of the Large Hadron Collider in Geneva.
Yet even some novel green tinted sapphire crystals and electric blue dials haven't really done enough to elevate the Milgauss to anything above the status of cult favorite and it, like the Air-King, could well be quietly retired to make way for more popular fare.
Would Rolex do it on the reborn watch's 15th birthday though? Or would they decide to double down and give us an all-new generation, one with even more impressive antimagnetic abilities? Well, we'll find out on March 30th, but it is worth remembering that the brand, or rather sister brand Tudor, has recently introduced its first METAS-certified model, the Black Bay Ceramic. In case you're wondering, for a watch to qualify for the METAS Master Chronometer rating, it needs to far outperform the parameters required by the traditional COSC certification, in both timekeeping accuracy and, crucially, protection from magnetic fields. It is a qualification established by METAS and main Rolex rival, Omega, but any brand is able to submit their watches for testing, hence Tudor's success. Is this the year the Milgauss finally goes beyond its famous 1,000 gauss resistance? We will see!
We All Want a Coke!
Every year! Every year I sit here and write, this time…this time we're getting a black and red 'Coke' bezeled GMT-Master II! And every year I'm left looking stupid!
The last we saw of one was in the guise of the ref. 16710. It was released in 1989 and discontinued in 2007, meaning there has never been a Cerachrom GMT-Master with that color scheme, despite the incredible success of the blue and red Pepsi model. Rolex has even brought back the properly retro black and brown Root Beer livery since then, despite it not being all that popular in the '60s and '70s when it was first introduced (although now it has become massively desirable).
It is hard to see why the reticence on Rolex's part. There are not that many certainties in life, but I know without even a shadow of a doubt that a Coke GMT-Master II would instantly become one of the most in-demand, waiting-list-generating, crazy-premium-on-the-grey-market-demanding luxury timepieces in the world, and it would take relatively little effort on the manufacturer's part.
They already have the watch the bezel would sit on up-to-date and ready to go. They already have the right shade of red to match up to the black. And they already have the biggest client list of any mechanical watchmaker in the world, just chomping at the bit waiting to part with armfuls of cash to get hold of it (I'm one of them).
But I'm full of confidence that this year, this is the year we'll see it! (Check back with me in 12-months for my predictions for Watches & Wonder 2023).
Maybe A Two-Tone Daytona With Cerachrom Bezel?
Rolex's only chronograph (if you don't count the Yacht-Master II's 10-minute countdown), the Daytona is easily the most diverse of the brand's sports/tool models.
Within the collection, you'll find watches with just about every conceivable combination of elements. There are steel versions, yellow, pink and white gold pieces, platinum examples, Rolesor models, those with metal bezels, those with ceramic bezels, some sitting on Oyster bracelets, others sitting on the Oysterflex strap, there's gemstone enhancements and there's meteorites.
What there isn't, somehow, is a Rolesor reference with a Cerachrom bezel.
It literally is the only thing missing from the entire lineup and, if you look at the sheer scale of every other possible Daytona on offer, it starts to look at if Rolex just forgot about including one.
If you look down the list of the other Professional Collection models, every one of those which offers either a Rolesor case and/or a Cerachrom bezel has at least one where they have been combined.
The Submariner, the GMT-Master II, the Yacht-Master II, even the Sea-Dweller all do it.
If I was a betting man, this is the one prediction I would actually put money on.
How About a Two-Tone Hulk?
And finally, there has been a lot of talk about a new color scheme for the venerable Submariner, with many believing we could get a Rolesor version with both a green bezel (à la the current Starbucks) and a green dial, as on the fairly recently retired super-cased Hulk.
While the mockups currently floating round the Twitterverse do certainly depict one striking watch, this is a model I wouldn't be surprised to see at some point, but I can't really imagine it being this year.
The reason I say that is because breaks from the norm of this extent are something Rolex usually hold in reserve for the big occasions, and next year is the Sub's 70th birthday.
So there we have it—our completely unofficial and one hundred percent guesswork-inspired rundown of all the brand new Rolex watches we are definitely* going to see on March 30th. Remember, you heard it here first!
*not definite in any way.
— Featured Photo: Leef Parks by (CC) Licence vía Pexels.